The Latest Red Hair Trend Is Totally Amazing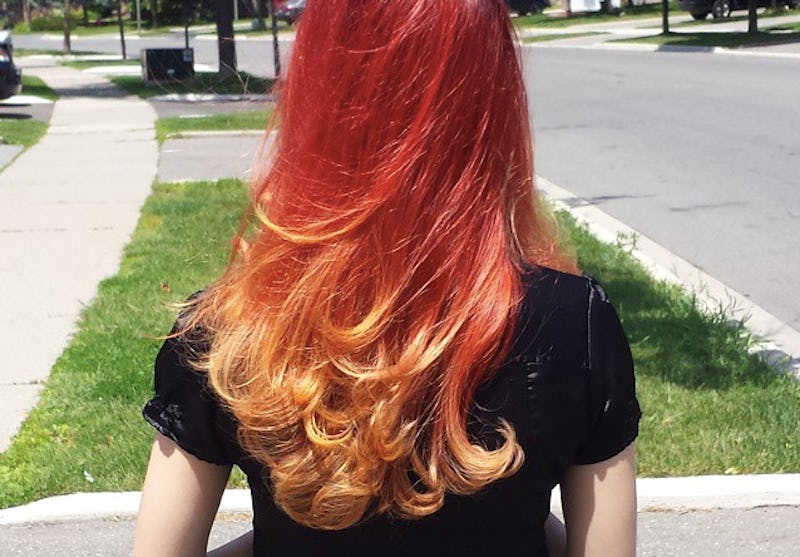 There is a super hot new hair trend that is sweeping across Instagram. The trend is being called 'fire ombre' or simply 'fire hair', and there is absolutely nothing subtle about it. People all across Instagram are showing off their perfectly dyed 'dos, and it's perfection. From firey roots to bright yellow ends, this is the ultimate summer hair color. Doesn't this look just remind you of a campfire? Who doesn't love these bright colors? Shockingly red hair has never looked so good.
However, this eye-catching trend isn't for the faint of heart. You'll definitely be turning heads everywhere you go with this look. It's perfect for anyone looking to stand out this summer. No wallflowers here! Whether you've never dyed your hair before and are looking to really make a statement, or you simply need something different, the fire ombre trend might be for you. And if not, it's just really cool to look at. This look just radiates confidence, which I think is definitely part of the appeal. With thousands of posts dedicated to this trend on Instagram, this hair color might just be the summer staple of 2015. Thinking about trying out this trend, and want a little bit of hair color inspiration? Here are a few Instagrammers who are totally rocking the fire hair trend.
1. Blaze
Gotta' love that firey look!
2. Ember
Not only is her hair color awesome, but check out that room! Super punk rock.
3. Spark
Fierce hair, don't care.
4. Heat
Leather jacket, winged eyeliner, and fleek hair? That's badass.
5. Flame
Shine bright like a diamond, lady!
6. Amber
I totally know what to show my stylist next time I go in.
7. Scorched
This girl is on fire! Sorry, I had too.
8. Flare
How cute is this look?
9. Inferno
Ugh, so much hair envy.
10. Fuego
Ooh la la, look at those locks!
11. Cinder
Boho chic meets punk rock. It's a match made in hair heaven.
12. Flush
These victory rolls look even more insane with their firey hair color.
13. Crimson
This is totally chic, and cool!
14. Glow
Also, TBH how do we get those eyelashes?
15. Heat wave
Ugh, this trend is just so perfect.
Images: xxalphafemalexx, crazy.bat.lady (2), louisesworldx, myloveliesss, ixamberxi, a_larocque, eidelonn, witheringsuffiency (2), color.hair.dont.care, johnnyxstarlight, multiversokc, jemma_moonstone/Instagram