6 Smoky Tutorials To Try With The Naked Smoky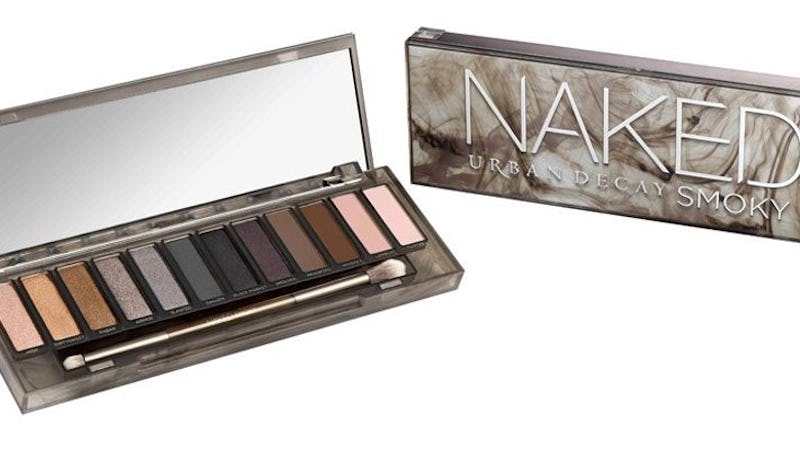 The new Urban Decay Naked Smoky palette launches Wednesday, and if it's anything like the other Naked palettes, it's going to sell out fast. Not only does the new set have awesome packaging, but it also has all the smoky colors that were missing from your Naked collection. Every standard gunmetal, bronze, and dark brown is included in this 12 color palette, and it makes a wide range of smoky eye looks feasible. The Naked Smoky may not have Cara Delevingne's smoky orange, but it certainly does have every color you'll need for the six tutorials included in this article.
It's easy to assume that smoky eyes are limited to grays and blacks, but nay, there are endless possbilities. I turn to YouTube to demonstrate that anything is possible, including plums and navy blues. I'm not saying you should rock a smoky eye every day of the week, but I'm also not not saying that. I mean, if it matches with every outfit, what's the harm, right? Every time I get my hands on a new Urban Decay palette, I tend to use in incessantly for the weeks following. If you're anything like me, I'm about to give you a variety of options to mix and match.
The palette is sold for $54 and is available online now at UrbanDecay.com. Like I said, swoop it up fast because it'll be gone soon and who knows what madness will ensue at Sephora. When it comes in the mail, give these following tutorials a try. Once you go smoky, you'll never go back .
1. Gold Smoky Eye
Smoky eyes don't have to be reserved for happy hour drinks, and this is definitely the ideal daytime smoky look. That pretty gold bronze included in the palette? Perfect for this.
2. Plum Smoky Eye
The thing about smoky eyes is that they can be done with any color, including the dark plum in the Naked Smoky. This color is particularly striking if you have brown eyes.
3. Silver and Gunmetal Smoky Eye
This is sort of like a more modern, glittery twist on the classic smoky. The light silver and dark gunmetal included in the Naked Smoky would work best for this.
4. Neutral Smoky Eye
If you're scared of going too overboard with intense colors, I would start with this one. Even newbies shouldn't be afraid to experiment with the Naked Smoky palette, and those pinks and neutrals included in the range were made for this.
5. Dark Brown Smoky Eye
Smoky eyes don't have to be complicated, either. A few swipes of the dark brown in the Smoky Naked and you'll be good to go with this tutorial by KathleenLights.
6. Blue Gray Smoky Eye
It's hard to tell whether that blue-gray color in the Smoky Naked palette is as blue as it is in the picture, but it can't hurt to try. If you need to recruit a MAC color, go for it. (Just don't use it front of your Smoky Naked palette – she'll be heartbroken).
Now, when are all these bloggers going to post videos of their own swatches and experimentations with the Smoky Naked palette? The suspense is killing me.