How Did Project Semicolon Start?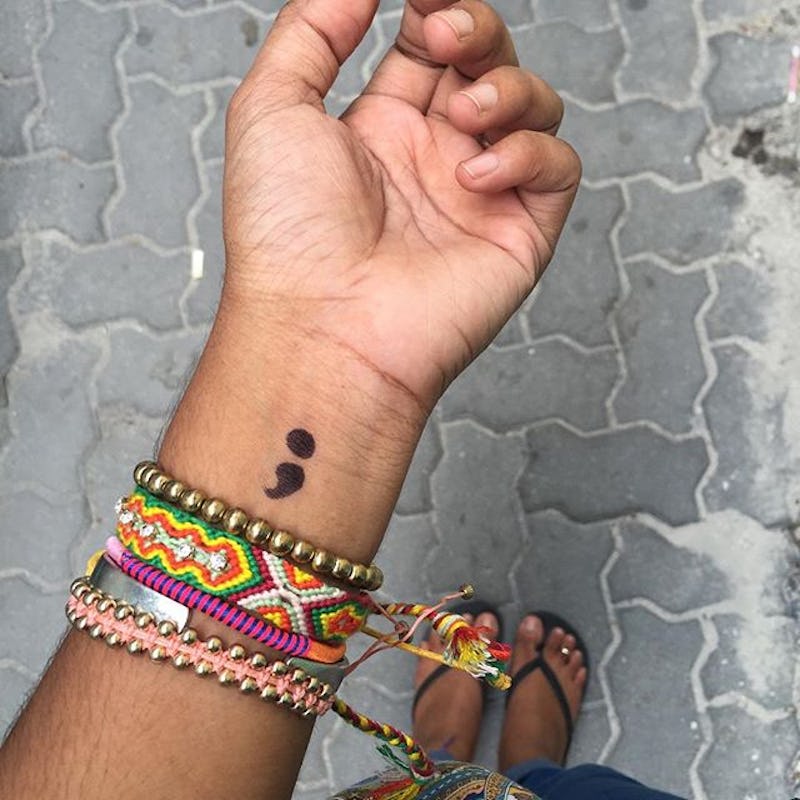 Throughout her journey with bipolar disorder, the idea of committing suicide had occurred to Charity Cole many times. She described it as a siren song of sorts, calling out to her: You can escape this way— you know your family would be better off without you.
"I heard the refrain over and over and was beyond tempted, but each time I reached out for help," Cole tells Bustle. "I had much love from family and friends, but I needed that one thing to hang on to."
In April of 2013, Cole heard about Semicolon Day, a new social media event in which individuals post photos of themselves with a drawing or tattoo of a semicolon on their wrists. The semicolon represents suicide awareness and prevention. Project Semicolon explains this simply: "A semicolon represents a sentence the author could have ended, but chose not to. That author is you and the sentence is your life." Cole, along with thousands of others who've struggled with depression and mental health issues, participated on April 16.
"I proudly drew my lopsided semicolon and plastered it on my Facebook. I was excited to share it, even though I was in a dark place of struggle. I kept staring at my wrist and seeing that semicolon long after I had washed it away," Cole says. "I would look again and again and be reminded, 'The author of my life could have chosen to end it with a period, but instead had chosen the pause of a semicolon and then continued to move forward.'"
Perhaps you've seen photos of these semicolon tattoos — both temporary and permanent — passed around Instagram and Facebook. But how did the project start? Semicolon Day is the brainchild of Amy Bleuel, who started it in order to tell her and her father's story, and to create a safe atmosphere in which others could share their struggles with depression, mental health issues, and suicide.
"My father struggled with depression and ultimately took his life in 2003 as a result. My story is similar. I too struggle with depression, as well as other mental health diagnoses. I have attempted to take my life more times than I wish to acknowledge," Bleuel says. "I also struggled with self-injury for many years. As a way of coping with these things, I went to drugs to numb the pain. My story continued through love. That is now how I wish to help others through as they continue their stories."
Since its founding in 2013, Project Semicolon has grown in a huge way. What was once a social media movement is now a nonprofit organization centered around people communicating their own experiences.
"A community was created where people could find comfort and healing," Bleuel says. "I have heard stories of people who have personally struggled, military personnel that suffer, family members who lost loved ones, friends who have lost friends. All come telling of how they found comfort in the project and are inspired to continue their stories."
Linsey Joy, who does video production for Project Semicolon, says that the nonprofit aims to combat stigma above all else.
"The underlying message in all of my videos, and even in my conversations with people is this one truth: You are worth it. People need to believe that they are worth healing and forgiveness. They need to see themselves as the worthy of great things. Many people who struggle with suicide or self-harm believe that they are worthless," Joy says. "I would also stress to the rest of the world that people struggling with suicide or any mental health issue are not sick or diseased, and most definitely not contagious. Stop the stereotypes. Showing love and understanding goes so incredibly far in our hearts and minds."
What's clear is that this work is certainly needed. According to the Depression and Bipolar Support Alliance, depression affects approximately 14.8 million Americans, or 6.7 percent of the population, in any given one-year period. At some point in their lives, 10 to 25 percent of women and 5 to 12 percent of men will likely become clinically depressed. In fact, it affects so many people that it is often referred to as the "common cold" of mental illness.
So what's next for Project Semicolon? Moving forward, Bleuel acknowledges that the nonprofit is still in its infant stages, but that education and faith will be key.
"As a non-profit, we do public speaking as well as different events. We work with other nonprofits, such as Rise Together and A Human Project, to spread our message and educate others. We have a lot more planned for the future, but as we are still new to the non-profit world, we are working on developing ourselves," Bluel says. "One of our main visions for the project is to redefine how Christians look at and address mental illness and suicide in the church."
Images: Instagram; ProjectSemicolon/Instagram