Are Leah & Jeremy From 'Teen Mom 2' Still Married?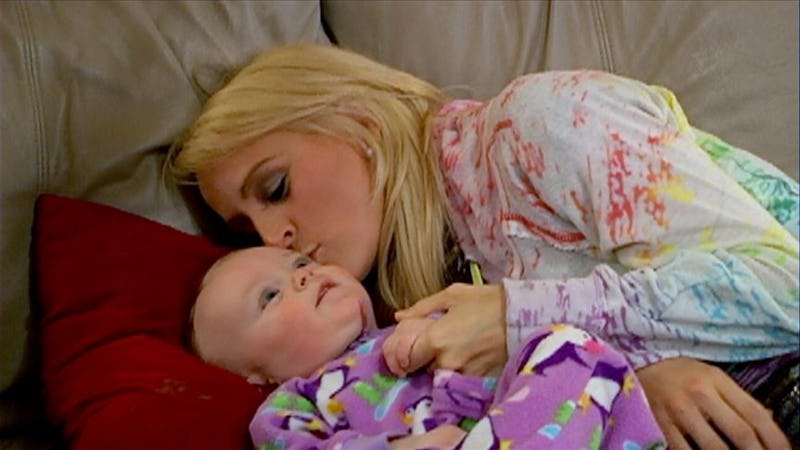 Back in 2013, it seemed like Leah Messer had finally found her happy ending. Her relationship with second husband Jeremy Calvert initially seemed strong, as she rebounded from her first marriage and had twins with him. But, unfortunately, Leah and Jeremy from Teen Mom 2 are divorcing, and the split just became official — meaning that during filming for Season 6 of Teen Mom 2, things were not going well for the couple. In fact, MTV fans are going to be watching some very emotionally harrowing footage, because this split was not amicable. Leah also recently finished a rehab program for "depression and stress," where she reportedly had to finalize her divorce over the phone, according to In Touch Weekly.
And, it seems like there may be some more infidelity accusations coming Leah's way. She admitted that during her last relationship, she cheated on her husband Corey Simms with her ex, Robbie Kidd, the week before her wedding. Now, Jeremy is accusing Leah of infidelity during their marriage, indicating that it's possible that things were bad between them for a while. In Teen Mom 2 Season 5, Leah and Jeremy clashed multiple times about serious issues. She was unhappy with his job, because it took him far away from their home for long periods of time. And, even though he was making good money working on oil pipelines, the travel and the fact that Leah was a stay-at-home parent made her feel as though she was relying on Jeremy for everything.
They also were under a lot of stress as parents, because one of their daughters, Ali, has muscular dystrophy, which affects almost everything, like her ability to walk and other motor skills. While Leah and Jeremy have been helping Ali work to retain and regain her strength, Season 5 showed how it could be a strain the Jeremy and Leah's marriage.
But, Jeremy's accusations really crossed a line. On Twitter (probably not the classiest place to air your relationship grievances, dude), he wrote an angry message suggesting that Leah had cheated on him. Shortly after tweeting, Jeremy deleted his messages, but Radar Online claimed the text read: "Well that was a surprise kinda u did it to Corey and now me with the same person good job slut." A little later on Twitter (again, according to Radar Online), Calvert mentioned Robbie Kidd, the same person she cheated with before.
While cheating on someone is pretty much never OK, calling the mother of your children a slut in a public forum is also unacceptable. Clearly these two are going to be better off apart.
Since Leah has not responded to these allegations, there's no way to know if that's true, but allegedly she's moved on with a new relationship. According to a different Radar Online report, Leah has been dating TR Dues, a 32-year-old personal trainer. But, Leah has mentioned Dues on Twitter and called him just a "friend."
Hopefully this new relationship, if it's real, proves to be an improvement for Leah once-Calvert-now-Messer, because the Teen Mom 2 star is already dealing with plenty of other familial drama. The dissolution of her marriage to Jeremy Calvert will be hard to watch, but knowing that they're probably better off separated might make this tough season a little easier.
Image: MTV