23 Actors You Never Knew Were On 'Batman'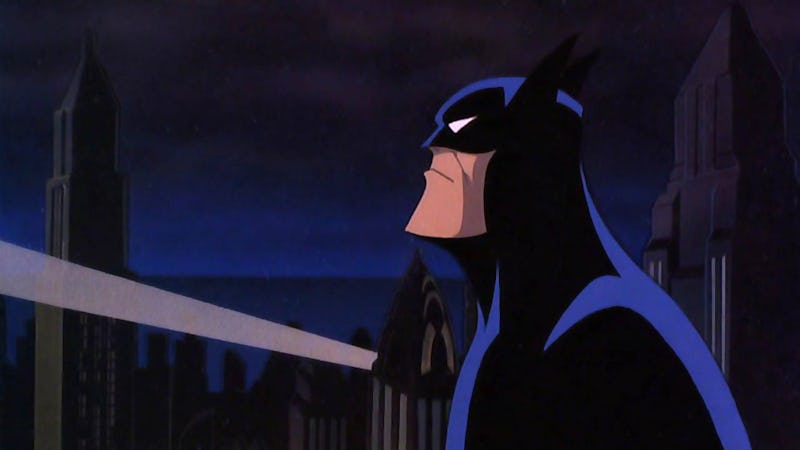 One of the coolest things about being a fan of something as a kid, in my humble opinion, is being able to grow up and keep following the stars of the series you loved. For example, many voice actors from Batman: The Animated Series, one of my favorite TV shows from my childhood, went on to do great things. What can I say? Voice acting is a lucrative venture, and Batman: The Animated Series was a great place for up and comers to get their careers started, and the perfect way for established stars to try a new side of acting.
The Warner Brothers series, which aired new episodes on Fox from 1992 to 1995 (and continues winning hearts in reruns until the end of time!), is filled with the voices of both newcomers and celebrities. It also features theme music composed by Danny Elfman, who most of us recognize from Tim Burton films. Plus, this show has an Emmy: best animated program in 1993. Clearly, there are adults who loved Batman: The Animated Series as much as I did.
With that in mind, here are some actors you may or may not have known lent their voice to Batman: The Animated Series. One well-known name not listed below? The ever campy Tim Curry. The Internet Movie Database says that he contributed "additional voices" — with a description that vague, it would take a greater detective than Bruce Wayne to find him!
1. Mark Hamill
It's not a huge secret that Mark Hamill played The Joker in Batman: The Animated Series. However, given his television history as The Trickster on both versions of The Flash, it's still funny (no pun intended, even with Batman) to see him in this role.
2. Ron Perlman
The action star best known as Hellboy played Clayface in several episodes.
3. Kate Mulgrew
You know her as Captain Janeway from Star Trek: Voyager and as Red on Orange is the New Black. She played the villain Red Claw on Batman: The Animated Series.
4. Nichelle Nichols
The original Uhura from Star Trek and iconic genre actress played the immortal villainess Thoth Khepera in one episode.
5. Elisabeth Moss
The future star of The West Wing and Mad Men played Kimmy Ventrix, the daughter of a Batman villain. Her mother, incidentally, was voiced by Jean Smart.
6. Brad Garrett
The sitcom star is super recognizable here as Goliath.
7. Melissa Gilbert
We may know her best as Laura Ingalls from Little House on the Prairie, but she also voiced Barbara Gordon, who was then known as Batgirl. How's that for juxtaposition?
8. Megan Mullally
Back in the day, the comedienne voiced Cindy, a friend of Dick Grayson's from school that he invites over to "study."
9. Ed Asner
The comedy legend plays Roland Daggett in several Batman: The Animated Series episodes.
10. Ed Begley, Jr.
Today he's known as Stan Sitwell from Arrested Development and other character comedy roles in St. Elsewhere and This Is Spinal Tap, but on TAS he played Germs as well as Charlie Collins, seen above facing off against Joker.
11. Harry Hamlin
You might remember him from Veronica Mars and Mad Men, but he's equally scary as Anthony Romulus.
12. Heather Locklear
The soap star had a brief appearance as Lisa Clark.
13. Bess Armstrong
She's one of my favorite television moms — from My So-Called Life — and played Zeus' assistant/girlfriend Clio, named after a Muse.
14. John Rhys-Davies
You may know him as Gimli from the Lord of the Rings films, but on Batman: The Animated Serieshe played Wacklaw Jozek, also known as Baron.
15. Malcolm MacDowell
The ever-sinister actor is less menacing here as "fencing champion" Arkady Duvall.
16. Loretta Swit
This one may appeal to your Netflix marathon of late — the former M*A*S*H star played Marcia Cates, a Wayne Enterprises employee who was kidnapped and mind controlled by the Wonderland baddies.
17. Elizabeth Montgomery
This is actually the Bewitched actress' last acting credit. She died later that year, in 1995.
18. Jeffrey Tambor
In the Season 1 episode "Appointment in Crime Alley," the future Transparent and Arrested Development star played a henchman who crossed Dr. Leslie Thompkins.
19. LeVar Burton
Yet another Star Trek connection, Burton played one of the Mad Hatter's henchmen. The Hatter, incidentally, is played by Roddy McDowall, who is a famous science fiction actor from back in the day — he stared in most of the Planet of the Apes films and television series.
20. Adam West
Take this to your next trivia contest: He may have played Batman in the 1960s and 1970s, but in the animated series he voiced Simon Trent.
21. Seth Green
Green played the DC character "The Wizard."
22. Ernie Hudson
He was already a bonafide Ghostbuster but in 1992 played a Security Guard on TAS.
23. Andrea Martin
She's a comedienne and Broadway star IRL, and played a stand-up called "Mighty Mom" on the show.
And you thought they were all just random voices on the television.
Images: kane52630/Tumblr (10)