'The Finest Hours' Looks Way Better Than Fine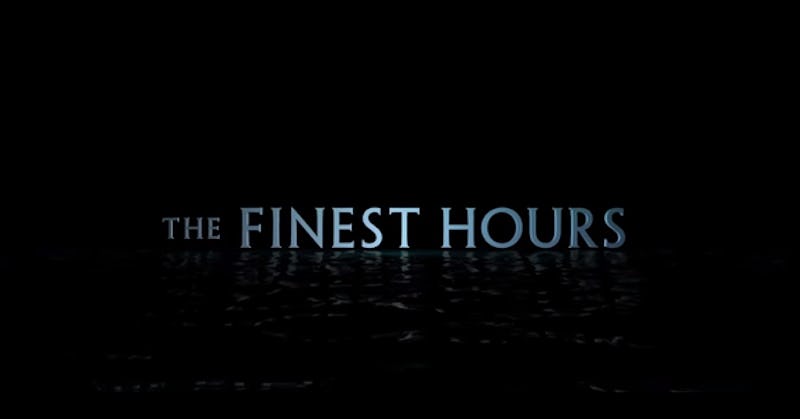 I love me a good balance of epic romance, epic action, and epic… epicness in a feature film. So, if you're like me and are into that sort of thing, I think it would probably be in your best interest to check out the newly released trailer for The Finest Hours . If this is the first you're hearing of the film, The Verge explains that, "The Finest Hours is an adaptation of Michael J. Tougias and Casey Sherman's 2009 book of the same name, which chronicled the true story of the Coast Guard's 1952 rescue of the SS Pendleton." So, yeah, you may want to buckle your seat belts for this one.
How can I best describe this film? Well, based off of the trailer, it seems sort of like if Titanic, The Perfect Storm, and The Poseidon Adventure got together, fell in love, and made a 21st century angst/action/romance hybrid baby. If that's not enough to entice you, though, maybe this will: The movie also includes the exceedingly talented likes of Chris Pine, Eric Bana, Holliday Grainger, Ben Foster, and Casey Affleck. The only foreseeable downside to the captivating trailer is that it lasts for a little over two and half minutes and that's just not nearly enough to quench the thirst for this film.
Here are 6 reasons The Finest Hours trailer will have you totally pumped for the movie:
1. Let's State The Obvious, First: Pine's A+ Side Part
Just Pine in general, really. Honorable mention: Bana's side part.
2. CGI That's Practically Magic
Considering this movie is set to be available in IMAX and 3D, prepare yourselves.
3. The Palpable Chemistry Between Pine And Grainger
I can totally dig it.
4. Female Badassery
"This isn't what any of the other girls do."
"So?"
BOOM.
5. The Jaw-Dropping Action Scenes
*Viciously bites nails*
6. The Angst Of It All
Furrowed brows! Grimacing! Life altering decisions! Yum.
You're thinking what I'm thinking, right? Future movie date. I'll buy the popcorn, you save the seats, and maybe we can hold hands during the scary parts. Maybe.
Images: Disney Movie Trailers/YouTube (7)