YSL's Scandal Collection Is Still Scandalous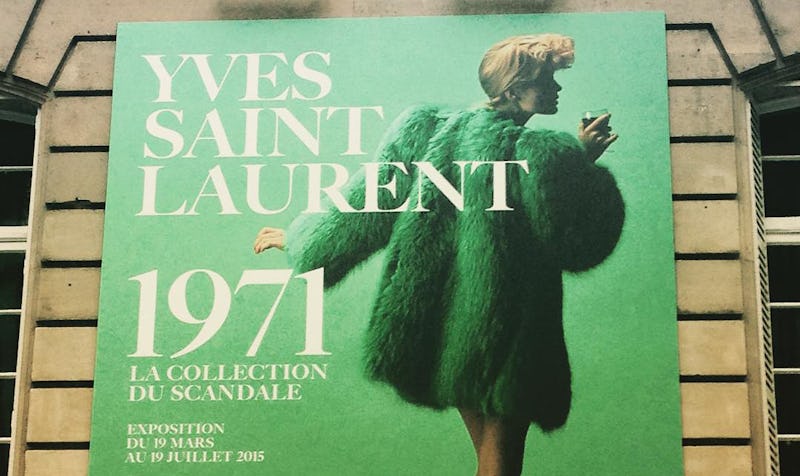 The term "scandal" may conjure to mind a certain ABC political drama, but long before the term applied to an angst-filled television serial, it referred to a fashion collection as notorious as it was hated. Yves Saint Laurent's "Scandal" collection first debuted in 1971 to the shock and horror of sartorial critics everywhere, and 50 years later "Yves Saint Laurent 1971: The Scandal Collection" exhibit has taken residence at the Fondation Pierre Bergé — Yves Saint Laurent in Paris, The New York Times reports. More staggering yet is how some of the collection's pieces are outrageous even by today's broadminded standards.
Composed of 80 pieces by curator Olivier Saillard, the collection was reportedly created as a fusion of Saint Laurent's streamlined, menswear-infused ready-to-wear pieces and the designer's visionary couture. Flickers of couture are readily apparent in the exhibition, from a cropped, virulent green fur coat to an intricate, floor-skimming crimson gown. However, other pieces were decades ahead of their time. A printed, ruched wrap dress now on display at the Fondation Pierre Bergé — Yves Saint Laurent looks like something a female executive might wear to a cocktail hour networking event, and to be perfectly frank, that emerald green fur would look right at home on Rihanna.
Nevertheless, critics balked at the collection when it first debuted in 1971. Amongst the appraisals thrown about were buzzwords like "hideous" and "insulting", issued by the The International Herald Tribune (now The New York Times) and The Las Vegas Review-Journal, respectively. Though Saint Laurent didn't feel the collection truly was scandalous, explaining to Elle the same year "I think that even the word 'scandal' would not be too strong… I'm sad and flattered. People weren't shocked so much visually as they were morally," it seems that the collection conjured powerful emotions in its viewers.
However, the bold suitings, sequins, lashings of lace, illusion paneling, and hypnotic prints were nothing if not prescient for the coming years of fashion trends.
If you're not planning to take a weekend jaunt to Paris before the exhibit closes on July 19, enjoy this virtual stroll through show's high points. You may be surprised at how very contemporary the designs truly are.
Images: wunderkammer79/Instagram