How To Care For Your Post-Swim Hair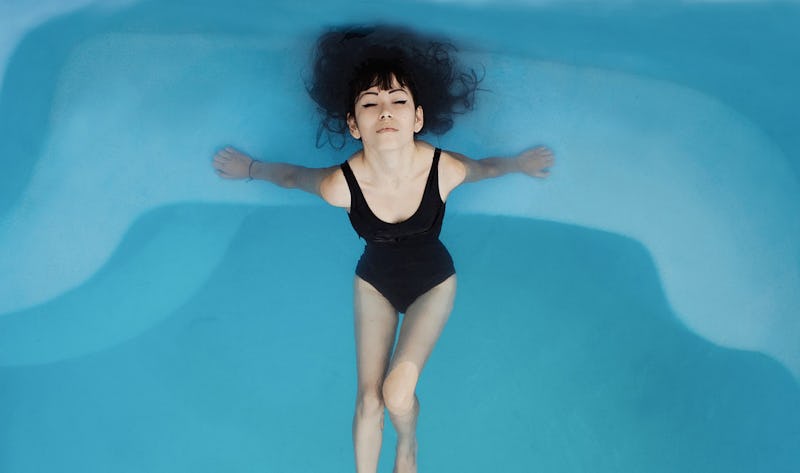 It's summertime and you're ready to hit the beach, pool, or local watering hole for some cool fun. You're well-equipped with sunscreen, but need hair care tips for after swimming so you don't end up with a frizzed out disaster on your hands. In theory, you love the idea of glamorous poolside lounging or diving in and out of the ocean waves while flipping your hair back like Ariel from The Little Mermaid. But the truth is, you have invested a lot of money in dying your hair pink, brunette, platinum blonde, or lavender. Ruining your beautiful (expensive) locks after a pool day is not worth it.
Having your locks turn a jaundice green from chlorine overdose is not part of the summer fun you had in mind. Just as bad as the pool chemicals is the strong salty sea water. It's amazing if you want sandy blonde hair, but be warned about the brittle ends, frizziness, and uneven color that comes along with it. If you don't want to bleach out your hair from the salt and the sun, it's important to employ a few tricks.
The best aftercare strategy includes a little preplanning. Unless you get thrown in the pool, you should be able to pull all of these off without a care in the world.
BEFORE SWIMMING
1. Whip your long hair into a braid
Fight tangles and ramp up style with a long braid for your water session. If you are at the beach, it will keep the chaos at bay, and in the pool will keep your hair in order. If you're just sunbathing, use a hat or hair product with SPF, but if you're getting in the ocean you need strategy.
2. Make sure your wet hair is protected hair
If you are swimming in a chlorinated pool, rinse off hair before you swim. Not only will you keep the pool cleaner by rinsing away your styling products, you are coating your hair with non-chlorinated water which will keep your strands from soaking up every single chemical in the pool. A fresh water protective layer will also guard your hair from soaking up too much salt if you're skinny dipping in the sea.
3. Wear a protective layer
Since we all love coconut oil all the time, try this trick to protect color-treated or dry hair from the ocean brine. Slick a small amount of coconut oil (especially on dry ends) before wetting your hair with fresh water. The oil (jojoba oil also works well), forms a protective layer that keeps salt out. The salt water can bleach out your ends, which looks fabulous if you're going surfer babe, but is a pain in the butt if you just committed to peacock green hair.
4. Cap out the chlorine
Sporti Floral Cap, $5, Swim Outlet
Use a darling vintage-styled swim cap and you don't even have to wet your hair before swimming. Just tuck your locks safely up inside and play the glamour puss while avoiding hair trauma. If you're a natural born multi-tasker, you could apply a deep conditioning treatment under your cap while you swim laps at the pool.
AFTER SWIMMING
1. Wash away the trouble
For happy hair throughout summer, your best bet is to rinse hair with fresh water immediately after getting out of the pool or ocean. Chlorine sitting on your hair all day and baking in the sun is surefire disaster for blondes or anyone with chemical damage. Salt water, although fabulous as a texturizer, does bleach out hair, so unless you want lightened locks, it's best to rinse ASAP or wash with a clarifying shampoo.
2. Apply a leave-in conditioner
After rinsing or shampooing, give your hair some moisture and lasting love with a leave-in conditioner. Bazar's 7 best leave-in conditioners address every hair type. Look for one that has SPF built in so you can continue your day in the sun without further damage.
Anti-Static Comb, $18, Evo Hair
Brushing wet hair is begging for trouble. Use a wide tooth comb and gently work your way through tangles. The wide teeth help fight frizz and strand breakage.
4. Clarify your hair
If you are in the water a lot this summer, you need to clear away all that residue build up. Whether it's chlorine, sea salt, or bits of lake life, a weekly clarifying treatment will keep you on the up and up. For the natural route, try an apple cider vinegar rinse.
Apple Cider Vinegar, $13, Amazon
If you're concerned about losing your color or damaging you hair this summer, these easy hair care tips for after swimming should keep you in silky shape. Now get out there and enjoy the water!
Images: Unsplash/Pixabay; Instagram (2); Product Pages (2)