Hillary Clinton Gets An Anger Translator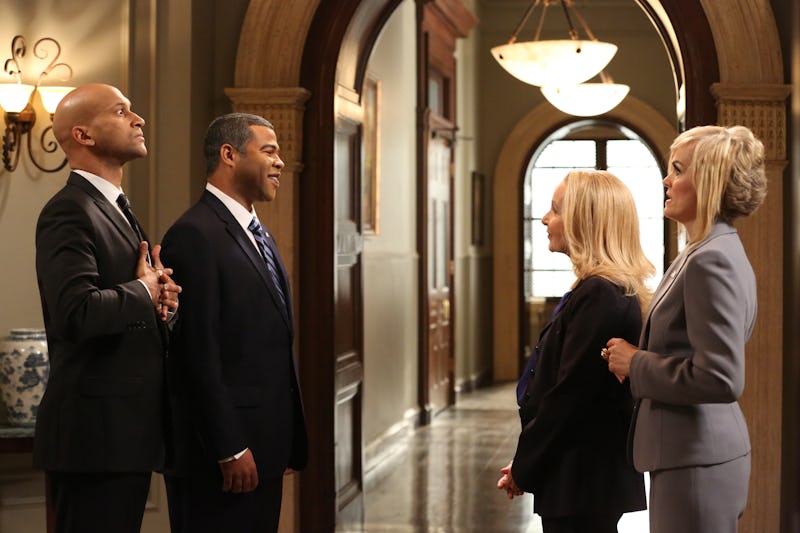 Who knew Barack Obama's anger translator wasn't the angriest person in the world? On the Season 5 premiere of Key & Peele , Peele's Obama and Luther, his anger translator, encountered Hillary Clinton (played by Grey's Anatomy & Scandal alum Kate Burton!) who unveiled a special guest of her own, Savannah. That's right folks! Hillary Clinton has her very own anger translator! And she is not messing around when it comes to relaying Clinton's true feelings about Obama. In fact, even Luther thinks she's a little too angry.
The sketch began with Clinton and Obama facing off and trying to be as fake polite as possible, but Luther and Savannah knew the score. Luther talked about how Clinton has been insulting Obama's foreign policy which Clinton herself wrote, while Savannah talked about how Obama is the "dead skunk" Clinton has to walk over to get to the presidency. Oh yea, that's right. She is not messing around. And that's not even the worst thing she says during the epic, shade throwing and insult hurling confrontation heard all around the world (Savannah by the way is played by the insanely funny Stephnie Weir from MADTV and the very funny FX series The Comedians).
Luther tells Savannah that even Clinton shouldn't have a huge problem winning the presidency over the "a*holes" running as the Republican candidate and makes quite the comment about her husband, one I'm sure I can't appropriately write in this post. But that doesn't faze Savannah one bit as she threateningly states to Luther and Obama that Clinton (and she) will "bury you and every Godd*ned man who stands in [her] way."
As Obama and Clinton part with kind words and lots of share, things between Luther and Savannah are hilariously worse than ever: "You a nasty a** b*tch," Luther states. "F*ck you dream stealer," Savannah replies. Disregarding where my personal political feelings lie, I think Savannah might be my new TV hero. Man, I love this show.
Images: Danny Feld, Ian White/Comedy Central