Watch This Amazing Speech Against The Conf. Flag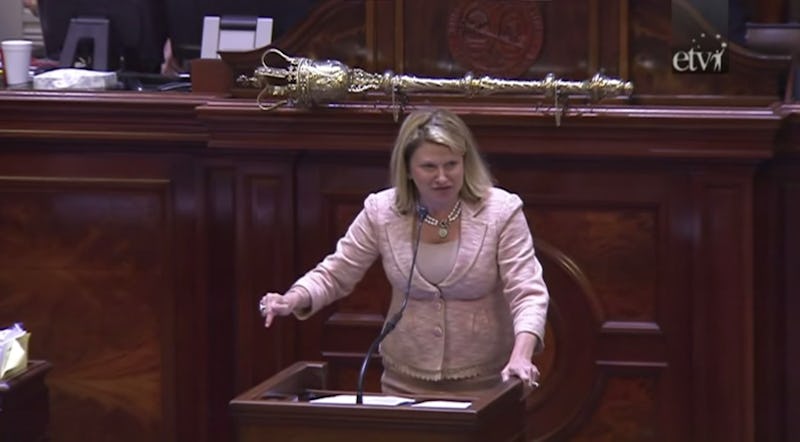 It's coming down, folks! Early Thursday morning, South Carolina's House of Representatives voted 94-20 to remove the Confederate flag from state grounds, effectively ending the national debate over the racially charged symbol of the long-ago Confederacy. Gov. Nikki Haley has already indicated she will sign the bill into law, which will most likely happen later Thursday. That means, the Confederate flag could be taken down as early as Friday. The debate, which was certainly a lengthy one, included one notable and impassioned speech from Republican Rep. Jenny Horne, who tearfully called upon the House to bring down the disputed flag.
Horne's voice wavered as she recalled attending the funeral of State Sen. Clementa Pinckney, one of nine people who were shot and killed at Emanuel AME Church last month in what officials called a racial attack. Horne, a life-long South Carolinian who also said she was a descendant of Confederate President Jefferson Davis, pushed aside arguments of preserving heritage and tradition. She expressed her disbelief that any representative would dare to prolong the flag debate since it would be "telling the people of Charleston that we don't care about you."
I cannot believe that we do not have the heart in this body to do something meaningful such as take a symbol of hate off these grounds on Friday. And if any of you to vote to amend, you are ensuring that this flag will fly beyond Friday, and for the widow of Senator Pinckney and his two young daughters, that would be adding insult to injury. And I will not be a part of it!
The 13-hour deliberation dragged as state representatives discussed whether the bill, which easily passed in the State Senate on Monday, should be amended. In particular, one prolonged discussion surrounded whether the state flag should replace the Confederate one. But in her speech, Horne insisted that the more minor details, such as where the flag would go or what should fly in its stead, could be figured out at a later date. Horne pleaded for the House to not amend the bill since it would cause the measure to return to a committee and ultimately keep the Confederate flag flying on state Capitol grounds.
Horne's fiery and forceful speech was one piece of a bigger movement to bring the Confederate flag down. Listening to her words revealed that this isn't just about a flag. This is about being decent human beings who can recognize how a symbol of the past can hurt the people of today. So, thank you, Jenny Horne and all of the countless others who were brave enough to stand up and say something about that hateful flag.
Image: WACH Fox/YouTube