Beyoncé Needs Our Help To End Extreme Poverty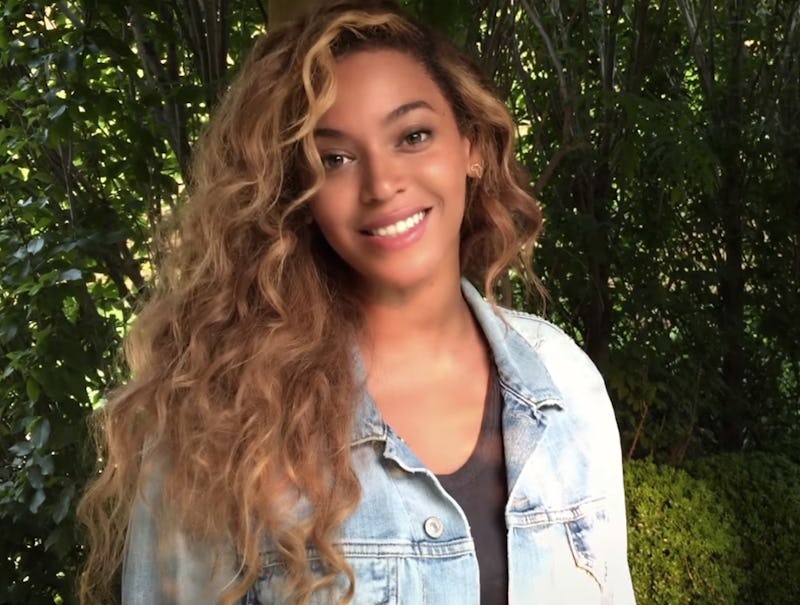 Now, I know there is an entire Beyhive out there who has already begun jumping before Beyoncé even says how high, but we have run into yet another instance in which the celebrity at the head of the fan cult is using her powers for the greater good. Beyoncé is performing at the Global Citizen Festival, alongside such acts as Coldplay, Ed Sheeran, and Pearl Jam, and, even better, tickets to the festival are free. That's right, there is a free Beyoncé concert heading our way, and all we have to do to get ourselves a seat is help save the world. I know. Such a hardship. The program was advertised by Beyoncé's Chime For Change YouTube video, in which she cheerfully announces what this is all about.
"I'm proud to announce that Chime For Change will be joining Global Citizen with the goal of ending extreme poverty by 2030," she says, before encouraging everyone to visit globalcitizens.org to choose their own preferred way of helping with the organization. At the website for the 2015 Global Citizens Festival, fans can take up to five Action Journeys between now and September 16, in order to maximize their chances of winning tickets to the festival on September 26th in Central Park in New York City. The current Action Journey, which launched on July 6, gives people one point each for actions such as "[signing] the petition calling on the US Congress to support the Global Food Security Act" and "[tweeting] now to put education in the hands of girls around the world."
Considering how simple these Action Journeys are, it seems that Global Citizen and Chime For Change want to give as many people as possible the chance to make even a small difference — even if they're only making that difference to gain access to a free Beyoncé concert. Beyoncé is no stranger to the Global Citizen Festival, mind you, but her appearance in 2014 was a surprise. This time, fans know for a fact that she's going to be there, so it would be hugely disappointing if the Beyhive didn't respond to Beyoncé's call to arms and get to work helping to reduce extreme poverty by 2030.
Check out Beyoncé's video announcement below.
Image: YouTube