Behold: The Hot Tub Hammock Hybrid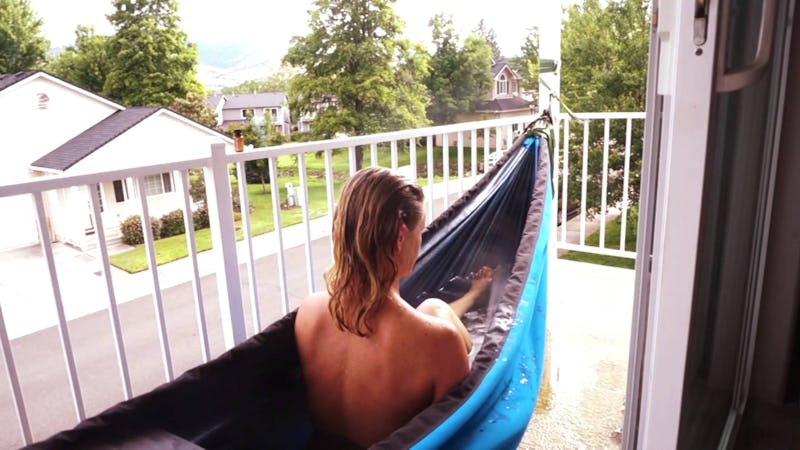 I hate hammocks because I get easily motion sick. I also hate boats for the same reason. And I hate tub tubs because you're literally stewing in yours and other people's sweat, hair, and bits of dead skin. It's disgusting. So obviously this hot tub hammock, the "Hydro Hammock", is my absolute nightmare. If you're sensitive to motion and disgustingness like I am, it's likely your nightmare too. I guess if you like swinging around and dirty water this contraption will be exactly up your alley. I'm probably being a little unfair based on my biases, so I'll let the Hydro Hammock's Kickstarter do some promotional leg work in my stead, "HydroHammock Hot Tub Bathtub. Best Hammock Design Innovating Comfort for all. New Level of Fun. Swinging cool or warm Bliss Bath."
The watery hammock was invented by Benjamin H. Frederick and can be filled with any type of water, so if you're vacationing by a lake or the sea, the whole set up is sustainable. It comes with a portable heating system so if you're ever in a situation where you want to warm up rather than cool down, you won't have to forego your hammock swim. The heating system can also be used for sustainable showering, allowing you to take a 2 hour shower with less than 3 gallons of water, so the device is more than just a leisure tool (although I don't know what you'd do in the shower for two hours, aren't people busy?). The Hydro Hammock still needs funding to go into production, and the Kickstarter is currently at $14,283 of its $50,000 goal, with 19 days to go.
Here are some fun uses for the Hydro Hammock:
1. Splishing and a splashing in a snowy landscape
2. Creating your own personal beach within a beach
3. Doing romance
4. Balancing precariously over a waterfall
5. Having a threesome
Is it weird that rather than Hydro Hammock I keep thinking "Hot Tub Time Machine"? Anyway, watch the entire video here and find out everything you need to know:
Images: YouTube(5)