16 Childhood Christmas Books Worth Reading Every Year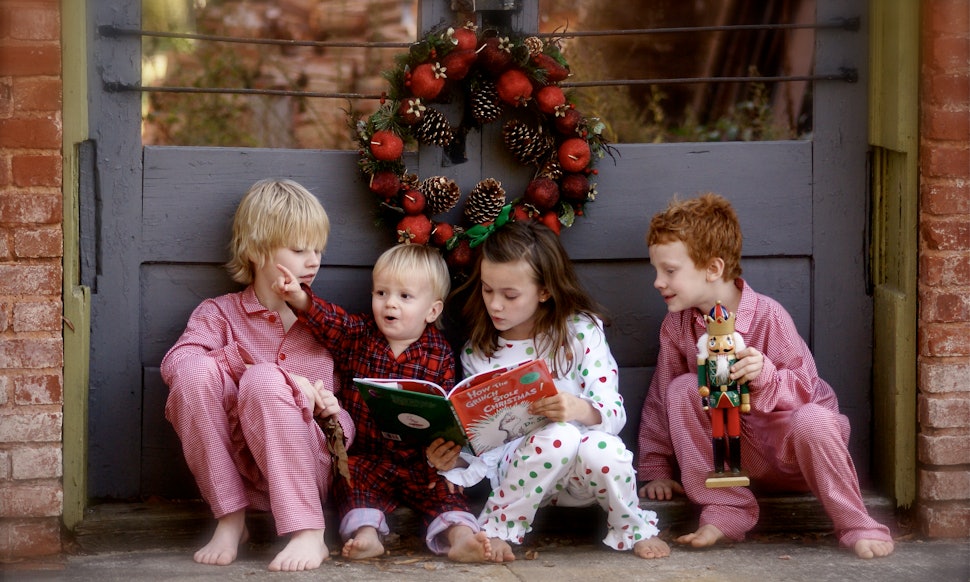 If holiday obligations are giving you the bah humbugs, revitalize your yuletide joy with a little nostalgia from your childhood — back when snowfall was magical, Santa was real, and Christmas carols in November were a welcome sound. If you're forgetting what childhood holidays felt like, let the characters from picture books remind you what Christmas is all about. In fact, adults caught up in the fast-paced world of work and relationships should make it a point to settle down with a few of these picture books every holiday season and let the kids teach the adults something this time.
Image: Wikimedia Commons
'The Polar Express' by Chris Van Allsburg
Author-illustrator Van Allsburg's timeless Christmas story has been enchanting children and adults alike for nearly 30 years. It's a must-read. But, do not — I repeat: Do not — substitute by watching the creepy Tom Hanks-as-cartoon movie version.
'How the Grinch Stole Christmas' by Dr. Seuss
For all adults who read Dr. Seuss' classic during the Christmas season, your heart will grow three sizes.
'A Child's Christmas in Wales' by Dylan Thomas
Even 50 years after it was first published in Harper's Bazaar, A Child's Christmas in Wales remains acclaimed Welsh poet Dylan Thomas' most popular work in the U.S. The rousing poem follows a boy recounting childhood Christmas tales, evoking a nostalgia among anyone who reads along.
'The Snowman' by Raymond Briggs
With gorgeous illustrations like these, who needs words? Briggs' wordless book of a snowman come to life in a little boy's dreams has pictures with "the hazy softness of air in snow," according to Booklist. The wintry tale is left up to your own imagination, so everyone whose parents 'read' it to them as children could remember it differently as adults.
'The Jolly Christmas Postman' by Allan Ahlberg and Janet Ahlberg
The Ahlbergs' jolly story about a jolly postman continues in this Christmassy sequel, again chock full of nursery rhyme and fairy tale characters and secrets hiding in the pages. This time, the postman has letters for the Gingerbread Man, Mr. H. Dumpty, and even the notorious Mister Wolf. The story, the illustrations, and all of the accompanying 'packages' are adorable and remind us all of the community around us during the holiday season.
'A Christmas Carol' by Charles Dickens
No bah humbugs here. Dickens' classic tale has many iterations, and any one of then will do just fine. And while you're at it, double down and toss in your taped-off-TV VHS of A Muppet Christmas Carol — you won't regret it.
'The Gift of the Magi' by O. Henry
O. Henry's short story of cosmic irony features a newlywed couple who sell what they treasure most to get their partner a Christmas gift. The 'twist' ending is well known, but just try to ask your boyfriend for an X-Box One after reading this story.
'The Story of Holly and Ivy' by Rumer Godden and Barbara Cooney
Holly is a doll who wants a little girl to bring her to life. Ivy is an orphan girl wishing for a real home and a grandmother. And when you add Mr. and Mrs. Jones, who just want a daughter to share in their Christmas joy, the story all comes together — and try to avoid smiling when it does.
'The Snowy Day' by Ezra Jack Keats
Keats' Caldecott-winning book has the additional honor of being "the very first full-color picture book to feature a small black hero," according to Horn Book magazine. The vibrant illustrations enhance Keats' simple tale of the wonder of a boy's first snowfall. It will have you think twice as you curse the snow piled up in your driveway as you're heading out to work.
'Little Match Girl' by Hans Christian Andersen
If this sad holiday story from the fairy tale master doesn't get you misty eyed — even as an adult — then your heart is as small as the Grinch's. The story of a little girl who is abused by her father and forced to sell matches outside in the cold will have you emptying out your wallet to all the charity volunteers on the street this holiday season.
'The Mitten' by Jan Brett
Brett's tale of a Ukrainian boy and his snow-white mitten isn't a Christmas book per se, but its snowy setting and cast of adorable animal characters — all looking for cozy shelter from the cold — makes it perfect for a holiday read.
'Letters from Father Christmas' by J.R.R. Tolkien
J.R.R. Tolkien is best known for the Lord of the Rings, but he, too, has a soft-spot for the Christmas season. For Christmas every year, Tolkien would send a letter to his children from Father Christmas telling them wild and sweet tales from the North Pole. Now you get to be one of his children, as they're compiled into this book.
'The Night Before Christmas' by Clement Moore
A no-brainer, for sure, but any list of childhood books would be remiss to leave off The Night Before Christmas. Do yourself a favor and gather all the nieces and nephews and read it aloud beside the Christmas tree.
'The Year of the Perfect Christmas Tree' by Gloria Houston
When Ruthie's father is shipped off to war, her mother sets out to chop the perfect Christmas tree outside their house in the Appalachian mountains. Houston's story is more Ruthie's mom's, than Ruthie's, but it's a timeless tale of tradition, particularly over the Christmas season.
'Mr. Willowby's Christmas Tree' by Robert Barry
Mr. Willoby's Christmas tree is grand, but it's too tall. And once he cuts off the top of the tree to fit in his house, it sets off a string of events that will have you remembering what the holiday spirit is all about. All of the animals in the forest are "grand to have a tree — Exactly like Mr. Willowby."
'The Best Christmas Pageant Ever' by Barbara Robinson
Spoiler alert: It's not. And the fact that Robinson's classic picture book is titled The Worst Kids in the World in Australia, New Zealand, and the U.K. should give an indicator why. The Herdman children smoke, swear, and only go to church when they hear it offers snacks, but they are given roles in the annual Christmas pageant. The result is outrageous, hilarious, and, yes, heartwarming.