Do You Want To Be On 'Empire'?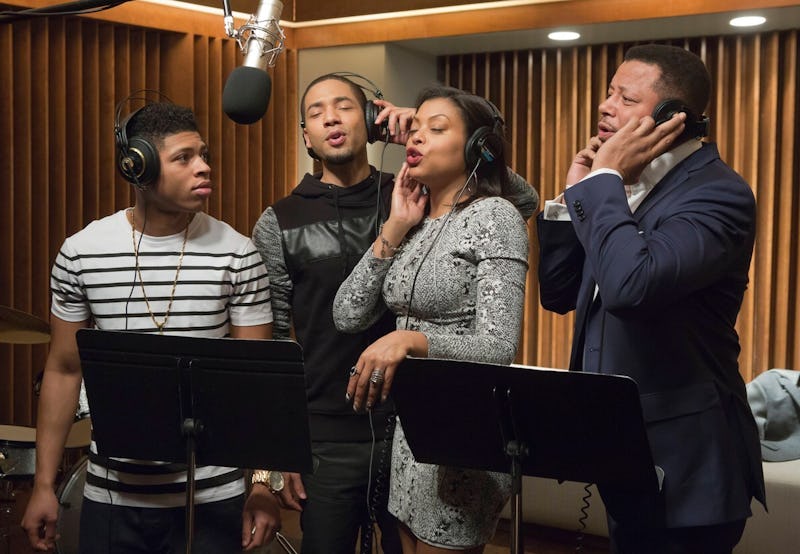 In an act of network synergy so completely perfect that I don't even mind having to use the word "synergy," FOX has launched a singing competition, Next Empire Artist. The premise is perfectly simple: FOX is trotting out the bright gold Empire bus, and turning into a fully-furnished recording studio. (Did you know recording studios could fit on a bus? I did not.) The bus will start in Los Angeles, and drive across the country, stopping at 15 of the major hubs. There, anyone at all (willing to wait in line, that is) can make it into the bus, where they will record their own versions of songs from... you guessed it: Empire. The winner will appear on Empire as one of the artists on their record label. Isn't that neat?
In short, it is American Idol meets The Glee Project, and I'm sure it will be a huge hit. The only thing it's missing is a panel of judges to turn chairs, make pithy comments, and generally move things along. Maybe they'll have some sort of Lucious Lyon stand in in the studio with them, coaxing and threatening a good perfoamnce out of them. I know it's compelely wishful thinking, but how amazing would Cookie be as a judge of a singing contest? Ridiculously brilliant. She'd likely put Simon Cowell to same with her insults, and we'd all love her for it.
The new artist addition actually works pretty seamlessly into the show. Empire has already seen its fair share of guest singers rotate in and out, and a reality show winner would make headlines because they aren't a super star like Mary J. Blige or Jennifer Hudson. The winner could be a new talent that Cookie digs up and turns into her own project (I really want to see Cookie coach singers), that she then uses against the talent Lucious represents.
Alternatively, they could cast this part as someone on a rival record, who is gunning to replace Jamal as the new soulful artist in town. Hakeem hasn't really had a good enemy yet (aside from his own family at times), so they could also weave the winner in as a new rapper signed to a rival record that tries to start up an East Coast/West Coast style feud. I'd watch that.
No matter what team they sign for, this role would be an easy one to grow or expand, depending on how they test with audiences. People hate them? No biggie, people cycle out of Empire all the time. People love them? Easy, give them a spot on the record. They could double as love interests, rivals, old friends — honestly, with Empire, the possibilities are literally endless. Regardless of who they end up as, or how long they stay, this will certainly make for good reality TV.
Images: Chuck Hodes/FOX; Giphy