How To Enjoy D.C.'s Dupont Circle Like A Pro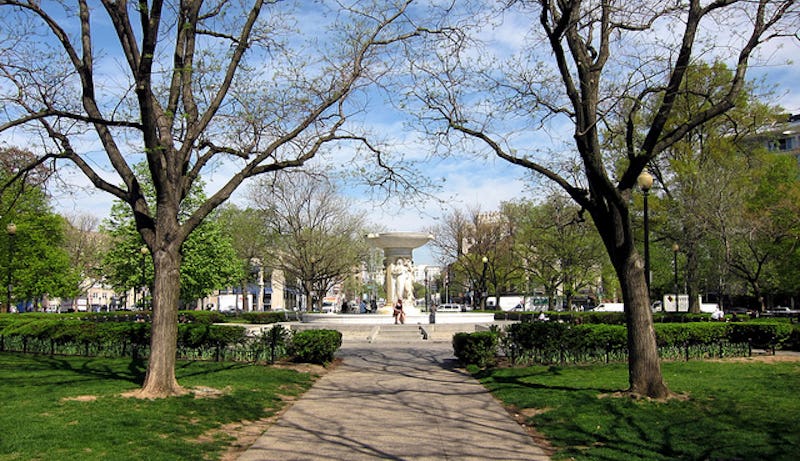 If you're looking for adventure and good times this summer in Washington D.C., there's no need to look any further than Dupont Circle. Dupont is one of the largest and trendiest neighborhoods within the district, and literally acts as the gateway to the rest of D.C.— or at least to Connecticut, New Hampshire and Massachusetts Avenues. And getting to Dupont Circle couldn't be easier — the heart of the neighborhood sits right above a conveniently located metro stop, which is within walking distance of everything in Dupont. Right next to Dupont is Adams Morgan, a neighborhood known for its bars and restaurants, which opens up even more options for those staying in the Dupont area.
Because of its location, Dupont draws a diverse group of residents and visitors, from families and tourists to young twenty-somethings. In addition, Dupont is home to a vibrant and active queer community. But be warned: though Dupont lacks the hustle of other tourist-focused areas of D.C., it's still teeming with life and activity.
In between the shopping opportunities, countless bookstores, and plethora of bars, Dupont also offers some beautiful outdoor spaces that are an ideal getaway for beautiful summer days. Whether you're meeting up with friends or just searching for a nice place to read a book, Dupont offers everything you could dream of and more.
Entertainment
The Keegan Theatre
The Keegan Theatre is home to Dupont's premier theater company, who have been performing for the local community off and on since 1996. Known for their high-quality shows and affordable ticket prices, the Keegan Theatre offers both popular and lesser-known plays throughout the year. Often called a "hidden gem" of D.C., Keegan has previously won awards for their adaptations of Rent, Hair and Cabaret.
The Phillips Collection
Founded in 1921, The Phillips Collection is the crown jewel of Dupont's art scene. Home to a vast collection that contains prime examples of everything from modern art to French Impressionism, the distinguished gallery includes works from masters such as Renoir, Pollock, and Van Gogh. For a special treat, on the first Thursday of every month the collection hosts "Phillips After 5," an evening event where guests are treated to live music, food, and a cash bar. Each month's event is themed, and is always extremely busy, so reservations are recommended.
The President Woodrow Wilson House
The Woodrow Wilson House runs a museum and gallery in honor of former president Woodrow Wilson, who lived in the house after his presidency. Located along Embassy Row, the house features striking architecture and provides a unique insight into the Wilson presidency and American history. On the first Wednesday of every month, the house stays open late for "Vintage Game Night," where guests can enjoy drinks, snacks and vintage boardgames.
Restaurants & Bars
Cobalt
Cobalt is one of the most popular gay bars within the Dupont area. Housed in a three story Victorian building, Cobalt contains three different spaces — the Level One restaurant, the 30Degrees lounge, and the Cobalt club. With a constantly rotating schedule of events, there is always a new deal or special running at Cobalt throughout the year.
ChurchKey
If you like beer, ChurchKey will be your new mecca. Although it's a bit closer to Logan Circle than Dupont Circle, ChurchKey is well worth the short walk. In addition to a decent dinner and snacks menu, ChurchKey offers over 550 different types of beer, with selection carefully overseen by their Beer Manager. Don't get overwhelmed by the vast possibilities though — ChurchKey also offers four-ounce tasters. The variety of choices and urban vibe of the bar make it a must-do on your Dupont adventure.
Lauriol Plaza
If you're starving after a long day of exploring, Lauriol Plaza is your best bet. Situated on the edge of Dupont Circle, Lauriol Plaza is a massive restaurant that serves up the best Spanish and Latin American cuisine you could ever ask for. While the restaurant offers an impressive bar and multiple levels of seating, the best spot in the place is in their rooftop seating area, which provides fantastic views of the neighborhood and a brunch experience you can't beat.
Shopping
Kramerbooks & Afterwords Cafe
Dupont has a wide variety of adorable bookshops and cafes, but none can rival Kramerbooks & Afterwords Cafe. The independent bookstore boasts an impressive selection of must-reads, and after an afternoon spent browsing their stacks, why not kick back and enjoy a coffee at the attached cafe? With outdoor seating, live music, and a full menu that ranges from breakfast to late night supper, Kramerbooks is D.C. institution unlike anything you've seen.
Dupont Farmer's Market
If you're an early riser and love fresh veggies, the Dupont Farmer's Market is for you. Running each Sunday from 9:30 a.m. to 1 p.m. during January through March and 8:30 a.m. to 1:30 p.m. April through December, the farmer's market is a weekly ritual. Growers and vendors from across DC and the surrounding states gather together to offer a variety of produce and goods that are well worth the early morning.
Claude Taylor Photography
Claude Taylor Photography is like a record store for photos. Part art gallery and part shop, the store offers an astounding number of the unique and popular prints that have launched Claude Taylor's career. Almost all the photos are set in some far off country, and are beautiful and vivid testaments of Taylor's globetrotting adventures. If you want unique and beautiful art for your home, Claude Taylor Photography is where you'll find it.
Sightseeing
Dupont Circle
The neighborhood get its name from the literal traffic circle in the heart of it — and the beautiful fountain and nearby parks make the circle an ideal place for people watching, doing yoga, or grabbing a chess game on one of the boards set up near the fountain. Relax, have a picnic and enjoy the fact that you don't have to be rushing anywhere for once.
Embassy Row
A multitude of foreign embassies make their homes among the beautiful Victorian town houses of Dupont Circle, and Embassy Row is a beautiful walk if you're a fan of architecture. Benches and small parks around the area provide great spots to relax, read a book, and soak in the summer sun.
Gandhi Statue
If you're already on Embassy Row, be sure to stop at one of D.C.'s most underrated statues. The large statue of Mahatma Gandhi stands proudly across from the Indian Embassy and doesn't see much traffic. So this summer be sure to stop by, say hello and give Gandhi some love.
Images: Tim Evanson, Elvert Barnes, Lynford Morton, DCtourism, Elvert Barnes, NCinDC (3), Daniel Lobo, Elvert Barnes, DCTourism, David Gaines, Timothy Tolle/ Flickr; ChurchKey/ Facbeook