14 Books To Read If You Love To Travel, Because You Can Never Have Enough Wanderlust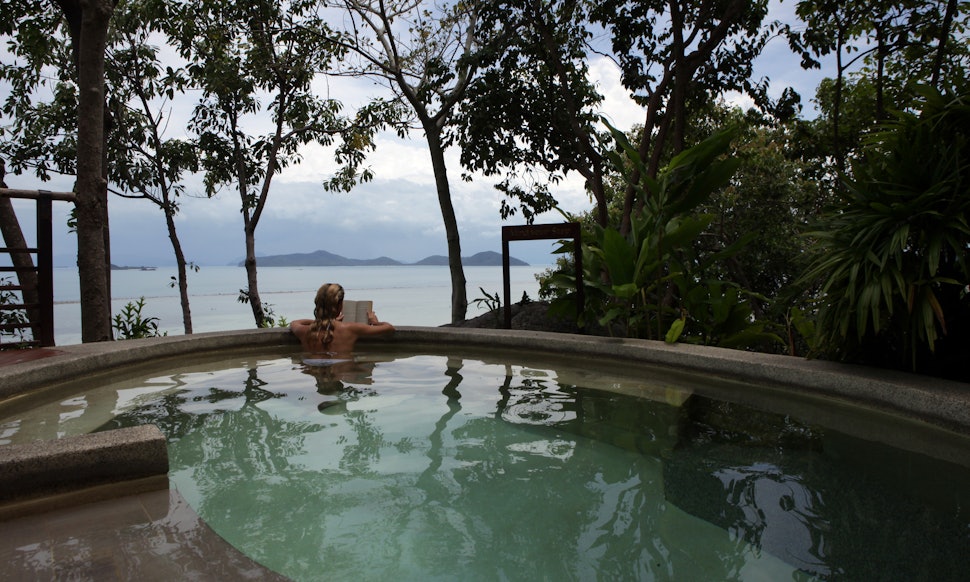 Paula Bronstein/Getty Images News/Getty Images
Don't have the time and money to trek around the globe on your dream vacation? Try reading a few of these beauties on our list made just for travel lovers. Explore exotic places, lush beaches, snowy mountains, and so much more. Each of these titles will make you feel like you're really there. Plus, they are super inspiring, and will give you the travel itch. But be careful; a lot the books might just inspire you to quit your job and move to those magical, faraway places. Get your passport ready, because you're going to want to plan a great adventure after you dive into these books.
'Wild: From Lost and Found on the Pacific Crest Trail' by Cheryl Strayed
Thinking of adventuring out alone? Need some "me" time out on the open road? What about trekking through the Mojave Desert through California, Oregon, and Washington? That's just what Cheryl Strayed did after the death of her mother. This tale is all about strength and the will to survive. It's moving and downright inspiring. You may or may not buy a pair of hiking boots upon finishing this gem.
'Beautiful Ruins' by Jess Walters
Ever dreamed of meeting the one on a picturesque coast? Strolling around a charming cliffside village in Italy? Or wandering around the romantic streets of Florence? Beautiful Ruins explores characters and their deep connections, from Italy to Hollywood. It's funny, romantic, and will give you the bug to pack a bikini and head to the sea towns of Italy, where the stretches of shore are dazzling and rugged.
'The Vacationers' by Emma Straub
Calling all readers who need to get out of Manhattan for a while! Summer can be a sweaty drag in the city, but follow the Post family as they ditch NYC and head to Mallorica for a celebration with family and friends. Follow their journey among the magic of the island — the yellowy sunlight, crystal blue water, the pristine white sand beaches, and, of course, the intense drama of family and friends. Can they survive the changes ahead, or will the magic of the island leave them blinded by reality?
'Where'd You Go, Bernadette' by Maria Semple
If you're bored, pick up this book. If you are ready for an adventure, pick up this book. If you need a break from the walls of your living and reruns of Friends on Netflix, please pick up this book. When Bee's mother disappears from her recluse Seattle life, Bee sets out to find her so they can take a promised trip to Antarctica. It's a touching story about moms and daughters, full of heart, charm, and wit. You'll feel like you've taken a vacation after this one.
'Maine' by J. Courtney Sullivan
Oh, the coast of Maine: full of long stretches of rocky coastline, weathered lighthouses, crisp sea water, and fishing villages that sink into yellow and pink sunsets. Courtney Sullivan's tale of three generations of women not only captures the spirit of summer in Maine, but digs deeps into family dynamics. Each woman must make peace with each other and themselves to survive summer on the beautiful beaches of Maine.
'Eat, Pray, Love' by Elizabeth Gilbert
You know when your relationship falls apart and suddenly you want to dye your hair? How about take a trip? That's exactly what Elizabeth Gilbert needed after her divorce: a big change. In this dazzling memoir, Gilbert sets out on a worldwide journey to find herself, peace, good food, love, and much more. She visits the places you've only dreamed of, and by the end of this book, you might just be bolting for the airport.
'Paris in Love: A Memoir' by Eloisa James
Still dreaming of quitting your job and just moving to Paris? Still see yourself strolling the streets with an enormous baguette with heaps of butter? Red lipstick? Fresh flowers? And of course, all the museums? Don't give up yet! Eloisa James made this dream come true, and she documents it in this book. She copes with quitting her job, learning the language, and raising kids abroad. It's an inspiring read that may make you dream even bigger.
CLICK HERE TO BUY
'The Lost Girls: Three Friends. Four Continents. One Unconventional Detour Around the World' by Jennifer Baggett
Okay, so quitting your super-obnoxious NYC media job sounds like a good idea, right? And dumping your mediocre boyfriend? That's exactly what three friends did in the unconventional detour around the world. They traveled around the globe with a backpack and a desire to find answers on the edge of a quarterlife crisis. Sound familiar? Get moving!
'On the Road' by Jack Kerouac
This book is for the road tripper at heart. This wacky, drug-induced, prose leads a couple of friends across the country in hopes of finding sanity and answers in California. This American classic covers jazz, sex, drugs, and all that comes with life on the road. Pick it up before your next cross-country tour, or better yet, read it along the way.
'The Rocks' by Peter Nichols
Is it possible that you've daydreamed of strolling along the Mediterranean Sea and walking barefoot through dense olive groves? Yeah, us too. The Rocks is a dramatic love tale among some of the world's most dramatic settings. Two honeymooners call it quits in 1948 and never speak again, all while living on the same island. Their story, and that of their love-struck children, is a dazzling tale that will make you dig out your passport.
'The Light in Between the Oceans' by M.L. Stedman
There's something magical about the absolute isolation of a lighthouse. The quiet roar of the sea, the romantic tale of the ocean's roar, and the sky an infinite horizon of blue and green. That's where Tom and his wife start a new life. After they can't have a baby, a mysterious baby washes ashore. Unravel the mystery of love, grief, and the infinite loveliness of Australia.
'The Snow Leopard' by Peter Matthiessen
If your weekly yoga class isn't giving you enough spiritual guidance, you should consider this book. Part adventure, part spiritual journey, The Snow Leopard is a classic piece of literature that takes you into the remote mountains of Nepal. A biologist searches of a glimpse of a snow leopard while embarking on a spiritual Buddhist journey. You may think you aren't a mountain climber, until of course after this read, you are.
'The Motorcycle Diaries: Notes on a Latin American Journey' by Ernesto Che Guevera
This wildly exciting travel diary will have you hitting the road in no time. Get ready to explore the world of a young Che Guevara among some of the most beautiful landscapes you can imagine. It's a pretty cool movie, too.
'The Beach' by Alex Garland
Maybe you remember Leo DiCaprio in that perfectly blue lagoon in the movie The Beach. (If not, get on that now). Have you have since been planning a wild adventure to tour Asia? Before you go, read the real thing. The story, a journey of travelers looking for a hidden and deadly oasis, is a thriller! The lush, desolate landscapes will have you packing light and heading east.