Barneys New York Has 8 Fab Shoe Collabs Coming Out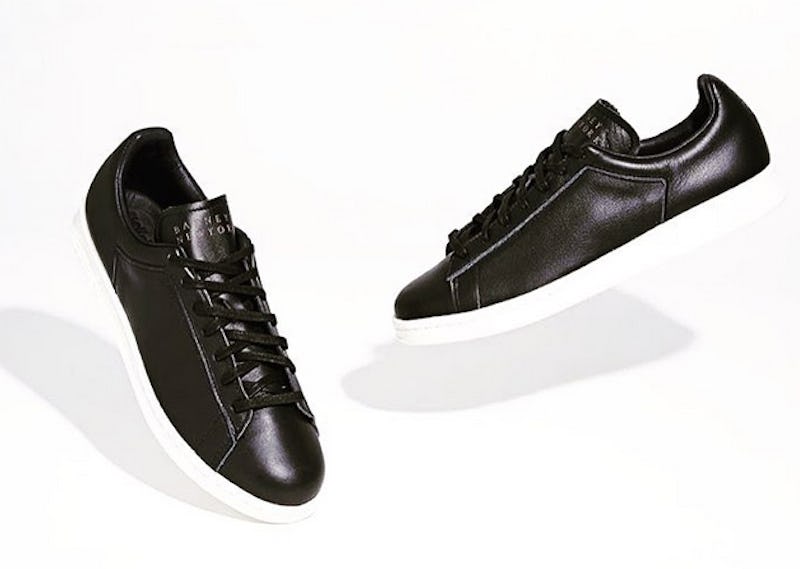 If you firmly believe that you can never have "too many" pairs of shoes, then you're going to love the footwear project Sole Series, which Barneys New York launched just today. The project is a compilation of collaborations amongst eight different shoe brands. Over the course of six months, you can expect collaborations with Adidas, Vans, Filling Pieces, Diadora, Timberland, Converse, Brooks, and Common Projects to all roll out. And these collaborations don't just concentrate on creating limited edition colors, but rather tightly focused around design.
The first collaboration to kick off the Sole Series is a limited edition pair of Adidas Sam Smiths. These shoes are normally known for their symmetrical perforations, which symbolize the Adidas stripes. But because the series concentrates on design, "the Stan Smith that we have is asymmetrical, which is really unique," says Chris Pepe, the senior buyer of BNY.
They come in both black and white in leather, which is far different from the usual white and green of the traditional tennis shoe. The majority of the collaborations are made for men, but there will also be a few women releases. too. Plus, ladies, if you see a men's pair that you absolutely love, who's to say you can't wear it? As long as you find a size that fits you, then all you got to do is rock it!
The entire series is quite versatile, considering it recreates popular throwback kicks as well as gives exposure to some more underground brands. In an interview with The Window, Pepe said, "I feel like we are in a sort of footwear renaissance. There's a bunch of really great, small brands coming up. For example, Filling Pieces is an awesome Amsterdam-based sneaker company that is making shoes for the 2015 guy who might not skate, but still wants that sleek, more well-rounded look."
It definitely sounds like the Sole Series is going to have something for everyone to enjoy.
Images: barneysnyofficial, surfacemag, hrtandsole/Instagram