Alison Brie Kills It On 'Lip Sync Battle'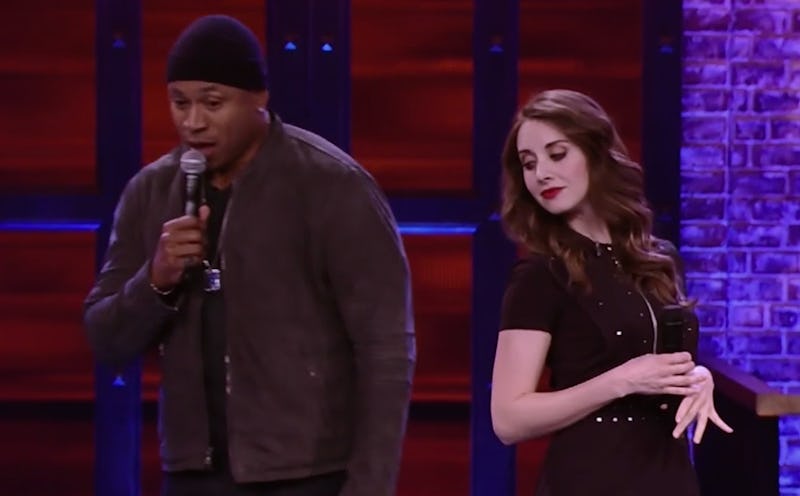 It might be one of the greatest lip sync performances so far, and thank goodness it came from one of the funniest women around. On Thursday night's Season 2 premiere of Spike's Lip Synch Battle, Alison Brie faced off against Will Arnett in a hilarious and insanely entertaining episode that had Brie kicking Arnett's butt six ways from Sunday with two of the greatest lip synch song choices on the series so far, possibly second only to Anne Hathaway's amazing lip sync song choice (and performance) of Miley Cyrus' "Wrecking Ball." The best part of Brie's song choices was that she took two female centric songs, the first of which lets the women ogle the men for a change.
Despite Will Arnett starting with a decent performance of "Who Let The Dogs Out," Brie showed she was a force to be reckoned with when she began her set with the classic Salt-N-Pepa masterpiece "Shoop." And yes, it was perfect in every way. Not only did Brie attempt to embody the accurate character for the song, when she ended her performance and LL Cool J joined her onstage, she threw some of the "Shoop" lyrics the rapper's way while looking him up and down. Lip Sync Battle's colorful commentator Chrissy Teigen said it best, "I love how uncomfortable we're making LL right now." It was incredible.
But that's not all. Of course Brie and Arnett had one more chance to prove to the audience that they deserved the epic Lip Sync Battle belt. Will Arnett really stepped up his game with a lip sync rendition of "Everything Is Awesome" from his and Brie's film The Lego Movie. But it was never going to beat the brilliance of Brie's second song choice and, more importantly, performance of the newer monster hit "Bang Bang" from Jessie J, Ariana Grande and Nicki Minaj was the stuff legends are made of.
Poor Will Arnett. He never stood a chance. Brie came out donning a 20s style zoot suit and old-timey guns and shot up a Wanted poster of Arnett that deemed him Public Enemy Number One.
Alison Brie ran away with the title with no debate at all. With such great performances from so many celebrities, we need more episodes every season of Lip Sync Battle with more great match-ups. The only person who might actually be able to Brie a run for her money is Hathaway herself. Now that's a female empowerment match up I would pay to see.
Images: Screenshot/Spike TV (2)