Rescue Dog With Half His Body Is Wholly Precious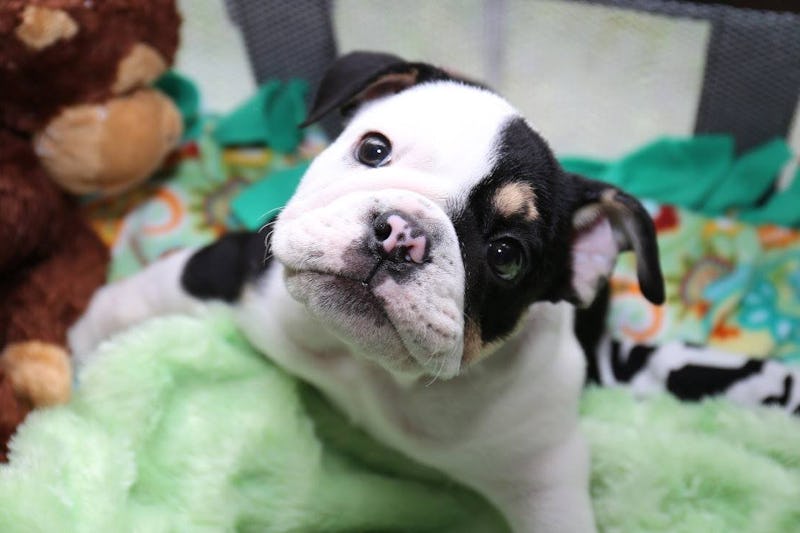 On first glance, Bonsai might just seem like your average so-cute-you-can't-stand-it Bulldog puppy. But on closer inspection, you'll see that Bonsai, born at the end of April, is dealing with a number of difficult health issues, not least of which is that the puppy lacks a complete spine. Adorable Bonsai has a long road ahead, but fortunately Friends of Emma, a rescue organization that specializes in helping animals with special needs, is dedicated to helping the puppy achieve the highest quality of life possible.
Bonsai was born to an English Bulldog breeder in Arkansas with a variety of rare genetic abnormalities. According to Bonsai's Facebook page (the slogan of which is, appropriately, "Half a Bulldog, Twice the Love"), Bonsai is suffering from sacral agenesis (caudal regression syndrome), sacrocaudal dysgenesis, and, possibly, a form of spina bifida. Elizabeth Hart, founder of Friends of Emma, based in Fort Worth, Texas, explains, "In layman's terms, Bonsai was born with only half of his spine, no functional pelvis and with tiny contracted hind legs." Bonsai also has swimmer's syndrome, a condition in which a puppy's legs spread outward, causing difficulty with standing and putting undue pressure on the internal organs. At the end of June, Bonsai's hind legs, which did not function and which would have caused further problems in the future, were both amputated.
The now-two legged Bonsai doing well post-surgery, but he still has a long road ahead of him, and Friends of Emma is seeking help to pay for his extensive medical expenses. As Hart explains on the fundraising site for the pup, he may eventually be eligible to use a wheeled cart, and he "will forever be a 'diaper kiddo.'" Hart writes on Bonsai's YouCaring fundraiser site,
Bonsai is a special character and we just hope to spread the word about him and bring awareness that those born different (animals and human alike) can still MAKE A DIFFERENCE in the lives and hearts of many!
One thing's for sure: Whatever the future may hold for little Bonsai, his face is absolutely irresistible. I mean, COME ON:
This video shows Bonsai being a happy, energetic puppy nine days after surgery:
Find out more about Bonsai's journey on his Facebook page.
Images Courtesy of Elizabeth Hart