I Asked 37 Soccer Fans One Question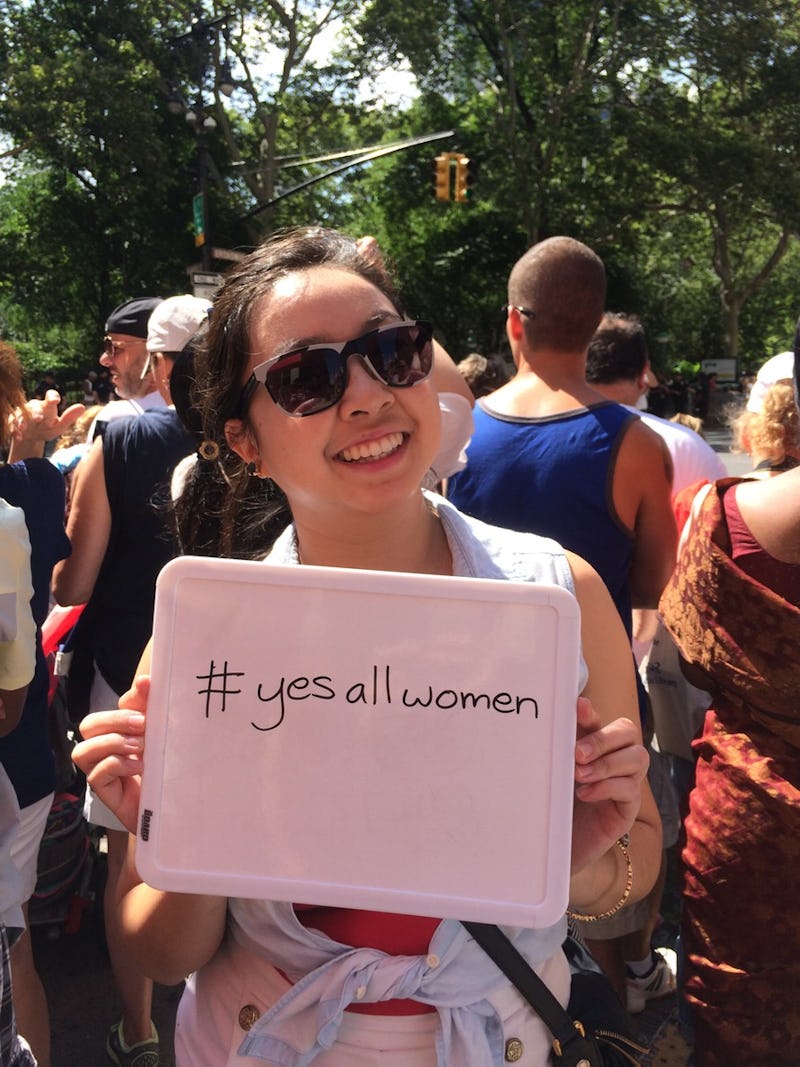 On Friday, the U.S. women's soccer team became the first female sports team to be honored by a ticker-tape parade along New York City's Canyon of Heroes after winning the Women's World Cup (for the third time, FYI!). The sensational female athletes beat Japan 5-2 in the World Cup final July 5, scoring four goals in the first 16 minutes alone. A crowd of soccer players and fans lined the streets of Manhattan Friday morning while the team's stars rolled by on multiple floats, with midfielder Megan Rapinoe waving the championship trophy proudly in the air. Since women's sports are often viewed as subpar, I used the NYC Women's World Cup parade as an opportunity to get fans' opinions on exactly why we should care more about women's soccer.
Fans began gathering along the Canyon of Heroes at 3:30 a.m. to ensure a good view of Hope Solo, Carli Lloyd, Abby Wambach, and the rest of the history-making U.S. women's soccer team. The crowd repeatedly chanted "USA! USA!" When the athletes' floats came close, confetti was poured from the windows of neighboring office buildings, showering the team, parade-goers, and the streets. Honestly, everyone at the parade radiated pride for their home team's big victory, a feeling U.S. soccer fans don't get to experience very often.
I asked 37 fans why we should care about women's soccer just as much as men's soccer. Here's what they said.
Mellina, 15 & Cara, 16
Zoe, 20
Taylor, 22
Jennifer, 19 & Matthew, 20
Jackie, 21
Ellie, 52
Amy, 56
Sarah, 23
Audra, 22
Dylan, 23
Blythe, 23
Ziad, 24
Tony, 45 & Jake, 6
Pat, 70
Manuela, 37, Lexi, 13 & Jasmine, 16
Bill, 50
Kaitlin, 26
Melanie, 24
Alison, 27
Carleen, 27
Alex, 23 & Ashley, 20
Eli, 32
Eric, 20 & Mikey, 12
Patty, 55 & Betsy, 57
Katie, 27
Marvin, 46
Carolyn, 47 & Casey, 11
Alicia, 61
There you have it, folks.
Images: Lauren Holter (28)