11 Amazing Holiday Nail Art Ideas That Normal People Might Be Able to Recreate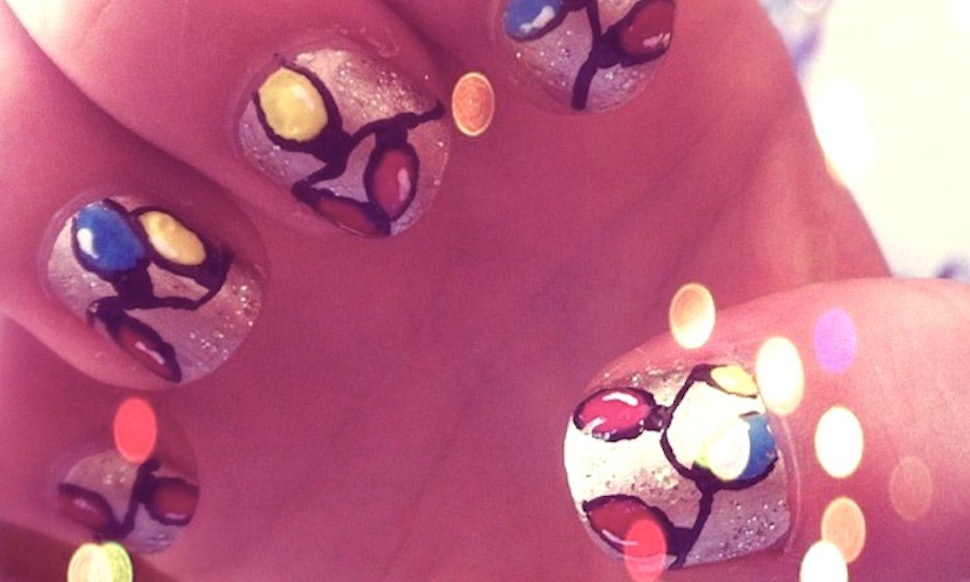 Don't click on Instagram's #christmasnails hashtag unless you want to be intimidated by hordes of nail art aficionados and their mad manicure skills. It's a jungle out there — a jungle of gold leaf, gel manis, nail art appliqués, and enough fine-motor-skills-required detailing to make Santa's head spin. Thankfully, you don't have to experience the self-doubt and hand-loathing that comes with wading through all of it in order to find your perfect manicure — we've done the dirty work for you.
All of the following manicures are guaranteed to blow your friends' minds, but just between you and me, they're not so out of your league that you couldn't DIY them with a tiny bit of patience and an even tinier nail art pen.
Image: @saffieereid/Instagram
White elephant
Candy-cane stripes? Glitter? Rhinestones? If you can't decide on a holiday theme, this manicure's for you.
Image: @kirbs_nails/Instagram
Classic snowflake
Red polish and white snowflakes snuggle up together for a cozy classic. Note: if you don't have the skills needed to draw an actual snowflake, you can achieve the same softly-falling-frozen-rain effect with white dots in various sizes.
Image: @jotiedeken/instagram
Subtle Snowflake
A white snowflake or two looks hushed and sophisticated against a neutral background.
Image: @carolin411/Instagram
Total sparkle
Glitter like a box of broken Christmas tree ornaments by covering your nails with tiny textured beads.
Image: @kimboslicee65/Instagram
The world's hippest snowmen
Let's count the trends embodied in this manicure: ombré, graphic motifs, and an accent nail (okay, ten accent nails) — this is one ambitious nail job. Perhaps this look is more of a "reach." Scare quotes necessary.
Image: @_candy_cane_lane_/Instagram
French Christmas manicure
Here's another great option for the gal who likes to keep things neutral: a clean French manicure with an adorable string of lights across a single nail.
Image: @saucygabz/Instagram
3D embellishments
For all the lack of colored polish that's going on here, this mani knows how to get our attention — with glitter-encrusted tips and a tiny wreath glued to the ring finger.
Image: @mbear2011/Instagram
Witchy nondenominational chic
I couldn't tell you exactly why these nails are holiday-esque, other than the fact that they were tagged #christmasnails, but there's something festive about them. There's also something a little frightening.
Image: @ottawanails/Instagram
Invisible Santa
There are plenty of Santa-themed manicures out there, but this one's the cutest – where'd Santa go? Are you hiding him? ARE YOU?
Image: @candlefire101/Instagram
Seriously classy
This is the holiday nail for the girl who thinks motifs are tacky. There's nothing explicitly holiday- or even winter-themed about this manicure, but let's just say it wouldn't look out of place beneath a Christmas tree.
Image: @fashiondreaminggg/Instagram
Turkey nails
Whether you're a vegetarian using your nails as a form of protest, or a carnivore using your nails as a form of silverware, this is about as artsy as a manicured turkey can get.
Image: @jazzyfay07/Instagram