How To Turn Bar Soap Into A Liquid Scrub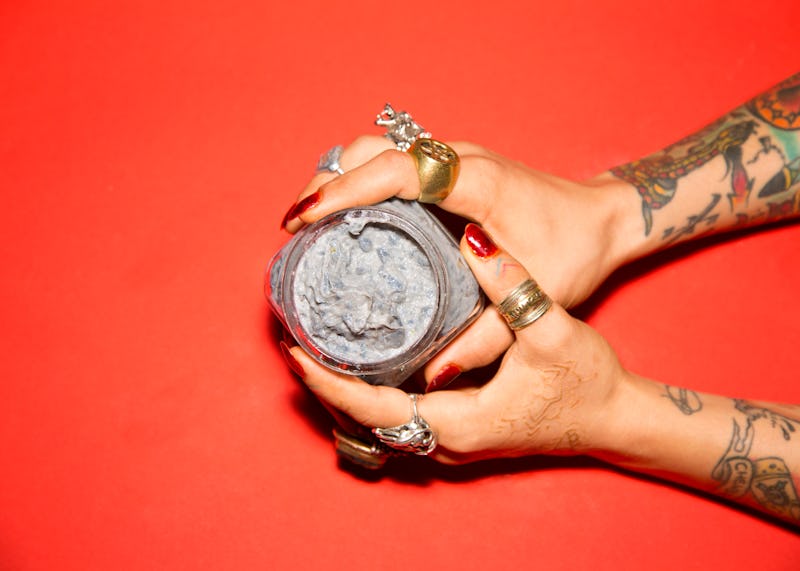 I am a huge fan of African Black Soap and it's beautiful effects on my skin, but I hate using it in solid form. Black Soap makes incredible lather, but it's worth learn how to turn bar soap into liquid body wash if you're going to use the stuff. After all, just the process of touching or storing these types of soaps wastes them. Bars stored in the shower waste away as humidity and splashing shave down the soap and send it right down the drain. I'm always looking for more ways to reduce waste, and my favorite soap is no exception.
Store-bought liquid soaps tend to cost more than bar soaps, and the liquid or pot versions of African Black Soap are even harder to find and more expensive as well. Pot soaps are jars of soap with a softer balm like or whipped consistency that increases the product's longevity. You scoop out roughly the amount of a pea to use with a loofah, sponge, or washcloth and you get the same effects as rubbing a bar of soap onto a surface. I find it to be a gamechanger!
If you ever wanted to know how to hack a bar of soap into an eco-friendly and money saving liquid or paste, read on my friends! You can also use this method if you are still devoted to bar soaps, but want to recycle the tiny bits left over as your soap comes to an end.
Supplies:
WillPowder Soy Lecithin, $16, Amazon | Now Solutions Vegetable Glycerin, $6, Amazon | Shea Moisture African Black Soap, $4, Amazon | Hot Water
Tools:
Pyrex 5 Cup Capacity Measuring CupPlastix WhiskBox GraterOXO Bartender's JiggerClean Recycled Jar
How To Turn Your Bar Into Liquid
1. Grate It Down
First begin by grating the bar of soap into shreds. You can also chop but I find grating to be ideal.
2. Add Lecithin
Put the shredded soap into measuring cup and add half an ounce of lecithin.
3. Add Glycerin
Mix in three ounces of glycerin.
4. Pour In Water
Add roughly four cups of hot water in one cup increments while whipping, then allow to sit for about an hour to form a creamy consistency. Keep playing until you get the consistency you like by adding more liquid.
5. Blend It Up (If You Want To)
To make the soap creamier, you need a blender or electric mixer. More lecithin will also help the water gel and emulsify with the soap. Feel free to add things to customize as well! You can use honey, oils (just a pinch will do), and essential oils to get it your way.
6. Store & Enjoy
I have been using mine in the pot form for weeks now and it has barely made a dent in the jar! This saves money, increases value, and lets you get in touch with your creative side.
If you're feeling super ambitious, I recommend making extra fluid to use in pump dispensers and a thicker version to use for shaving and to add to the bath. The paste formula is great for using with scrub gloves, salux cloths, and Korean Italy towels! The choice is truly yours, but no matter what you can feel awesome knowing you're getting the most out of your precious soap. Scrub on!
Photos: Maria Penaloza