This Book Gives You The Deets On K-Beauty Products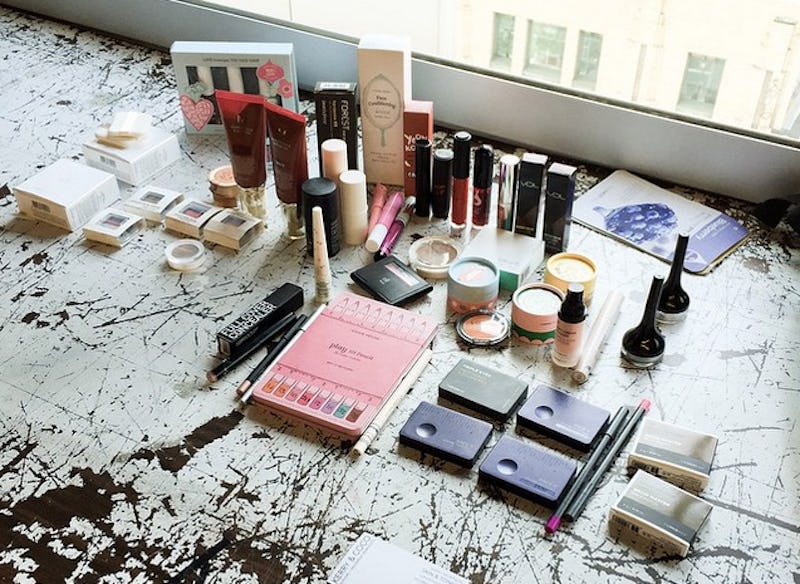 In a recent interview with YouTube beauty maven Jenn Im, she told us her latest obsession is with Korean beauty products. As it turns out, she's not the only one — beauty bloggers, Kerry Thompson and Coco Park wrote a book on K-beauty products called Korean Beauty Secrets: A Practical Guide to Cutting-Edge Skincare and Makeup . From BB creams to doll-like lip tints, Korea's beauty products focus a lot on achieving that dewy, supple-skinned look, which has been widely received in the US.
As the founder of Skin & Tonics, one of the first popularized K-beauty blogs the US, Thompson was asked to write a book on the array of available Korean beauty products. Thinking it was just a joke, Thompson asked to bring Coco Park, founder of The Beauty Wolf, into the project. Little did Thompson know at the time, that initial hesitation was what would create their awesome partnership on the book.
There's no doubt that K-beauty products are worth trying, but the only thing is that most Korean products don't have an English translation of what the products are, when to use them, and directions of how to use them. Although I'm Korean-American, often times when I go to Korean skincare stores such as The Face Shop, I usually have to ask the store representatives every question that I have about the product before taking it home — otherwise, I won't know how to use it.
But with the help of Thompson's and Park's book you get a "mix of some tutorials and a lot of beautiful product photo porn, and descriptions of products and how to use them, including how to assess and address your skin care needs, ingredient definitions, detailed skin care routines, and guides to achieving Korean makeup looks," said Thompson to Fashionista. Park mentioned how the whole goal of the book is to, "bring in a lot of different races and skin tones and really show that, hey, this is for everyone. Don't be intimidated by the name 'Korean beauty.'"
Their book will be available on November 3, but you can pre-order it now. To find out what Thompson's and Park's favorite k-beauty products are, the rest of the interview can be found on Fashionista.
Images: thebeautywolf, skinandtonics, clubcliousa/Instagram