What To Do In Downtown Los Angeles This Summer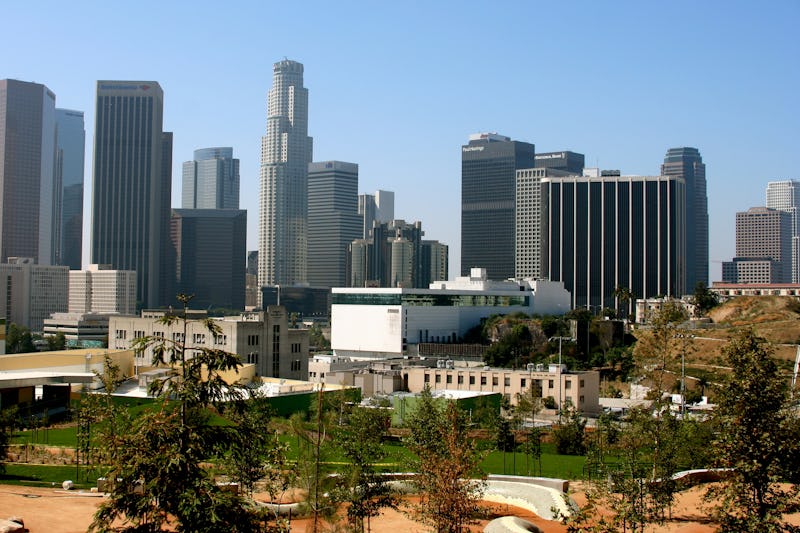 Full of historical landmarks like Union Station and Olvera Street, ethnic enclaves like Little Tokyo and Chinatown, beautiful parks like Grand Park and Pershing Square, impressive art museums like MOCA, and performance spaces ranging from the world- class Walt Disney Concert Hall to to DIY punk venues like The Smell, Downtown Los Angeles is truly an area like no other.Not too long ago, people didn't really venture into Downtown LA (or DTLA) that often, unless it was already their home or workplace. But over the past decade or so, the district has had a renaissance. I wish I could say that all this resulted in was more efficient public transportation, more arts spaces, and cleaner parks. However, we all know what happens when urban areas are "improved" — families who have lived in DTLA for generations (typically low-income people of color) have been displaced so the city can turn their rent-controlled apartments into galleries, restaurants, and million-dollar lofts. Mom-and-Pop stores have been run out of business in order to make room for high-end grocery stores. And homeless people are being forced out of Skid Row so that new construction can begin.It is difficult to write up a summer guide — or any guide — to DTLA that doesn't mention these changes, not only because they're important to be aware of, but because they're pushing out many of the things that made DTLA so great. So this guide doesn't only focus on the new aspects of the area — it also celebrates the neighborhood's community, historical landmarks and establishments that are standing their ground in the face of gentrification.
Best Music Festivals
Grand Performances
The gorgeous California Plaza hosts a summer of free concerts, providing an "array of music, dance, film, and spoken word featuring great artists from around the globe and our very own streets of L.A." You can enjoy incredible shows — often featuring artists involved with activism and social justice — while basking in the beauty of the plaza's surrounding water court and garden. There is an almost overwhelming amount of amazing performances coming up — check them all out here!
Twilight In The Garden: Little Tokyo Concert Series
If you are 21+, then you can spend Sunday evenings in July listening to live music and DJs in the James Irvine Japanese Garden, located in the Little Tokyo neighborhood of DTLA. This beautiful garden within the Japanese American Cultural & Community Center (JACCC) hosts four concerts, featuring genres ranging from hip hop to classical music with Latino and Ethiopian roots. Tickets for these intimate outdoor concerts are only $10, and food and drink is provided by Far Bar, an awesome bar in Little Tokyo.
Levitt Pavilion
There are 50 free free outdoor concerts n MacArthur Park during the summer months. Levitt Pavilion's mission is to "make live music accessible to all, connect people across cultures, promote appreciation of the arts, and invigorate communities." The concerts feature everything — blues, jazz, Latin music, even children's concerts on Sundays. Levitt Pavilion also partners with Sandi "Mama" Romero, owner of the delicious restaurant Mama's Hot Tamales Cafe, located right across from the park. Romero has long focused on helping the many street vendors in MacArthur Park gain business skills, and with Levitt Pavilion, she has established a "food court program" in which Mama's Hot Tamales and many of the local vendors cater the outdoor concerts.
FYF Fest
FYF is by far the priciest thing on this list, but its lineup of over 60 artists may very well make it worth your hard earned cash. The two-day music festival, held on August 22-23 at the LA Memorial Sports Arena and Exposition Park, features headliners Frank Ocean and Morrissey, and performances by Solange, FKA Twigs, Belle and Sebastian, D'Angelo, Bloc Party, and Chet Faker.
Best Food
The L.A. Taco Festival
This is as exactly exciting as it sounds, people! On August 22, head straight to the heart of the city for a free, all ages festival celebrating the local, independent, family-owned restaurants making the most delicious tacos in L.A.! While the Taco Festival has happened every summer since 2011, this August marks the first time that it will be held in the beautiful Grand Park — right in the center of DTLA next to the historic, architecturally stunning City Hall. While you're eating the best tacos that the city has to offer, you can enjoy live music performances in the park. Plus, the festival proceeds benefit Jovenes Inc., an organization that helps homeless youth in the city through housing opportunities and job training.
Grand Central Market
Grand Central Market, which has been around since 1917, is a historic landmark within the city. Inside of Grand Central Market, you will find more than 30 food vendors, specializing in every cuisine under the sun — from Asian snacks to Mexican and Spanish food to Jewish delicacies, with breakfast spots, cafes and grocery shops on hand, too. The Market also hosts events, ranging from art classes to game nights!
Best Ways To Get Around
Trains and Subways
While some parts of Los Angeles leave a lot to be desired in terms of public transportation, the trains and subways in DTLA are pretty damn efficient (and parking downtown is both expensive and basically impossible). Additionally, many of the subway stations feature murals and other public art that document LA history, and Union Station is a historical and architectural landmark. Every place in this guide can be reached by either the Red Line, Purple Line, Blue Line, Expo Line, or Gold Line, and are only minutes apart from one another when traveling by train. Unfortunately for a lot of the population dependent on public transportation, Metro has increased its fares every year. However, day passes are available and riders get free transfers between lines. Check out the Metro website or download the app to plan your routes.
Best Literary Adventures
The Last Bookstore
The Last Bookstore opened only 10 years ago, but is now one of the largest independent bookstores in the world. It has multiple floors, including a back room with more than 100,000 used books that only cost $1! You can also sort through tons of vinyl records and rare books, or attend one of the many free events, talks, or book signings held at the store. The Last Bookstore is also an aesthetically beautiful place to explore, with uniquely and purposefully stacked books forming designs around you while you read. The Last Bookstore's name is a statement regarding the loss of physical bookstores as internet commerce takes over, but this book lover's paradise better not go away any time soon. After you spend hours perusing the shelves (trust me, you'll want to spend hours), you can walk over to the very nearby Pershing Square and enjoy a picnic in the park.
Best Museums, Art Galleries and Historic Monuments
MOCA
Since 1979, the Museum of Contemporary Art has been the only Los Angeles museum focused solely on art produced after 1940, featuring work from renowned contemporary artists like Roy Lichtenstein and Jackson Pollock, as well as a variety of photographs, prints, drawings, paintings, digital artwork, and live performances. MOCA also hosts lectures, classes, and film screenings.
Japanese American National Museum
Head to the Little Tokyo neighborhood of Downtown LA to visit this important museum, which documents the past and present struggles, perseverance, art, and history of Japanese immigrants and Japanese-Americans.
Olvera Street
Olvera Street — located within walking distance of Union Station — is often referred to as the first street in the city and "the birthplace of Los Angeles." The city has maintained and preserved the street's historic buildings, and you'll also find restaurants, marketplaces, and shops serving up traditional Mexican food and goods. Olvera Street provides a historical experience of LA, and Las Angelitas del Pueblo takes visitors on free 50 minute walking tours of the area! You'll also be treated to live mariachi music and folklorico dance performances.
The Downtown Art Walk
On the second Thursday of every month, a stretch of DTLA turns into "a free, self-guided public art phenomenon" for the evening, and numerous galleries open their doors for free. As an added bonus, you'll come across lots of bars and restaurants as you navigate this artistic adventure.
Best Places To Go Out
Bar 107
Bar 107 is an offbeat dive bar with red lighting, literary artwork on the walls, and "horder-esque decor" that has been accumulated over its decade of existence. A neighborhood favorite for years, you shouldn't only hit up Bar 107 for its cheap beer, margaritas, and tequila, free pizza happy hour, dance floor, and a DJ who blasts '70s, '80s, and '90s hits. You should go because, when you imbibe at Bar 107, you are helping them fight the forces of gentrification and unfair eviction. Bar 107 was supposed to shut its door on June 1, but after a wildly successful final night, the owners decided to fight back against their landlord, refused to close and the place is still packed every night. Help this affordable local bar continue to serve its neighborhood! #OccupyBar107
The Working Women's Club — Work Party At Ace Hotel
Every Wednesday from 11 a.m. to 5 p.m,, the Ace Hotel has a Work Party on their rooftop "for creative women who want to check in, work together, and enjoy some good vibes with a good view." Take your laptop or notebook and network with some other badass, independent, profesh ladies.
Images: Channone Arif/Flickr