YA Book Gifts That'll Convert Even Young Adult Grinches: Match the Perfect Book to Your Friends' Pop Culture Favorites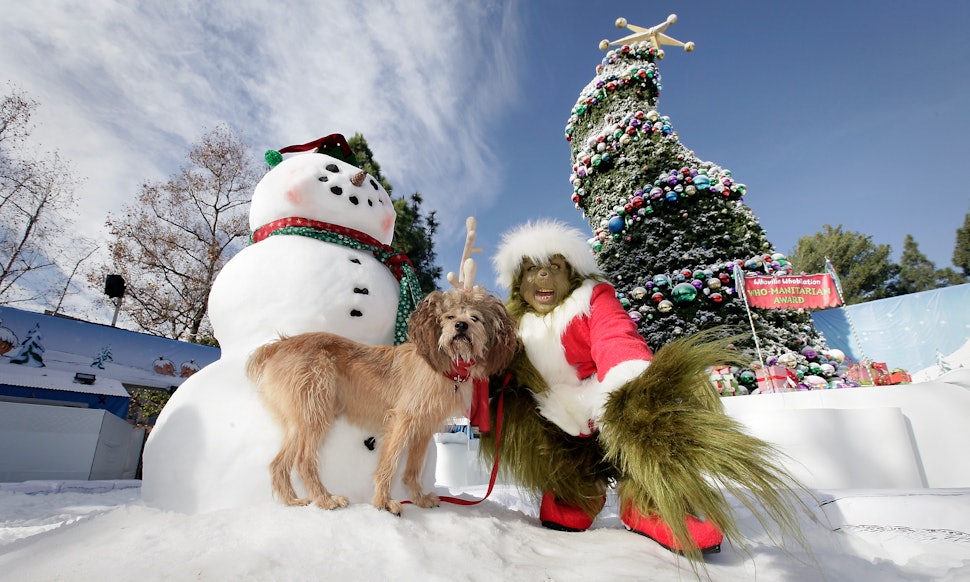 Handout/Getty Images Entertainment/Getty Images
Books can be a great present to capture all of the things you love about your favorite people, like adventure stories for your thrill-seeking pals or cookbooks for the next Martha Stewart. And a good YA novel is something they're unlikely to already have on their bookshelves and can make the best gift of all.
If some adults are resistant to YA, give them a nudge with a parallel to some of their favorite movies, TV shows, and books. Can't miss The Walking Dead or other apocalypse movies? There's a YA novel for that. Or is your friend more of a hopeless romantic, swooning over recent classics like Titanic and Notting Hill? There's a YA novel for that, too. This holiday season, widen your loved ones' literary circles by referencing their pop culture favorites.
For your friend or family member…
Image: Getty Images
... Who's Eager for the Next Season of 'The Bachelor'
Your pick: The Elite, by Kiera Cass
If your friend will cross her fingers for each rose steamy Juan Pablo will give out next season of The Bachelor, she'll eat up the even higher stakes in Cass' The Elite, book two of her Selection series. The series follows America and five other women who are competing for the heart of Prince Maxon and to become the next queen of Illea, a fictional, post-Fourth World War United States. Their quest for love is televised across Illea, just as Juan Pablo's will be across the U.S., but The Elite has the added twist of a rebellion against the competition — something that only nearly happened when bachelor Brad Womack didn't pick either of his two finalists.
...Who Wishes She Worked at the 'High Fidelity' Record Store
Your pick: Eleanor and Park by Rainbow Rowells
I know what you're thinking: Doesn't everyone? But Rowells' Eleanor and Park is prime reading for your mix-tape-making, headphone-wearing, '80s nostalgic friend. While High Fidelity is partly about the demise of a relationship, Eleanor and Park is about what it feels like to be beginning one, an interesting twist. And with Publishers Weekly naming Rowell's novel onto its best books of the year, it could also have the staying power Nick Hornby's classic does.
...Who Still Watches 'Titanic' Every Time It's on Cable
Your pick: These Broken Stars by Amie Kaufman and Meagan Spooner
Kaufman and Spooner's collaborative YA novel is like Titanic... in space. As the doomed Icarus plummets from hyperspace, its wealthiest woman on board is stuck with a lower class major named Tarver, and it's not hard to guess where it goes from there. So if your friend is still insistent that Jack could have gotten onto that door in the icy water with Rose, direct her to These Broken Stars for another chance at lasting love.
...Who Has a Worn-Out Copy of 'The Great Gatsby'
Your pick: The Beginning of Everything by Robyn Schneider
Although vastly different from the American classic, Schneider's novel echoes the sentiments of The Great Gatsby — and includes a poodle that might be the reincarnation of Mr. Jay Gatsby himself. The protagonist, Ezra Faulkner (if you wanted more classic lit references), also meets a mysterious woman whose mood swings are more than reminiscent of Daisy Buchanan. The Beginning of Everything discusses the tragedies that we let define us, but also they new beginnings they allow.
...Who Jumped Up and Down When 'Once Upon a Time' Got a Spin-off
Your pick: Far, Far Away by Tom McNeal
The ghost of Jacob Grimm comes to a young boy who can hear spirits in McNeal's National Book Award finalist. If your friend enjoys the references to fairy tales in Once Upon a Time, she'll love the subtle and overt allusions to classic tales in Far, Far Away. The story is both eerie and enchanting — the mark of a great fairy tale.
...Who Would Rather Watch 'The Walking Dead' on Sundays
Your pick: The End Games by T. Michael Martin
The End Games is a unique addition to the zombie genre, as 17-year-old Michael tries to escort his little brother though the terrors that accompany the apocalypse by pretending it's all a video game. They encounter loads of interesting characters along the way, including a religious cult and a lone military man. The plot is action-packed, like The Walking Dead at its best. Plus, in the book your friend won't have to deal with Carl.
...Who Was Hooked on 'The Fall' and All Those Serial-Killer Shows
Your pick: Paper Valentine by Brenna Yovanoff
At the peak of a sweaty summer, someone known as the Valentine Killer in Hannah's small town is murdering girls. Any fans of X-Files alumna Gillian Anderson's The Fall or the plethora of other entries in the serial killer genre will be satisfied by Yovanoff's creepy, gristly novel and its female protagonist.
...Who Constantly Hums the 'Game of Thrones' Theme Song
Your pick: Rebel Spring by Morgan Rhodes
Did your friend dress up as Daenarys for Halloween? Is she still mourning the Red Wedding? Rhodes' latest addition to her Falling Kingdoms novel series has all the blood, dysfunctional families, betrayal, and quests for power to quench your friend's thirst until Game of Thrones' new season premieres.
...Who Can Quote All the Lines from 'Notting Hill'
Your pick: This is What Happy Looks Like by Jennifer E. Smith
It's many teenage girls' fantasies to have a movie star fall in love with you (and 20-somethings; I'm here, Ryan Gosling), but in Smith's novel, that fantasy comes true. When movie star Graham Larkin accidentally strikes up correspondence with Ellie O'Neill, he shifts his plans and films his next movie in her hometown in Maine. But like with Julia Roberts and Hugh Grant in Notting Hill, it's not just happily ever after from there.
...Who Ordered the BBC TV Channel Just For 'Orphan Black'
Your pick: Mila 2.0 by Debra Driza
Though the BBC show centers on clones and Driza's novel on artificial intelligence, the questions of identity and what it means to be a human they both pose creates parallels between the two. Both are also fast-paced, have a touch of romance, and are told from the perspective of a strong female protagonist — and both are planning second installments for Spring 2014.
...Whose Favorite Part of High School Was Reading Poe's 'The Masque of the Red Death'
Your pick: Dance of the Red Death by Bethany Griffin
Edgar Allen Poe gets a dystopian steampunk revamp in Griffin's YA series that began with Masque of the Red Death. In a city overrun by the plague, the wealthiest residents move toward a lavish party in the prince's palace while the poorer neighborhoods around them crumble. Dance of the Red Death, the second book in the series, begins with a world in shambles, and the heroine Araby Worth seeks revenge at an upcoming masked ball — which should ring alarms for Poe fans.
…Who Prefers the Grotesque Side of 'Alice's Adventures in Wonderland' to the Disney Version
Your pick: Splintered by A.G. Howard
For people tired of the tidied-up adaptations of Alice's Adventures in Wonderland (we wanted so much more from you, Tim Burton), Howard's retelling in Splintered captures the wonder and madness in Lewis Carroll's original. Alyssa, the 16-year-old descendant of Alice, ventures down the rabbit hole to save her mother from madness and finds a grotesque nightmare. Along the way, she has to fix the original Alice's mistakes, and the allusions will appeal to fans of the original.
...Who Is on Angela Basset's Side in 'American Horror Story: Coven'
Your pick: This Wicked Game by Michelle Zink
Zink's heroine, the teenage Claire, learns she is a descendant of New Orlean's legendary voodoo queen Marie Laveau— who also appears as the witches' antagonist in Coven, played by Angela Bassett. Despite her notorious heritage, Claire doesn't believe in voodoo, until a stranger ventures into her family's black market to purchase panther blood, an ingredient used in voodoo to kill, and Claire must face her family's past. In both Zink's novel and this series of American Horror Story, the New Orleans setting comes alive, giving a spark to the spooky retellings.
...Who Read 'World War Z' and Prepares for the Apocalypse
Your pick: The 5th Wave by Rick Yancey
Whether it's zombies, the plague, or another nefarious element, if your friend enjoys apocalypse stories, The 5th Wave is a superior addition to her collection. In this case, the end of the world comes from aliens, but sometimes it's the humans that cause the biggest problems. Kirkus and Publishers Weekly both gave Yancey's story of teenage Cassie and her little brother Sam starred reviews, and they focus on how 'real' the story seems, which means you might also want to get your friend an underground bunker for Christmas.
...Who Is a Little Too Fascinated by 'Frankenstein' and 'The Island of Dr. Moreau' Experiments
Your pick: The Madman's Daughter by Megan Shepherd
Weird science! The mash-up between science and terror of classic books like Frankenstein and The Island of Doctor Moreau is echoed in Shepard's novel about Dr. Moreau's daughter Juliet, who ventures to the island after rumors of her missing father's experiments come to light. Shepherd takes liberties with H.G. Wells' original, but the the resulting fast-paced story is creepy and intriguing as it delves into whether the madness can be transferred among generations.