Where Can I Get A Churro Ice Cream Sandwich?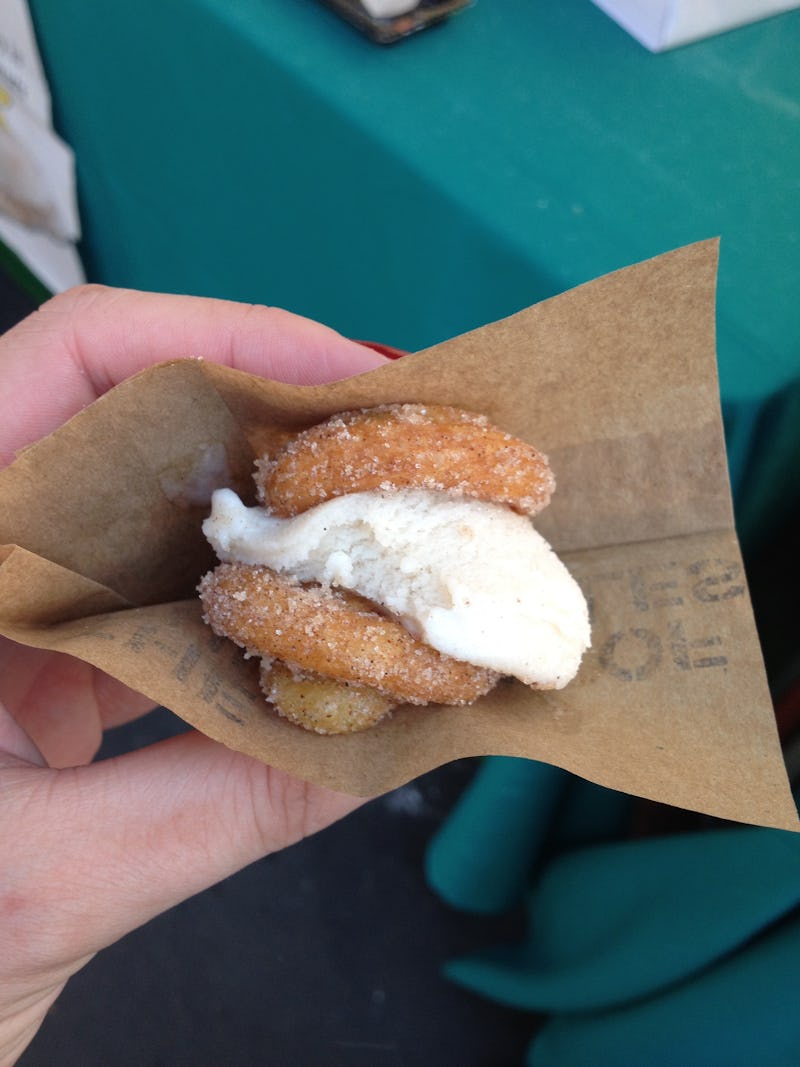 Food mashups are really doing positive things for the world. From Cronuts to Doritos Locos Tacos, our tastebuds are forever grateful to the people who dedicate their lives to the important job of coming up with mind-blowing, innovative flavor combinations. This season, the hottest mashup seems to the the churro ice cream sandwich, and we are very excited about it. But where can you actually get churro ice cream sandwiches? Have no fear — I am here, and I have all the answers you seek.
Before the Internet lost its collective mind over the cinnamon-sugared, vanilla-stuffed confections, the churro ice cream sandwich saw its humble beginnings in Los Angeles (which is crazy because I also had my humble beginnings in Los Angeles) at a shop called The Churro Borough. The treats were hand-crafted by pastry chef and pop-up shop owner Sylvia Yoo, and overnight, she had lines wrapping around the block. It was like the second coming of the Cronut.
So, where can you get a churro ice cream sandwich? That depends on where you live. In most places, sadly, stores haven't quite caught on to the whole churro ice cream sandwich thing yet. That doesn't mean they won't, of course — just that they haven't done it yet.
Otherwise, as long as you live in Los Angeles (or, oddly, Vancouver) check out the options below. It's only a matter of time before churrerias start spreading like wildfire in New York and Chicago, so if you're feeling entrepreneurial, maybe this is your moment! Bring the churro ice cream sandwich east! No, really — please do that, someone. I might be from LA, but I live on the East Coast and would love some churro ice cream sandwich in my life.
If You Live In...
...Los Angeles:
You can get a churro ice cream sandwich at any of these four locations:
...Vancouver:
You can get a churro ice cream sandwich at Hugo's Churros.
Seriously, guys, those are the only five places selling churro ice cream sandwiches in North America right now. Is it just me or does someone need to hop on this, STAT?
...Anywhere Else:
You'll have to get creative. Although few companies have outright tried to borrow the idea, the trend has spawned quite a number of copycat recipes. Want to try your hand at a DIY Ice cream Churro Sandwich? Try making homemade churros and pairing them with a scoop of refreshing vanilla ice cream. I know, it's not the same, but it's still pretty good.
Try these cinnamon sugar pretzels from Dessert Now Dinner Later (served with bowl of vanilla ice cream, of course).
Or these heart-shaped churros from Something Swanky
Or these Dulce De Leche Filled Churro Sticks by Cookies and Cups
Images: SavageCats/ Flickr; ChurroBoroughLA, HugosChurros/ Instagram; Dessert Now Dinner Later