Lady Gaga's 'AHS' Fashion Game Is Terrifying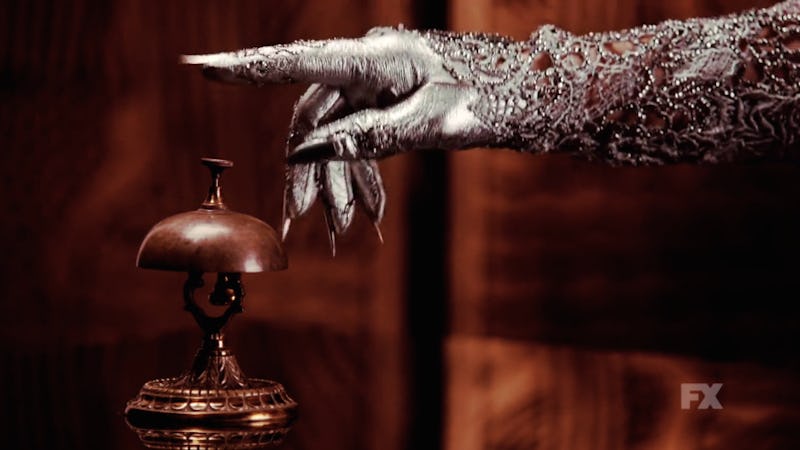 Slowly but surely, the fifth season of American Horror Story approaches, and Fox is making sure to keep us on the edge of our seats with excitement. Between the revelation of (some) of the upcoming characters' names to the sly confirmation that characters from previous American Horror Story seasons will be making an appearance in Hotel, the anticipation for the show didn't seem like it could reach any higher than fever pitch. Then Fox dropped a new American Horror Story: Hotel teaser featuring Lady Gaga... or, rather, featuring Lady Gaga's claws. Then again, perhaps we shouldn't be surprised that the show found a way to make Lady Gaga's eclectic taste in fashion terrifying.
The teaser is only 11 seconds long, but, in that 11 seconds, we are menaced by Lady Gaga's hand. Wearing a silver glove with the nails so razor sharp that there's no way they don't end up in someone's eye before the end of the season, Lady Gaga reaches forward to press the sort of bell that's often seen on old timey hotel desks. Then, when the front desk agent still fails to appear, she raps her nails against the desk impatiently. OK, so that might not tell us more than we already know about the season, but I think we can all agree that it is creepy as hell, am I right? I mean, if we start thinking about exactly how many of Lady Gaga's outfits and accessories could be used as lethal weapons, we might work ourselves into a frenzy of fright.
Gee, thanks, AHS: Hotel. I needed those nightmares tonight. Anyway, the latest teaser is just further proof of how amazing Season 5's promotional game is. I'm sure most of us never thought of gloves or hotels (OK, those of us who didn't see The Shining) as scary, but Hotel is giving us a healthy fear of both before the season even premieres. If you weren't going to come for the Lady Gaga acting gig or for the Matt Bomer potentially not dying this time — at least not right away — then at least come for the sheer fact that the commercials are doing their best to pull you in. While making you afraid of common household objects.
Check out the teaser below.
Image: Fox; Getty Images