17 Books To Read If You Want To Become A Professional Makeup Artist, Or If You Just Simply Love Makeup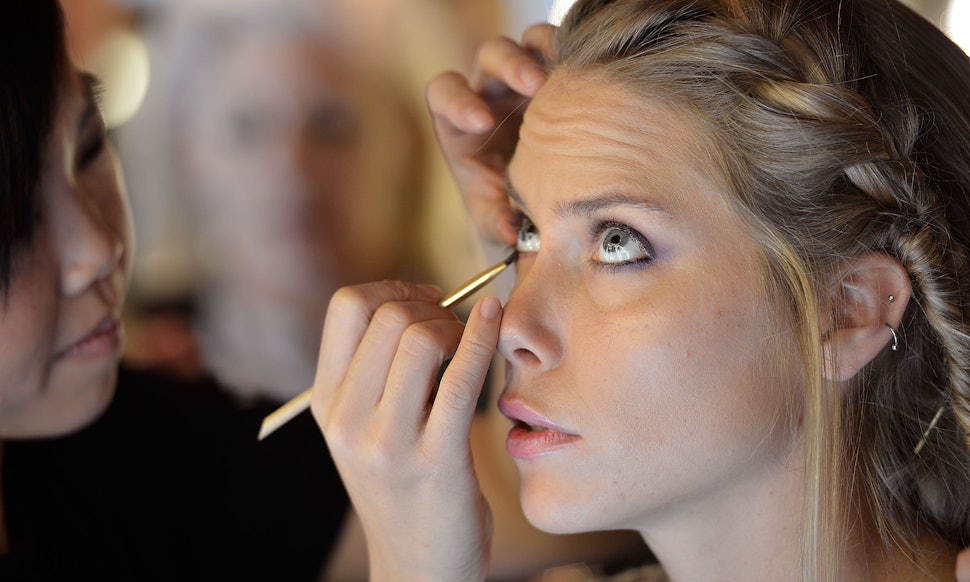 Stefan Gosatti/Getty Images Entertainment/Getty Images
The world of makeup is absolutely beautiful, and nothing captures it better than masterful makeup guides. Whether you're looking to become a makeup artist, or you're simply a lover of all things makeup, makeup guides can be absolutely fascinating. From beauty inspiration to step-by-step tutorials, there is a book out there that will show you the way. Not to mention give you major makeup envy. Here are a few beauty guides that every makeup lover needs to have on their bookshelf.
Images: Pexels (1)
'Bobbi Brown Makeup Manual: For Everyone From Beginner To Pro'
Bobbi Brown, the queen of modern makeup, knows how to instruct your on the perfect beauty application. This book is filled with handy tips and tricks that any makeup lover will adore!
'Makeup: The Ultimate Guide'
Rae Morris and Steven Chee create absolutely fabulous work together. These high quality images coupled with fascinating beauty techniques make this an excellent read.
'Sephora: The Ultimate Guide to Makeup, Skin, And Hair From The Beauty Authority'
Author and beauty expert, Melissa Schweiger gives you an inside look on what it takes to be a professional in the world of makeup. This book gives you insider details of the beauty industry, while giving helpful advice on creating your own masterful beauty looks.
'A Complete Guide To Special Effects Makeup'
Written by the Tokyo Sfx Makeup Workshop team, this book is the ultimate resource for anyone interested in special effects makeup. From zombies to unicorns, this book has you covered on how to create your most fantastical creature.
'Everything Eyes: Professional Techniques, Essential Tools, Gorgeous Makeup Looks'
Need to know how to create an incredible smokey eye? This is the book for you! From shader brushes to eye shadow pigmentation, author Bobbi Brown and her team have you covered.
'About Face: Amazing Transformations Using The Secrets Of The Top Celebrity Makeup Artist'
Celebrity makeup artist, Scott Barnes, knows how to create an incredible makeup look. This book details his time with his A-List clients as well as the beauty tricks that keep them looking their best.
Click here to buy.
'Makeup Your Mind: Express Yourself'
Francois Nars, creator of the Nars Cosmetics, wrote this stunning book about all things beauty. Nars shows off the power of makeup, and how it translates as artwork. This is a great read, and a visually stunning book.
'Asian Faces: The Essential Beauty And Makeup Guide For Asian Women'
Taylor Chang-babaian and Yoko Ono have created one of the first makeup guides exclusively for Asian women. This book details tips and tricks to "enhance the skin tones and facial features of Asian women."
The Makeup Artist Handbook : Techniques for Film, Television, Photography, and Theatre
Mindy Hall and Gretchen Davis have written an excellent book about what it takes to stand out as a makeup artist in the world of entertainment. This book covers techniques that only seasoned professionals know. This is a great resource for learning more about makeup beyond it's day-to-day uses.
'The African American Woman's Guide To Successful Makeup And Skincare'
The guide by Alfred Fornay covers everything from matching your exact skin tone to product selection. This book is incredibly detailed, and offers amazing advice. Artists and makeup lovers alike should check this book out.
'The Mercenary Makeup Artist: Breaking Into The Business With Style'
In this book, Kaylin Johnson details how to make a name for yourself in the beauty industry. Become a makeup artist isn't all fun and games. This book shows you an inside look on what it takes to become an industry professional.
'Face to Face: Amazing New Looks And Inspiration From The Top Celebrity Makeup Artist'
Need makeup inspiration for every moment of the day? Scott Barnes has you covered. This book is all about transitioning from the boardroom to the dance floor.
'How To Be A Professional Makeup Artist : A Comprehensive Guide For Beginners'
Not sure how to get your career in makeup started? This book by G. M. Reyna breaks down to how get your foot-in-the-door, while staying fabulous. An absolute must-read for any aspiring makeup artist.
'Beautiful Eyes: The Ultimate Eye Makeup Guide'
Obsessed with eye makeup looks? Aren't we all! This book by Rae Morris and Steven Chee is fabulous for all those who want to learn how to create the perfect winged liner or feathered eye look.
'Makeup Is Art: Professional Techniques For Creating Original Looks'
Makeup is truly a form of art, and no one expresses that better than authors Jana Ririnui and Lan Nguyen. This book will give you serious inspiration for your next makeup look!