This Is What Inspired The Joker's Makeup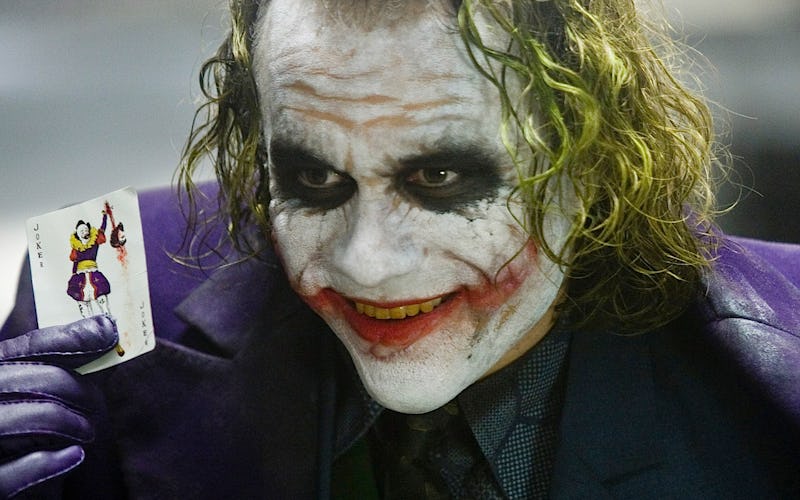 When I think of the Tate gallery in London, I see tweed-clad art enthusiasts, I smell the scent of dust and snobbery, and I hear the last gasps of dying youth. Howevr, in a recent YouTube campaign, Tate has proven me wrong. The gallery has started doing short interviews with leaders in the film, fashion, poetry, photography, comedy and cooking worlds for their "___ Meets Art" series, and they are all fantastic. Although Christopher Nolan says Francis Bacon inspired the Joker's makeup, which is especially heart-warming (or possibly chilling for some). In the short film, Nolan discusses his love of Bacon, and how he wanted to translate his realism onto Heath Ledger's face. His adorable British accent belies the seriousness with which he approaches Bacon: he made distortion and torture was central to the Joker's makeup and character based on the things he sees in Bacon's work. He also talks about why he loves film, which is fascinating.
As I was watching the short, I kept thinking, "Wow, this is actually cool." Which, given my prejudice against major art museums seeming hip, shocked me a little. I then stumbled upon the Metropolitan Museum of Art's Instagram, which has pictures of classic works that put my Kelvin-tinted selfies to shame. Although the Met did have to explain its recent foray into social media to its more stodgy patrons, they have managed to include both great art and cute behind-the-scenes takes.
Image: metmuseum/Instagram
My curiosity fully piqued, I decided to glide on over to the Louvre's site to see if they too had joined this artsy online chillfest. Sadly, the French institution has not created an official Twitter, Facebook, or Instagram. This saddened me a little, and I was about to write them off until I found their awesome mini-sites. These sites, combine decent web design and art for a digital gallery experience that, to be frank, made Russian art history seem exciting. Quelle surprise!
I don't know if I'm going to call this "the beginning of an era," since digital art has been out there for years. But I will say that I appreciate the effort of huge museums like the Met to reach us lowly, lolcats-obsessed internet trolls. One day, maybe the Louvre will tweet at me in French.
Image: Warner Bros.