J. Law Is A Human Emoji In The 'Joy' trailer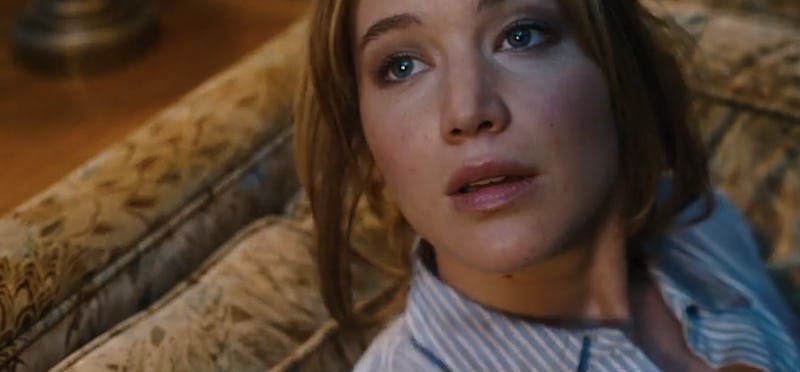 Everyone stop what you're doing and get in here, because this is an emergency! The Bradley Cooper and Jennifer Lawrence movie Joy trailer hit the Internet on Wednesday, and I'm gonna need you to get on that right away. In addition to being a reunion of Lawrence and Cooper, who previously worked together on Silver Linings Playbook, American Hustle, and the universally-panned Serena, one more piece of the Oscar bait puzzle is intact as well, as the movie is directed by David O'Russell. He pretty much put the two of them on the map as far as award shows. The film is seemingly inspired by the story of Joy Mangano, a single mother of three who endured everything life had to throw at her to go on to become an entrepreneur and inventor of the Miracle Mop, though it's not an official biopic of the entrepreneur. According to the synopsis, Lawrence's Joy is "the girl who becomes the woman who founds a business dynasty and becomes a matriarch in her own right." The real Joy has a net worth in the millions, holds over 100 patents, and, in general, I'm just excited to see a film that appears to take pages from her exciting life.
Which is lucky, because a motion picture doing just that will be released on Dec. 15 of this year, and we just got hit with the first trailer. Obviously it's still pretty early, so there isn't a whole lot to it as far as dialogue or plot points, but that's never stopped our girl J-Law from getting her emotions across. She has just one line in the whole thing, but here are 12 moments in the trailer when she says it all with just her face.
1. I Know That You Did Not Just Do That
2. I Love You
3. Blegh
4. Okay I Get It, This Sucks
5. I Can Do This
6. Get Out Of My Way
7. Happiest Day Of Mai Life, TBH
8. No Thank You Life, I Quit
9. I Will End You
10. OH YOU'RE IN TROUBLE NOW
11. Cannot Believe It's Not Butter
12. This Feels Great
And there are many more faces in between, so check out the trailer to see your gal at work. (And also other lesser humans like Bradley Cooper, Robert DeNiro, etc.)
Editor's Note: A previous version of this article incorrectly stated that Joy is a biopic depicting the true story of Joy Mangano and the Miracle Mop.
Images: YouTube (12)