11 First Day Of School Styles From The Early 2000s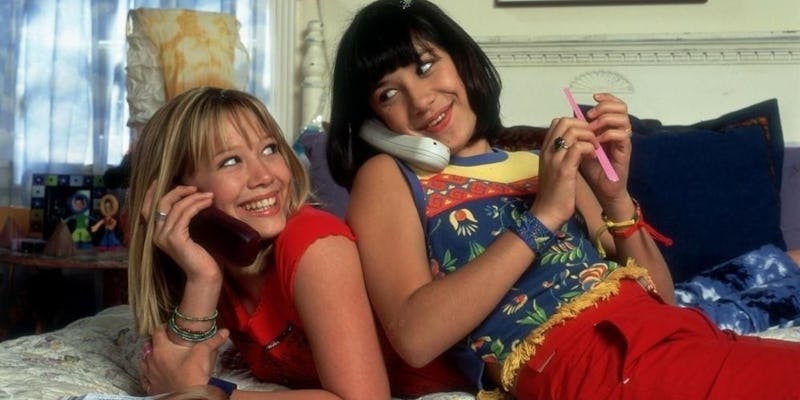 OK, am I the only person who was super excited for the first day of school growing up? I mean, the excitement to wear my fresh first day of school outfit was so real for me. I would have my entire ensemble out — including the shoes and undergarments — and ready at least 24 hours before the alarm actually ticked.
Most Millennials will probably agree that elementary and middle school in the early 2000s was basically the best. From the scented markers and crayons to the Lisa Frank notebooks with the matching stickers, the '00s had so much to offer. The fashion that we wore to school in the early days of the decade was real life icing on the cake.
I remember fashion in elementary and middle school as being so competitive, especially on the first day. I would always try to put together the best looks together to ensure I stood out from the crowd. In the end, there would always be someone wearing something highly similar to me (or perhaps sporting the same Lisa Frank backpack). But even when I switched to a uniform-wearing middle school, I still found a way to "customize" my threads in a "so 2000s" kind of way. Nevertheless, I truly know the struggle of selecting first day attire.
Here are 11 items you might have strutted in down the hallways of your middle school on the first day in the 2000s. Caution: These items may make you miss middle school. Whether you thought that was impossible or whether you hold a soft spot for all things junior high, brace yourself for repurchasing these '00s gems.
1. Polo Shirt
Pique Polo, $8, Target
I was so saddened when my mom transferred me to a middle school that required students to wear uniforms. However, reflecting on it now, I actually believe that the navy blue Polos are quite stylish. Did anyone else "pop their collar" up on their Polos, just because it was cool? Just me? OK.
2. Lisa Frank Backpack
Lisa Frank Alien Clear Mini Backpack, $80, Etsy
At my elementary school, you were not considered a cool kid unless you owned a Lisa Frank backpack. I would beg my mom for a new Lisa Frank backpack every year so I could add it to my collection of backpacks á la Clueless (sort of). Looking back, I wish I would have saved this one, considering how expensive and on trend it is now. Would you judge me if I spend $80 for this vintage one? Yep, I just might do it. Lisa Frank backpacks are so nostalgic.
3. Embellished Boot Cut Jeans
Miss Me Embellished Boot Cut Jeans, $45, Macys
Almost every girl in elementary or middle school in the 2000s had one pair of boot cut jeans with some kind of embellishment on them (usually on the back pockets). From rhinestones to sequins, girls would wear the most bedazzling bottoms ever. These pants were so cool that even Lizzie McGuire owned a pair. I mean, was it really trendy in the 2000s if Lizzie didn't own it? Probably not.
4. Beaded Wire Headband
Brown Emerald Green Handcrafted Beaded Wire Hair Band, $8, Etsy
Speaking of Lizzie McGuire, she was the reason I sported beaded wire headbands on the first day of middle school. Beaded headbands were über cool back then and the majority of my middle school's residents owned at least one. I remember having a hard time selecting which headband to rock on my first day of school with my high ponytail. Those were the simple hair days that I miss.
5. Shrugs
Three-Quarter Sleeve Shrug, $30, Macys
OK, I know some of you (including me) only acknowledge the word shrug when it come to the "Kanye shrug." However, this was once a hot fashion item, and almost every middle school girl layered it with a tank top on the first day of school in the 2000s. Most middle schools have dress codes that state students cannot wear tank tops to class. This led our parents to add a shrug to our first day of school list so we could follow the rules in style.
6. Striped Turtleneck Sweaters
Striped Turtleneck Sweater, $17, Venus
As much as I hated turtlenecks as a child, my mom still forced me to wear 'em. The trendiest turtleneck sweaters were striped and in bright colors. Some kids would pull their sweaters out of their backpacks to wear over their tops when the air conditioning in class was too high. Those kids were determined to sport their new turtleneck sweaters on the first day of school no matter what.
7. Sport Shirts
Nike Women's Colin Kaepernick San Francisco 49ers Player Pride T-Shirt, $32, Macys
Graphic tees with varsity numbers on them were probably in the top five clothing items seen on my middle school playground. The t-shirt would imitate a real jersey, but with numbers often made of rhinestones. Plus, the shirt would have eyelet holes and cuts on it to make them more edgy. Oh, how I wish this was still a trend.
8. Heelys
Heelys Launch, $50, Zappos
I remember rolling (literally rolling) to school in style with these shoes on. The majority of Millennials I know begged their parents for a pair of Heelys growing up. I was ecstatic when my mom bought them for me right before school began. I wore these on the first day and had all eyes on me. Even though I constantly injured myself, it was well worth it.
9. Embroidered Peasant Tops
V-neck Peasant Top, $24, J.Crew
Peasant tops are another one of my 2000s favorites. These tops were so hot that even high school girls in the '90s rocked them on the first day of school. Surprisingly, peasant tops are still considered stylish now.
10. Tube Socks
Striped Knee-High Socks, $10, American Apparel
Striped tube socks became super trendy in the 2000s once Avril Lavigne sported them in her music videos. From rocking them with mini skirts to wearing them only for gym class, knee-high socks were the it accessory of the early 2000s.
11. Denim Mini Skirt
Bongo Juniors Distressed Denim Skirt, $15, Sears
I do not even need to explain how popular denim skirts were, because most of you already know. Since my school had strict dress codes, I would have to wear my denim mini skirts with leggings underneath. Nevertheless, denim skirts were prime teen queen bottoms — forever holding a place in our hearts.
Images: Disney Channel; Courtesy Brands