The Most Insane Donald Trump Merch You Can Buy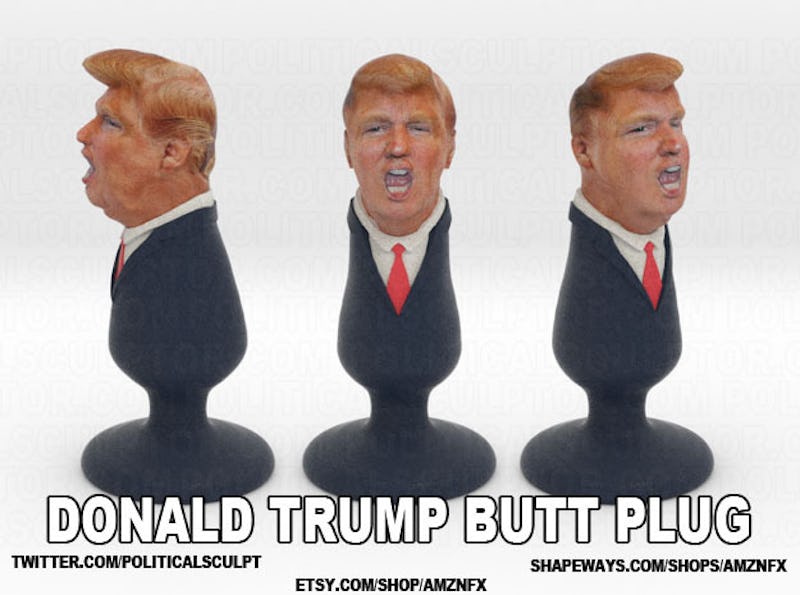 One of the best parts about a presidential campaign is all the memorabilia that crops up for each candidate, and it's much more than just t-shirts. Lucky for us, Donald Trump was famous (or maybe infamous) before joining the 2016 presidential race, so there's a plethora of entertaining Trump-themed stuff for sale. There's also an endless amount of Trump quotes that make a hilarious statement on everything from posters to pillows. The most insane Trump merchandise from around the Internet is perfect for funny birthday gifts, ironic home decor, or just a good laugh.
On top of 2016 campaign merchandise, there's a whole pocket of the Internet devoted to making satirical Trump items, because you can never go too far when making fun of the business tycoon. Strategically placing Trump's face and frightening comb-over around your house serves as a great conversation starter and will always make you feel better about a bad hair day (it can never be as tragic as Trump's permanent bad hair day). Seeing his face constantly will also be a good reminder that you're doing alright in life, because at least you aren't Trump.
Here are the best Trump items for sale around the interwebs. Enjoy!
Prayer Candle
This beautiful Trump prayer candle is for sale on Etsy. The description says, "Trump for president 2016 is sealed with your help of lighting one of these during debates and the election!"
Butt Plug
Mexican artist Fernando Sosa made Trump butt plugs as a hilarious way to protest the presidential candidate's racist comments about Mexican immigrants.
Inspirational Poster
Trump is incredibly rich, so why not take some inspirational advice from him? Seeing this Trump quote on your wall will motivate you to stop being lazy and do something with your life.
Embroidered Pillow
A hand-embroidered pillow with a comical Trump quote stitched in is the perfect addition to any couch or chair.
Topless Painting
If you really want to freak out everyone that comes to your house, just place this topless painting of Trump in your entranceway.
Talking Doll
A talking Trump doll would be endless entertainment. The descriptions says, "Be honest. You knew that Donald Trump would release an action figure." Of course he did.
Comb-Over Beanie
If you've ever wanted to recreate Trump's iconic comb-over, or just need a Halloween costume for this year, this comb-over beanie is the perfect solution.
Rock The World Poster
If Trump becomes president (LOL), he really will rock the free world.
Board Game
Apparently Trump came out with his own board game in 1989, and you can still buy the vintage game online. What has this guy not put his face on?
Furniture
If you really want to go all out, you can fill your whole house with the Trump home furniture collection (it's a bit pricey though).
Images: FandleCandles/Etsy (1); Fernando Sosa/Shapeways (1); PhobosArt/Etsy (1); stitchedtodeath/Etsy (1); jedcollins/Etsy (1); Stevenson Entertainment Group/Amazon (1); bitteroclock/Etsy (1); SixteenMonkeys/Etsy (1); WonderCabinetArts/Etsy (1); Trump Home (1)