What Ever Happened to Nestle Wonder Balls?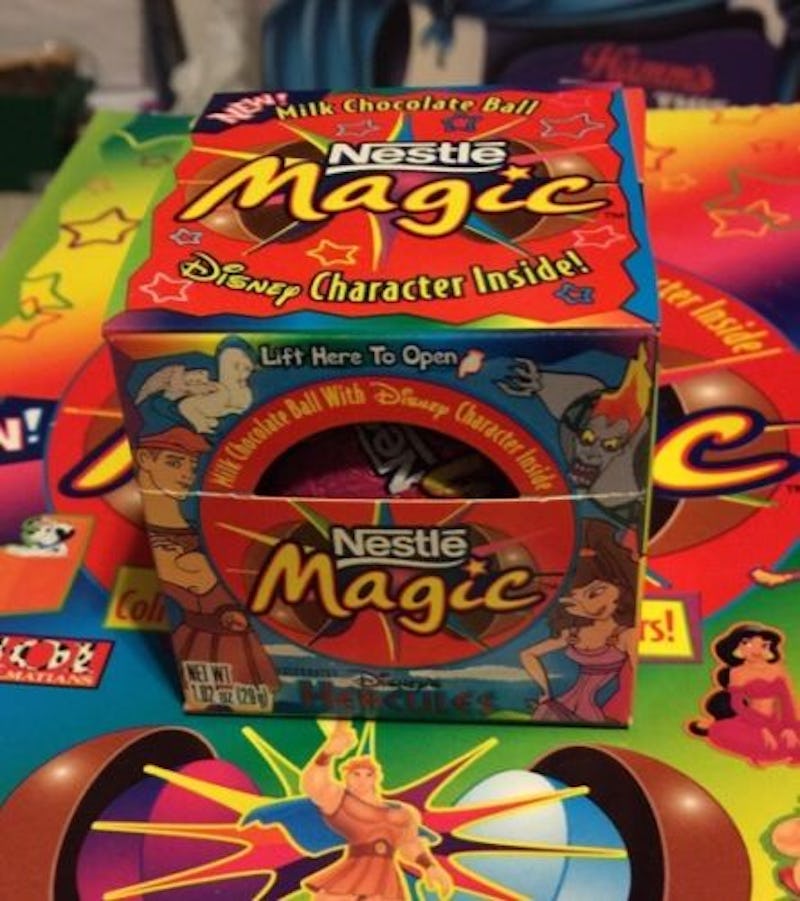 Ah, the Nestlé Wonder Ball. If you were a '90s kid (or had a '90s kid), then you're familiar with the magical candy. Whatever happened to Wonder Balls, those delicious, thin spheres of chocolate with prizes inside? Sadly, tragically, they were discontinued in 2004. This is the sad, true story, of the Wonder Ball.
Wonder Balls originally went by the name Nestlé Magic Balls, as they were distributed by Nestlé in the mid 1990s. They consisted of three grams of hollow milk chocolate that housed a small, plastic figurine, typically either a Disney or Pokémon character. The product was unceremoniously taken off the shelves in 1997, in response to a lobbying effort mostly spearheaded by parents that claimed the toys inside the chocolate shell presented choking hazards. Nestlé insisted that the toy was safe, but withdrew the product anyway.
Then, in 2000, Nestlé re-released the candy with a new name and a new concept. They were now going to be called Wonder Balls, and instead of toys, they were going to be filled with candy. This iteration of the product last four years, until the Nestlé sold the Wonder Ball to The Frankford Company in 2004. Frankford later discontinued the Wonder Ball; Bustle reached out to the company with a request for comment about exactly why or when they were taken off shelves, but did not recieve a response by press time.
If you're really dying for a Wonder Ball, though, you can actually still get one at the website Nationwide Candy. Alternatively, you can scope out eBay for Wonder Balls. Some of them are actually pretty good deals (for chocolate that's at least 11 years old, that is).
While there have been rumors that the Wonder Ball may one day return, there has been no official comment on the matter. In the meantime, you can satisfy yourself with Kinder Surprise Eggs, which are the European candy Wonder Balls were based off of in the first place. Just be careful not to choke.
RIP, Wonder Ball. You will forever be in our hearts.
Images: MNtwins025/ eBay