9 Fun Facts About ABC Family Christmas Movies You Forgot About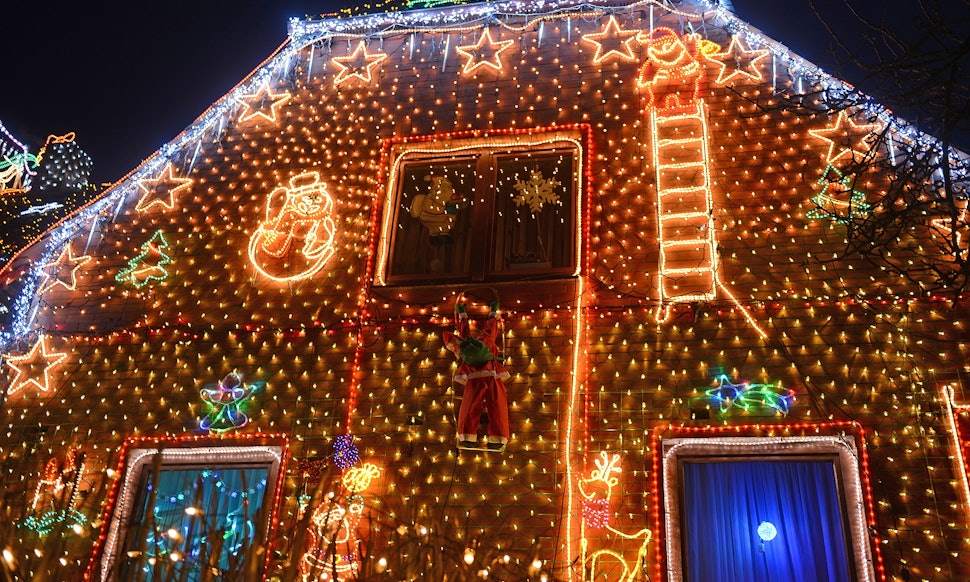 David Hecker/Getty Images News/Getty Images
Settling in for a few hours of ABC Family's "25 Days of Christmas" is the perfect way to kick off your holiday season. The best part of ABC Family's holiday block? The holiday-themed TV movies that they churn out every year (which often star former members of the Beverly Hills, 90210 cast).
But though you've probably seen every rendition of Charles Dickens' A Christmas Carol ever made for ABC Family, there's a lot of fun stuff that you probably didn't know about your favorite holiday TV movies. Here are a list of nine things we learned about ABC Family's Christmas movies. Settle in with some hot cocoa and click on through.
Images: ABC Family
'Snow' Spun a Sequel
This 2004 Christmas film Snow — about a young Santa (Tom Cavanagh) who needs to rescue his reindeer from a California zoo — became so popular with viewers that it is now a regular part of the ABC Family Christmas block. It led to a sequel in 2008, titled Snow 2: Brain Freeze.
'Santa Baby' Broke Records
The 2006 Jenny McCarthy vehicle pulled in 4.7 million viewers for its initial airing, making it the most watched movie developed for ABC Family. Its' sequel, Santa Baby: Christmas Maybe starred Dean McDermott — Tori Spelling's hubby — as Jenny McCarthy's character's love interest, replacing Ivan Sergei in the role of Luke.
'Christmas Caper' Featured Shannen Doherty Doing More Unlikeable Things
Shannen Doherty doesn't exactly have the best reputation in Hollywood, so it's fitting that the former 90210 star would play a thief who steals Christmas gifts. But just like her character — who eventually prioritizes her life due to the healing power of the Christmas spirit, or something — Doherty seems to have mended friendships with some of the people she has scorned, including former co-star Jennie Garth.
'Holiday in Handcuffs' Has a Kinda Dark Premise
Melissa Joan Hart and Mario Lopez are two of the most wholesome celebrities you can think of. (At least, until you read Melissa Joan Hart's autobiography...) Which is why the premise of this ABC Family Christmas film is kind of out there. Basically, Melissa Joan Hart's character kidnaps Mario Lopez after a nervous breakdown, and forces him to be her boyfriend for Christmas. Sure, it all works out in the end, but this Christmas love story begins with a forceful kidnapping by Sabrina the Teenage Witch. Seems more life Lifetime territory.
'Christmas in Wonderland' Extended Christmas for Shoppers
Christmas in Wonderland, the 2007 film starring Patrick Swayze and Carmen Electra about a family who must take down counterfeiters in a mall, was mostly filmed in the West Edmonton Mall in Alberta, Canada. Since the film began shooting after the Christmas season, mall patrons were puzzled as to why the mall still had plenty of Christmas decorations up so late in the year.
'The Dog Who Saved Christmas' Has a Famous Voice
This Home Alone-esque Christmas film — about a former police dog who must take down robbers before his family returns home from Grandma's house — features the voice of Mario Lopez as the titular Dog Who Saved Christmas. This is Mario Lopez's second Christmas film for ABC Family (but the first where he is playing an animal).
'Christmas Cupid' Features a Pretty Little Liar and a Former 'One Tree Hill' Star
The 2010 film Christmas Cupid is a classic Christmas Carol update, this time about a publicist (Christina Milian) who is haunted by her dead client (Ashley Benson of Pretty Little Liars) after the client chokes on a martini olive. (Again, pretty dark.) Also starring in the film is Chad Michael Murray of One Tree Hill fame, in case you ever wondered what happened to Chad Michael Murray.
'Desperately Seeking Santa' Features Hot Santas
Because why make a traditional Christmas movie when you can make one that has the original title of Hunky Santa ? The film features Nick Zano as a struggling restauranteur who wins the "Hunky Santa" contest as a local mall, only to fall for the PR girl (Laura Vandervoot) running the campaign. (Not really sure what this has to do with Christmas, but whatever.)
'Home Alone: Holiday Heist' Stars Malcolm McDowell
Once upon a time, Malcolm McDowell starred in controversial and critically acclaimed films like A Clockwork Orange. Now he stars in commercials and the fifth installment of the Home Alone franchise. Let's just take a minute to process that.