6 Feminist Zines For The Perfect Vacation Read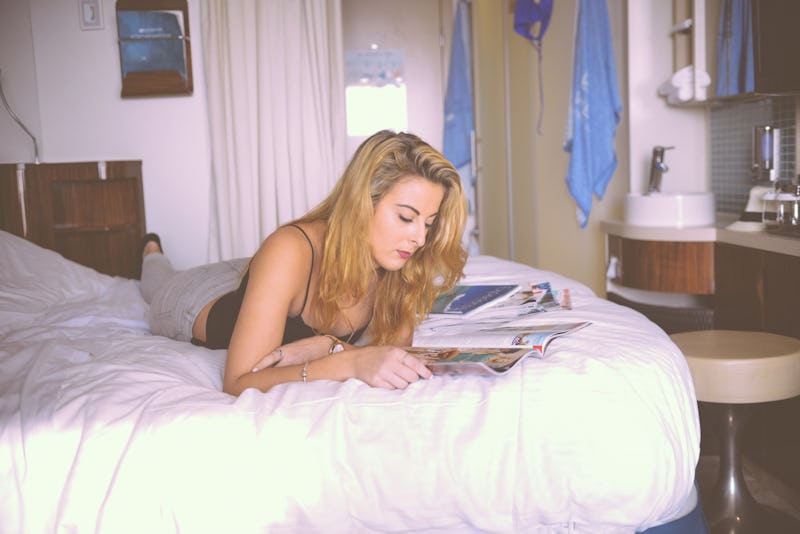 As other lady millennials who remember the '90s know, buzzworthy ebooks and clever tumblrs can never replace a feminist zine. With unlimited combinations of art, comics, poetry, photos, personal essays, riot grrl-style rants, and more, this staple of DIY creation is the perfect pocket-sized companion for road trips, beach excursions, and nights spent beneath the covers. You don't need electricity to read them, and you can trade them with friends to swap ideas and share the sisterhood feels.
When I was a tween, I had to take the subway 45 minutes to buy zines from the one indie record store downtown (I know, I'm so old), but today the magic of the interwebs can guide you through the infinite reaches of feminist self-publishing. Whether you're a queer cat lady, a crust punk bike messenger, a voluptuous science geek, an indigenous fashion designer, or any type of human person, there is a zine for you. And since it's the season of vacation reading, why not dig into some radical reading (in both senses of the word) while you're taking time away from the grind. Here are six feminist zines that can both educate and entertain you, thus making for the ultimate vacation read:
1. Girls Against God
Girls Against God is dedicated to overthrowing patriarchal institutions and thinking by focusing on the creative conjurings of female-identified folks. Edited by Bianca Casady and Anne Sherwood Pundyk, the publication is a riveting mix of art work, poetry, interviews, and manifestos. Their most recent, pocket-sized issue (#2), delves into reclaiming the witch as a feminist icon.
2. Sandy
Sandy is an L.A.-based zine by Amanda Lee McCarty and Suzie Mae that is "dedicated to the fine art of women supporting women." Each issue is thematically organized around a particular feminist issue or female stereotype (#4 is called "Crazy" and #3 is titled "Slut," if you get my drift). Packed into Sandy's full-size, black and white pages are real talk personal essays, scathing cultural criticism, recipes, games, playlists, and more.
3. Witch Women
Edited by Tenebrous Kate and published by Heretical Sexts (I know, best name ever), Witch Women is an "exploration of the many facets of the relationship between femininity and the occult." Part graphic novella, part guide to the most (sin)spirational witches of fact and fiction, this glossy zine combines wit, humor, and reverence for pagan lady power, and is perfect for both spectators and serious practitioners of the craft.
4. Hirsute Heroines
Sometimes you should let images do the talking, which is why Hayley Blatte's Hirsute Heroines pack such a punch. These beautifully drawn zines feature irresistible pinup drawings of babes who have declared razors verboten. Although printed in black and white, I'd imagine that some of these glamazons are definitely sporting some technicolor pit hair. It's refreshing and radical to see hairy women presented in such a stereotypically feminine fashion.
5. Selvatica
Selvatica is a zine that features the work of radical femme of color. A combination of collage, manifestos, and personal/politically-minded art work, the issues addressed range from prison reform, immigration, and gentrification to trans women's rights and growing up as a hyphenated, female-identified American. The old school, black and white photocopied format of the publication lends power to the messages within.
6. Agent 8
Agent 8 is a NSFW erotic comic series by Queens-based graphic novelist Katie Skelly. Each vignette in the collection follows the adventures of space (s)explorer Agent 8 as she engages with people (and other beings) across the solar system. On the surface it's a playful, colorful romp from one steamy rendezvous to the next, but there are real moments of reflection that paint a broader picture of what it's like to engage honestly and freely with female pleasure.
Images: ; Pexels; @tipitinbooks/Instagram; @topsyturvykc/Instagram; @ghoulnextdoor/Instagram; @hayleyblatteart/Instagram; @slutist/Instagram; @skellyskellyskelly/Instagram