Break Out The Pinot Noir For 'Kimmy Schmidt'!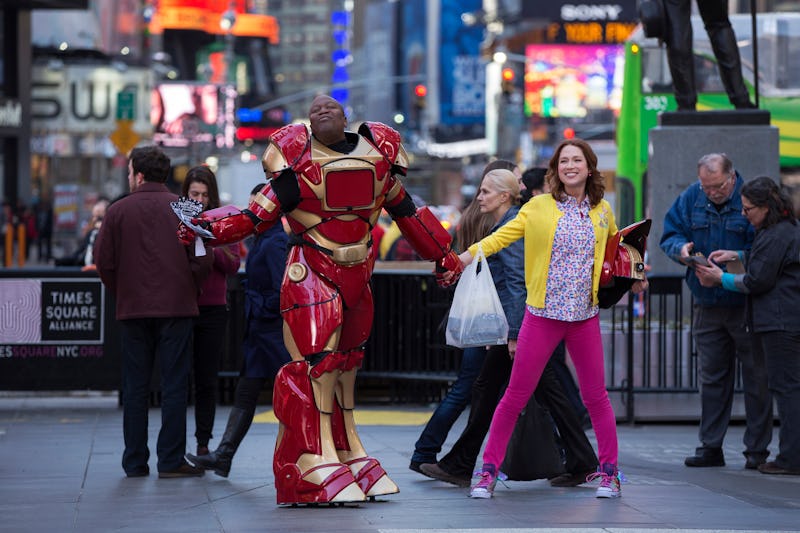 Time to break out the pinot noir! Because everyone's favorite winter distraction, The Unbreakable Kimmy Schmidt, was nominated for five Emmys on Thursday. That's right — not one, not two, not, three, and not four (Spider-Men), but five Emmys. Quite a feat for a series that took a risk by not only being about a woman kept captive for years before finding freedom in New York City, but also by airing its entire season on Netflix. (Though, the streaming service has most definitely become the new breeding ground for Emmy fodder, thanks to Netflix's 34 nominations. Definitely makes up for that whole Hemlock Grove thing, doesn't it?)
So who did the Emmys find unbreakable in the cast? Unbreakable Kimmy Schmidt snagged the nomination for Outstanding Comedy Series, as well as acting nods for Tituss Burgess (Best Supporting Actor — Comedy), Jane Krakowski (Best Supporting Actress — Comedy), Tina Fey (Best Guest Actress — Comedy), and Jon Hamm (Best Guest Actor — Comedy). Hamm, being nominated for both his role as Don Draper in the final season of Mad Men, and for his role as a karate-chopping, insane, and undeniably gorgeous (when coiffed) criminal in Unbreakable? Say it with me, now:
But what are the chances that Unbreakable Kimmy will actually pick up these awards come Emmys night on Sept. 20? Let's break it down by category.
Best Actress — Comedy
HA. Just kidding. Of course Unbreakable Kimmy can't snag the win for Best Actress in a Comedy for star Ellie Kemper, because... Ellie Kemper wasn't even nominated.
Okay, but we get it. The category is dominated by other amazing women, like Lisa Kudrow (The Comeback), Lily Tomlin (Grace and Frankie), Amy Schumer (Inside Amy Schumer), Edie Falco (Nurse Jackie), Amy Poehler (Parks and Recreation), and Julia Louis-Dreyfus (Veep). What can I say? Females are strong as hell. If only there were seven nominees so Kemper could have made the cut.
Best Supporting Actor — Comedy
Burgess definitely has more competition than the dance line-up at 2 Many Spider-Men. The Broadway alum is stacked up against an exciting (and excitingly diverse) group of nominees, including Andre Braugher (Brooklyn Nine-Nine), Adam Driver ( Girls), Keegan-Michael Key (Key & Peele), Ty Burrell (Modern Family), and Tony Hale (Veep). But there could be good news for Burgess. Though Burrell is a five-time nominee with two wins and perhaps looks to be the biggest threat, the Emmys are certainly trying to prove they've developed past a Flintstones — hell, Modern Family was barely on its radar this year, despite previous Emmy ceremonies basically serving as primetime specials for the ABC series. And with Girls getting snubbed this year in the main category, Driver seems to have an uphill battle if he wants to snag the win.
That leaves us with Key, who snagged a writing nomination last year for Key & Peele and a higher profile after his White House Correspondents Dinner appearance, and Burgess' two main competitors: six-time nominee and two-time winner Andre Braugher (Brooklyn Nine-Nine) and the 2014 Emmy winner in the category, Tony Hale (Veep). It will be tough to beat the heavy-hitters, but hasn't Burgess proved to us he can put on a good show?
So he won't crash and burn like his on-screen Tituss, but he won't necessarily be lifted up to the top either, harness or no.
Best Supporting Actress — Comedy
Though she scored four Emmy nominations, Krakowski never picked up an award for her role as Jenna Maroney in 30 Rock, and that's criminal. So the Emmys could pay back that oversight with an Emmy for Krakowski's hilarious turn as Jacqueline Voorhees, the poor little rich woman who takes in Kimmy as a babysitter for her ignored children.
But her controversial storyline as a Native American woman shunning her past and the fact that the heart might side with Kate McKinnon on Saturday Night Live or Gaby Hoffman on Transparentmight cost her the Emmy win. And, aw hell, we all know it's going to end up going to jackal Allison Janney in Mom anyway, right?
Best Guest Actress — Comedy
Hate to say it — Fey might end the night with more night cheese than awards come Emmy night. Because in the Guest Actress in a Comedy series, she's facing some stiff competition. Though Fey's role as hapless prosecutor Marcia in Unbreakable Kimmy was a fun departure from the sharp Liz Lemon we watched her play for seven seasons on 30 Rock, her work wasn't as meaty as what we saw from, say, Gaby Hoffman on Girls and Joan Cusack on Shameless. (And the fact that Cusack appeared on a series on Showtime, a network the Emmys historically loves? That makes things even more difficult.) And then, of course, don't forget the Emmys' love for The Big Bang Theory (Christine Baranski) and Modern Family (Elizabeth Banks), and dark horse Pamela Adlon from Louie. But, oh well, there are still other victories, right?
Better than any Emmy, amirite?
Best Guest Actor — Comedy
I couldn't have said it better than The Hollywood Reporter's Lacey Rose:
C'mon Emmys. Forget about Don Draper Coke-fueled meditation. This guy deserves it most.
OK, but I know, I know. How's the guy going to beat comedy legend Mel Brooks of The Comedians or the critically lauded Bradley Whitford in Transparent? (Not to mention SNL pros Bill Hader and Louis C.K., and Oscar favorite Paul Giamatti for Inside Amy Schumer.) You know what? Watching Reverend Richard Wayne Gary Wayne was enough of an award, wasn't it?
Outstanding Series — Comedy
With the Emmys eschewing predictability this year, it's anyone's game this season. Though Fey's Unbreakablecould see its most worthy opponent in a former ally — Amy Poehler. Because though Transparent could eke out a win thanks to critical acclaim and Louie and Silicon Valley could vibe with edge voters, Parks and Recreation's final season deserves a long-awaited win after being snubbed for years.
Oh wait, did I say it's anyone's game? Forgot Modern Familywas there. Sorry, Kimmy et al — you'll have to hope for something big to beat the awards show behemoth. Like, a miracle or something.
Images: Eric Liebowitz/Netflix; ifindkarma/Tumblr; Giphy.com; nypdeciderfiles