21 Broad City GIFs To Help You Mourn Its Emmy Snub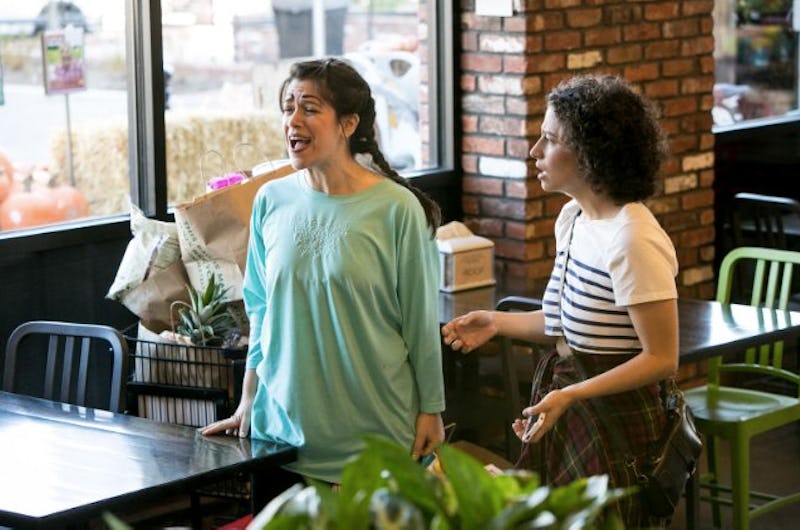 In all the excitement this morning of Jeffrey Tambor getting nominated for an Emmy for his amazing work in Transparent, and Amy Schumer and Tatiana Maslany tweeting at each other about not getting snubbed for the first time ever, I almost completely missed the fact that Broad City did get snubbed for an Emmy nomination. Again. Even though the series, created by and starring HBICs (Head Bitches In Charge) Abbi Jacobson and Ilana Glazer, is one of the best and funniest things on television right now, that's something that the Emmy voters still seem to be embarrassingly unaware of, as the gem of a show was beaten out for an Outsanding Comedy Series nom by Louie, Parks & Recreation, Silicon Valley, Transparent, Unbreakable Kimmy Schmidt, and Veep. (And then one other show whose name I can barely even choke out because it's been heaped with so many Emmys at this point that I can't even stand it. Modern Family. There. Are you happy??)
But for as much good news as there is out there, and as deserving as most of those shows are (choke choke choke), I'm still really bummed about Broad City's big old goose egg. And I'm betting you are too, so let's get through this together, with this GIF guide to coping with the terrible news that we still live in a world that isn't rewarding our gals with the accolades they deserve.
1. Soak In The News
2. Like, Really Let It Hit You
3. This Is Real Life
4. And There's No Shame In Shedding Some Tears About It
5. I'm Talking Really Wallow — Like Go On A Naked Ice Cream Binge
6. Because This Is Just So Dumb
7. Get It All Out, Don't Hold Back
8. Seriously
9. Now Surround Yourself With Family In This Difficult Time
10. Because Once You've Calmed Down You'll Realize... Why The Hell Do We Care What The Emmy Voters Think?
11. It's Not Like Their Opinions Have Any Bearing On What's Really Important
12. How Godamn Beautiful And Smart We All Are
13. And How Loyal To Our Friends
14. Because Sure, This Is A Total Snub...
15. ... But How Great It Is That Everyone Is So Indignant On Behalf Of This Amazing Show?
16. We Should All Be Celebrating That!
17. More Celebrating!
18. And Even More! Shine On You Crazy Diamonds
19. Now Get Back To Work And Show Those Emmy Voters What They're Missing
20. Because Next Year, We Are Taking This
21. Just Promise Us You'll Never Change, You Beautiful Maniacs
Images: Comedy Central (1); Giphy (21)