The 10 Ugliest Christmas Sweaters Ever Worn by Celebrities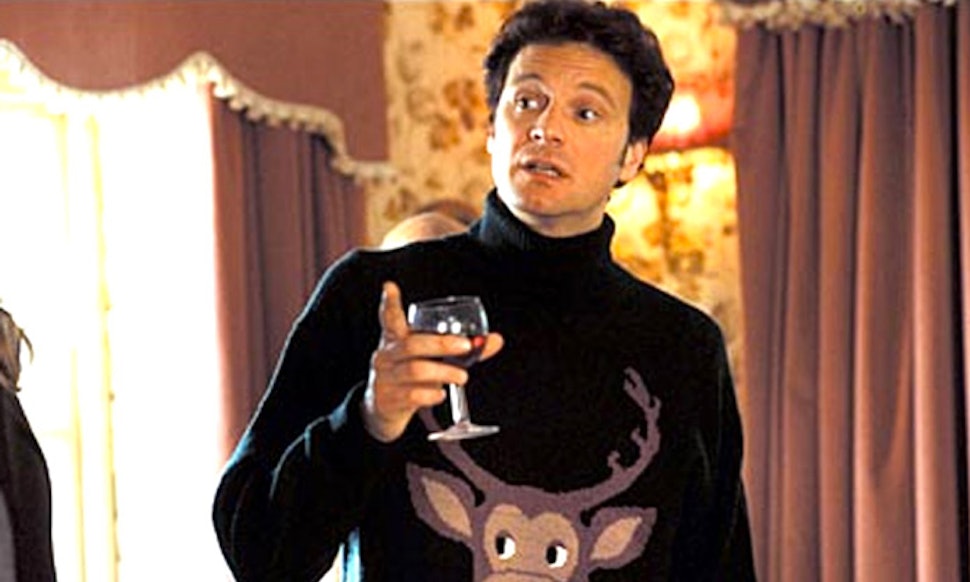 Ah, the ugly Christmas sweater. Such a storied, dubious article of only seasonally appropriate clothing. So widely seen, so widely regretted. They are worn by the masses — both the hipster variety and your elderly relatives who just think they look cute as heck — and, as we know, celebrities are just like us, just with bigger checkbooks and much prettier faces. So, in this time of seasonal cheer, let us revel in the unfortunate bunches of holiday-related scratchy yarn that sometimes finds itself gathering around the torsos of beloved (or, well, at least recognizable) celebrities.
Image: Miramax
Matt Damon
This is Matt Damon on the Today Show, making an interesting fashion decision that we will both question and cherish forever.
Image: NBC
Colin Firth as Mark Darcy
Let's be real: Colin Firth's Mark Darcy owns the ugly Christmas sweater. No one's ever worn it better.
Image: Miramax
Jim Carrey as The Grinch
Yeah, so you get more green monster face than actual Jim Carrey face in this one, but the sweater's pretty fantastic.
Image: Universal
Snoop Dogg/Lion/Etc.
Words are not necessary.Image: Twitter
Ryan Gosling as Lars Lindstrom
Oh, Gosling. We knew we could count on you for this list. No adorable hipster can resist an ugly Christmas sweater.
Image: MGM
Justin Bieber
This photo makes us irrationally angry, but that's just because of the two faces taking up residence in it. It's also notable that Bieber here's not wearing a Christmas sweater per se, he's wearing a Christmas vest. Because of course he is.
Image: E! Network
Daniel Radcliffe as Harry Potter
It hurts our souls and our childhoods to call this one ugly, but it IS a Christmas sweater and it DOES say in the books that it is a lumpy one.
Image: Warner Bros.
Kim and Kourtney Kardashian, Scott Disick, and Baby Mason Disick
Kevin McHale As Artie, Feat. Chewbacca
This one was courtesy of a Glee Christmas episode in which Chewbacca appears. Don't ask us to explain it. It's Glee.
Image: Instagram
Harry Styles
We're honestly surprised we didn't find a group pic of all of One Direction in various semi-matching Christmas-themed atrocities.
Image: Twitter