9 Essential Tips & Hacks For Nail Polish Addicts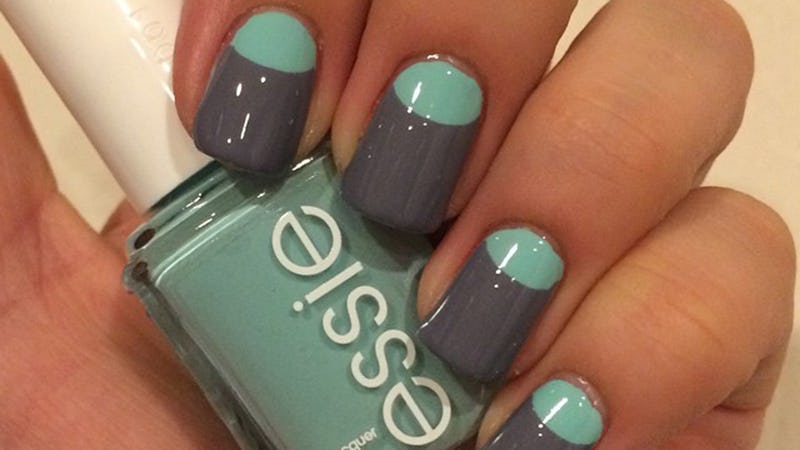 Odds are, if you consider yourself a nail polish hoarder, then you probably think you know it all when it comes to manicures and polish. But until you've seen mani/pedi enthusiast Amber Morrison's polish collection, let me tell you: You. Know. Nothing. Morrison shared her essential top tips for nail polish addicts with me, and once you see her entire polish collection, you're really going to want to hear everything she has to say.
I discovered Morrison's impressive nail polish background through, of all things, Snapchat. See, when I first got Snapchat, I added pretty much everyone I was friends with on other social media, whether we were BFF or not. I had followed Morrison (who I really knew only by her social handle, "@ambajack") on social for a while, so seeing her "My Story" in my Snapchat feed wasn't anything surprising. But on this particular evening, her Story changed everything for me. She had decided to share her entire nail polish collection. I know, I know — you have a huge nail polish collection, too. So do I. It consists of an XL plastic bag with dozens of polishes, some of which are probably older than I am. It's not exactly fun to look at. But Amber's polish collection? It's a little different.
I replayed the snap again and again until I realized that, yes, Morrison had filled an entire IKEA bookshelf with polishes. Essie. Zoya. Butter London. Spice racks full of glorious, glorious nail polish. It was beyond anything I had ever seen in, you know, a normal person's house — and by normal person, I mean someone who is not a famous YouTube beauty blogger or famous nail artist (although Amber is pretty amazing at at-home manicures). Behold, everyone. ALL. THE. POLISH.
Naturally, after viewing the Snapchat about four times in total amazement, I had to get in contact with Morrison to learn her ways. Because, man, she had to know a thing or two about nail polish, right? I needed to know it all. And now, so can you. Here are Morrison's biggest tips for nail polish addicts. IKEA bookshelf and spice racks, optional.
1. How To Fix A Smudge Or Chip
For fixing a small smudge or chip in your nails (it's the worst, right?), Morrison suggested using an ever-handy Q-tip.
"With a Q-tip dipped (not soaked) in acetone, lightly dab the smudge or areas surrounding the chip. Then paint the problem area again and seal the entire nail with top coat," Morrison says.
2. How And Why To Use A Base Coat And Quick-Drying Top Coat
Are you one of those lazy people who always skips a base coat and top coat because who has time to wait that long for your fingers to dry, right? Me too. According to Morrison, that is a big mistake.
"There are base coats to solve almost any problem, but bottom line is you need one! Base coats are formulated to adhere to your bare nail and allow the polish to be applied smoothly. My current favorite is Nailtiques Formula 2," Morrison says. "Quick drying top coats are your BFF! Who has time to sit around for their nails to dry? Not me! My ride or die is Essie Good to Go for manicures and Glisten & Glow HK Girl for pedicures."
3. How To Keep Your Manicure In Tact While Giving Yourself A Pedicure
ASP Manicure Saver Cotton Claw, $4, Sally Beauty
Wondering how to easily get both things done at once? Morrison says that there is definitely a technique (and a specific tool) to do this, though. Who knew?
"THE CLAW! I used to always do pedicures the same day as changing my manicures because I knew my nails would be ruined after removing nail polish from my toes. After discovering this tool at Sally Beauty Supply, I can do pedicures any day I want," Morrison says.
4 How To Fixing Thick, Gloopy, Or Old Polish
Old, thick nail polish is the worst thing ever. Sometimes when I pull some polish from my trusty old Ziploc bag and start applying it to my nails, I'm super disappointed at the results. But I just keep going, because I'm too lazy to start using a new polish. This never ends well. But, surprise, there's a solution to this too! No need to throw out the polish.
"The best thing to do is use nail polish thinner (NEVER nail polish remover!)," Morrison says. "Add a few drops in the bottle, shake it up, and it's good as new! After adding the thinner a few times and the polish doesn't seem to be mixing anymore or applying properly, then it's time to throw it out. If you have the ability to schedule a hazardous waste pickup for that old polish, do it. Throwing a bottle of chemicals in the trash isn't exactly environmentally friendly!"
5. How To Make Your Nail Polish Last
I was always under the impression that, like makeup, nail polish was good for far less time than I probably thought, but Morrison says the plans on keeping her polish for "a very long time"
"Always tighten the cap when not in use, and clean the opening or cap if polish gets dried and gunked up," Morrison says. "Just like pumping your mascara wand adds air to the product, the same goes for nail polish. Dip the brush instead of dunk. The less air exposure your polish gets, the better."
6. How To Best Store Nail Polish
Wait, so you mean the Ziploc bag in the back of the closet isn't correct? Oh, oops.
"Always store polish in a cool, dry, and dark place. You may not be able to tell from the photos, but my polish isn't in direct sunlight or even next to a wall that gets a lot of light. UV exposure can break down the pigments over time," Morrison says. "Storing them in the fridge or bathroom is not ideal! Ive also always stored them right side up on a flat surface."
7. How To Organize Your Collection
For this one, I basically wanted to know everything single tip Morrison could possibly share. I am one of those freaks of nature who is obsessed with organization (I make a lot of lists), but nail polish storage never really was one of the things that came easily to me. Or I just never tried, who knows? Either way, Morrison had some solutions.
"Depending on the size of your collection, there are so many options for organizing! There are table and spice racks like mine, acrylic wall racks, Alex drawer units from IKEA, Helmers from IKEA, floating shelves, plastic bins, and lots of people build their own shelves too," Morrison says. "I will say that being organized makes me want to use my nail polish more! I like the way mine is organized because I can walk up and see my entire collection. I never wanted to dig around or search for one particular color."
8. How To Save Money On Polish
If there's a way to save money on anything beauty-related, I want to know. And I'm sure you do too, because nail polish can get expensive at $8, $10, or even more for designer brands. Morrison says she didn't need to splurge for most of her collection, in fact.
"... over 90 percent of my collection was bought on sale, on clearance, discounted, or free! I always take advantage of BOGO deals .... purchase from discounted sites, as well as use promo codes from brands like Zoya for free polish," Morrison says. "Some of my favorite sites are: Trans Design, 88 TY Beauty Head 2 Toe Beauty, and HB Beauty Bar."
9. How And When To Get Rid Of Polish
I bet you have about as little idea of when the right time to get rid of nail polish is as I do. It's confusing. I mean, they look OK, right? That's what I say. Morrison noted that you can't keep everything forever, but there are always clever ways to get rid of what you don't want.
"Every nail polish addict has a polish that didn't live up to their expectations, has been neglected, or completely forgotten," Morrison says. "I usually destash every six months to a year, which I give away to friends and family. Others donate to women's shelters, and others sell them online."
And there you have it, all. Go forth and get organized, nail polish addicts!
Images: Amber Morrison (5); @ambajack/Instagram (4); Courtesy Brands