Venus Williams Fought For Equal Pay & Won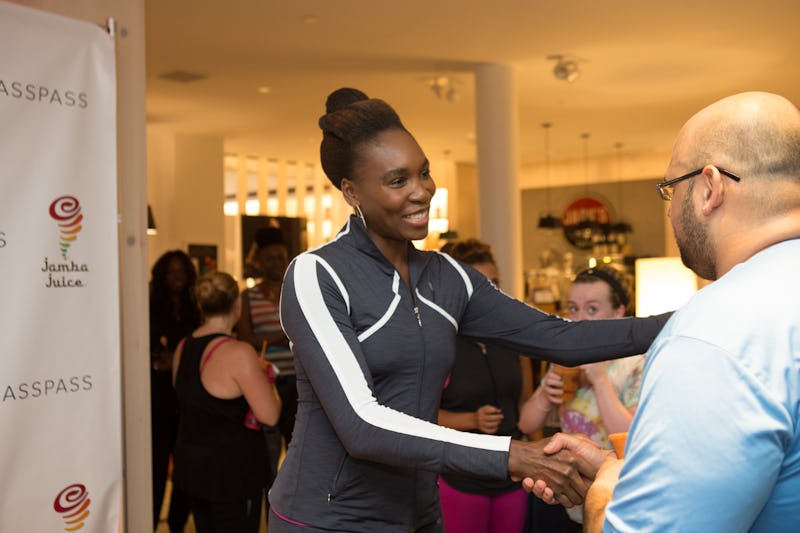 Venus and Serena Williams' names are pretty much synonymous with tennis. If you think famous tennis players, you think the Williams sisters; and if you think the Williams sisters you think about their unbelievable amount of achievements in the sport. For Venus Williams, that means five Wimbledon singles titles, two U.S. Open singles titles, and four Olympic gold medals, among a plethora of other awards. So what does Williams want next for tennis? "It's about growing tennis at a grassroots level; getting young women involved and interested and making people pay attention to women's tennis — not just for now, but for the next hundred years," Williams says post-boxing workout a Jamba Juice and ClassPass event at TITLE Boxing Club in New York City.
It might come as a surprise that one of the most famous athletes in the world, who has competed in her sport (and totally killed it, mind you) for so many years, is concerned with "growing" the sport, but speaking to her, that seems to be a major focus.
Nine years ago, in 2006, Williams wrote an op-ed in The Times of London calling for Wimbledon to pay men and women athletes equally. A year before that, she spoke about equal pay to the All England Lawn Tennis and Croquet Club about the issue. And, in 2007, the battle was finally won when the competition began paying women evenly. That year, Williams won her fourth Wimbledon singles title and was paid the same as men's winner Roger Federer.
Asked about her literally game-changing piece in The Times now, Williams responds humbly:
That was really our main goal for tennis was to have equal prize money in the majors and at some of our combined events. It happened. It was amazing. And it was definitely something I never thought I'd be a part of growing up, but there I was and it was a real honor to be a part of it.
As for the next achievement she wants to see happen for women in tennis, it sounds like she just wants the sport to, like she said, grow. On advice she'd give to a young girl who is interested in getting into tennis, Williams says,
It's a wonderful sport, and it's not a sport you give up. Some sports you can't really carry on with them, but it's a sport you can play through your lifetime ... You can go on to college, scholarships. There's a ton of opportunities in tennis. So I would say, give it your best, because you never know where its going to take you.
Williams' piece in The Times undoubtedly played a part in Wimbledon's decision to fix the discrepancy in prize money for men and women, but when it comes to talking about it, the former number one women's tennis player in the world seems very down-to-earth and sounds as though she's still surprised at her involvement. She really sums up this sentiment when she says of herself, "I am who I am, and I stand up for what I can, and if I have a chance to have a voice then I will do so."
Images: Isaac James