12 Biggest Mysteries of the 2013 Macy's Thanksgiving Day Parade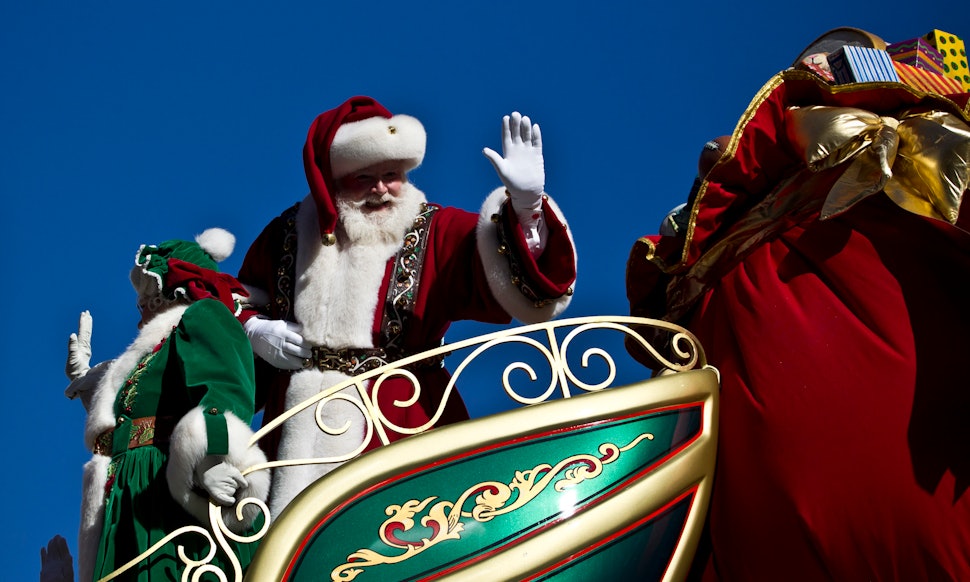 Kena Betancur/Getty Images News/Getty Images
There's a lot you can count on from the annual Macy's Thanksgiving Day Parade (now in its 87th year). You know there will be giant balloons that people care about for .5 seconds before going back to their feast prep. You know there will lip syncing from pseudo celebrities. You know there will be Santa, bringing up the caboose. But here are 12 moments from the 2013 parade that left us with burning questions.
Snoopy, Take Seven
This is apparently the seventh incarnation of Macy's Float Balloon Snoopy, who was joined by Woodstock this year. But…what happened to the other six Snoopies? Is there a Macy's Thanksgiving Day Parade balloon graveyard? Do they get a viking's burial? I'm really hoping for the viking's burial.
Image: Twitter
We Are Never (Ever) Getting This Float
Gavin DeGraw performed in the parade, but since he didn't sing the One Tree Hill theme song, very few people cared. Or maybe they would have cared, had they not been so distracted by the kind of grotesque woodland creature float Gavin was standing on. What's creepier, their demented features or skewed proportions (the chipmunk is bigger than the owl, people. Just imagine that chipmunk in real life)? As if that we're enough, Gavin was surrounded by backup dancers who clearly raided the wardrobe from Taylor Swift's "We Are Never Ever Getting Back Together" video. Yikes.
Image: Twitter
Welcome to the Tea Party
Some of the more interesting segments involved dance troupes, especially the one set to "Welcome to the Tea Party" and featuring dancers dressed like the mad hatter from Alice in Wonderland. Instead of going for a tradition hatter look though, the dancers appear to have bought a bulk order of the Johnny Depp hatter hats sold at Disney resorts. The mystery: How did they manage to keep the hats on? I kept waiting for a flub, but one hatter even did a flip without losing the head piece.
Image: Twitter
Sonic the Hedgehog
Sonic the Hedgehog had a massive balloon in this year's parade. According to the announcers (the Today hosts, grimacing through their gig as advertorial pitch people), Sonic was the first video game character to have a balloon in the parade and he has a new game out soon. The mystery here is mostly how Sega is still in business.
Kelli Pickler's Lip-Syncing
Kelli Pickler was just one of the many lip-syncing songstresses to grace a float in the parade, but she set herself apart with some bold choices in the facial expression department. Are these really the faces Kelli Pickler imagines she's making when she sings?
Image: Twitter
New BFFs!
This is only tangentially related, but Kelli Pickler and Richard Simmons met today at the parade and now they are BFFs.
Image: Twitter
Jimmy Fallon and The Roots Have More Fun Than Anyone Should at the Parade
Jimmy Fallon and The Roots hopped on the Sesame Street float and had more fun than any grown men should at 6 a.m., in a parade or with muppets. They had so much fun, in fact, that it's hard to believe they were even invited to be a part of the parade. It almost seems like they bribed someone for access and were reveling in the glory of their success. Either way, it was a high point.
Image: Twitter
Fifth Harmony on the Goldfish Float
Speaking of bribery and parade conspiracy theories, neither X Factor girl group Fifth Harmony nor Goldfish seem like the type to have floats in the parade and yet, they were, better together (enjoy that pun if you're 12 or actually paid attention during this moment of the parade).
Image: Twitter
Austin Mahone's Auto-tuned Track
Up-and-coming teen heartthrob Austin Mahone melted tween hearts with his performance of his new single "Banga Banga" in the parade. Unfortunately, the "live" track of the song still features a little too much auto tune to create even the illusion of a live performance. Unless, maybe that's just what Austin sounds like? As 20 second song snippets during the parade went though, his was one of the more fun.
Image: Twitter
Smurf Mythology (And Uncomfortable Announcers)
When the balloons go by, the announcers are expected to help plug the latest project they're attached to. In the case of the Papa Smurf balloon, this meant some talk of the Smurfs 2 DVD release. Things got more than a little awkward though when the host delved deep into Smurf mythology, explaining the emotional connection between Papa Smurf and Smurfette. Finally, he gave up and viewers were left with several seconds of silent Smurf footage.
Ariana Grande and Dora the Explorer, AKA the World's Creepiest Backup Dancer
Props to the man or woman in the Dora the Explorer suit for having a blast and making the most of the proximity spotlight from sharing a float with New Mariah Carey (Ariana Grande). Ariana sang a lovely version of "Last Christmas" (the Mariah comparisons are totally warranted), but Dora stole the show, creepily swaying behind her in every shot. Why was the performance framed that way? Why wasn't Dora briefed on some Ariana-approved dancing? The world may never know.
Image: Twitter
Mannheim Steamroller
Mannheim Steamroller rolled in just before Santa to really take us into Christmas. Apparently they are the best-selling Christmas artist of all time. I'm pretty sure that no one watching the parade cared even a little, but Mannheim Steamroller cared even less that they didn't care. They jammed just like your dad would if someone let him in the Thanksgiving Day Parade and owned their moment. The only mystery here is why hipsters haven't latched onto their anti-cool awesomeness for year-round listening.
Image: Twitter