5 Healthy Options At Sushi Restaurants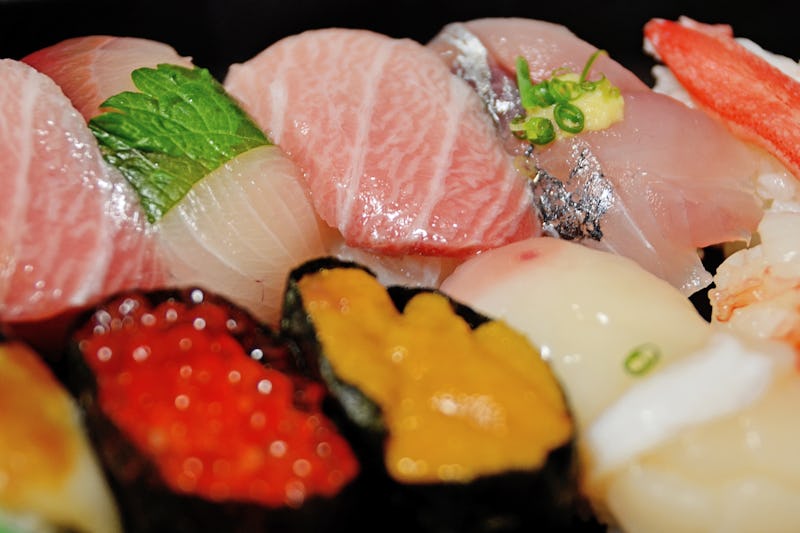 Sushi is often one of healthy eaters' favorite cuisine of choice when it comes to dining out. Often revered as a light choice filled with heart-healthy fish, sushi can definitely be a good option when it comes to eating out at a restaurant. However, with options that also include fried food like tempura, heavy sauces such as spicy mayo, and often mercury-containing fish like eel or tuna, eating at a sushi restaurant can quickly turn into an unhealthy experience if you don't order the right things.
"With the higher costs of protein and produce, it is easy to fill up on the rice at sushi restaurants, causing a metabolic mess for those who don't handle carbohydrates," says Bonnie Y. Modugno, MS, RD. "A judicious high protein snack before heading out to the sushi bar may help soften the financial blow."
Though it can be tempting to fill up on dense foods like rice and fancy rolls, these foods can cause a spike in blood sugar and often leave you hungrier not long after. If you're trying to go out to sushi (because really, who isn't?), but you still want to keep your healthy habits, it's important to know what to order and what to skip. To help make the most of your sushi experience, I've consulted with Modugno to come up with a list of the best options to order, for every type of sushi lover.
1. Best Starter: Edamame
"Edamame is one of those starter foods that works for everyone, except those who are allergic to soy or don't tolerate legumes,"says Modugno.
Edamame is high in fiber, protein, and manganese, which helps not only helps keep you full, but boosts your immune system and lowers your risk of heart disease.
"For those watching sodium content be sure to consider if the edamame is served seasoned or salted," Modugno says.
2. Best Fish: Salmon, Shrimp, And Scallops
When it comes to sushi, opt for smaller fish like salmon, cod, shrimp, and scallops, which contain lower levels of mercury and heavy metals. Try to avoid eating too much tuna, which is high in mercury, and eel, which is often contaminated with not just mercury, but also industrial products and chemicals (PCBs).
3. Best Sushi: Sashimi
"[Those who prefer] sushi made with little rice should opt for an order of sashimi or a roll without rice," says Modugno.
Some restaurants offer rolls wrapped in cucumber instead of rice, but if you don't want to splurge on the sashimi, you can always order sushi and cut your rice portion in half or skip it altogether.
4. Best Way To Complete A Meal: Seaweed Salad
"If you are missing produce in the meal, opt for a seaweed or marinated cucumber salad," says Modugno.
Seaweed is high in important minerals and is less boring than your standard house salad, making your sushi experience a bit more special while still keeping your health in mind. If you want an extra kick (and a heart healthy boost), try topping your salad with some avocado.
5. Best Option If You Don't Eat Fish: Grilled Chicken Or Beef Dishes
If eating raw fish just isn't your thing, you can always opt to order something high in protein from the grilled menu. "Grilled chicken and beef dishes are typically offered at sushi restaurants," says Modugno. "Many time adequate vegetables are [also] included in the meal."
Try to avoid heavy and fattening options such as tempura or dishes with heavy mayo-based sauces.
Images: dakiny/cyclonebill/clf/michellerlee/avlxyz/johnnystiletto/Flickr