Learn How To Blow Out Your Hair Once And For All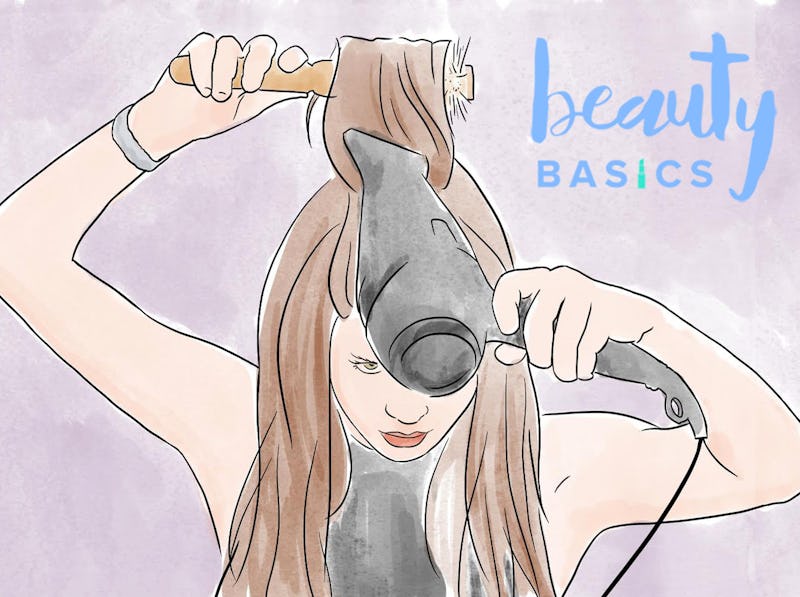 I still remember the feeling after my first salon blowout. It was my birthday, and my smooth, bouncy hair blew in the wind as I walked down the street. I had just been transformed into a blowout addict. Sadly, the salon blowout was a novelty that I could not afford. So I tried to replicate the salon blowout at home.
I turned to my trusty blowdryer and round brush (that I had yet to learn to love), and I got to work. Sad news: my memories of my first DIY blowouts aren't as fond as the salon ones. I sat there, a glass of water to my left and a fan to my right, with tired arms and a whole lot of frustration. Even after passing my blow dryer over and over my strands, pulling them as taut as possible, the frizz wasn't going anywhere. After two hours of work, my hair was huge, and not the slightest bit bouncy. And I was still left with a nagging question: how on earth do you blow out the back? Even as the world has moved from pin-straight, flat-ironed hair to voluminous waves, I'm still trying to perfect the technique.
I'm leaving this to the pros, which is why I've turned to Giovanni Vaccaro, the creative director of on-demand beauty service GLAMSQUAD, to teach me how in the video below.
Here's the breakdown:
For best results, you'll need a high-powered blow-dryer with a nozzle and a boar-bristle brush. The nozzle will direct the hot air directly to the section that you're trying to smooth, and the boar bristles polish hair to nix frizz and add maximum shine. And don't forget blowout balm to add smoothness and prevent damage. (We like this one from Tresemmé!)
Next, Vaccaro recommended starting with the front, which is what will really make your blowout look professional. Holding the front two inches of your hair out in front of your face, place your brush at your hairline and pull it outwards. Blow that section, rolling the brush under as you get toward the ends. Then, set the bounce by wrapping it backwards around your fingers and pinning it up.
Separate the rest of your head in half, and then separate each half into three horizontal sections. (If your hair is very thick, try smaller sections.) Grab a section and hold the brush on top of it at the root. Pull the brush downwards toward the ends. The blow-dryer should follow directly on top. And as you get to the end, twist your wrist (and the brush) either under or out, depending on which look you prefer.
Ah, the hard part. Don't worry, you've got this. Look down and to the side as far as you can so you can reach the back of your head. Start with the bottom section and work your way up, using the same downwards motion that you've been using. And if it helps to see your hair in the mirror, turn to the side and pull the section out toward your face as you blow it out.
Place your brush under this section and pull it forward, toward your face, blowing as you go. Then wrap the brush (and your hair) down toward the crown of your head and keep the blow-dryer on it as you pull it back up. Then release the front section, and you're done!
Images: Katie Cropper Klein/Bustle (6)