7 Literary Web Series You Should Be Watching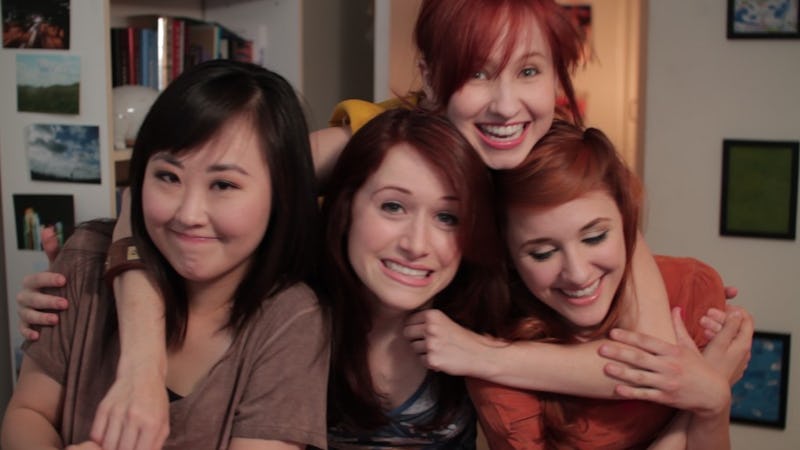 In 2012, a little literary web series called The Lizzie Bennet Diaries exploded onto the YouTube scene. Produced by Hank Green — yes, that Hank Green, one half of the vlogbrothers and younger brother of best-selling author John Green — the show amassed hundreds of thousands of followers as it retold the tale of Elizabeth Bennet and Fitzwilliam Darcy. Except, this time, Lizzie and Darcy were Millennials working at social media powerhouse Pemberley Digital. (YAS.)Since the success of The Lizzie Bennet Diaries, dozens of companion literary web series have popped up. Some are well-funded Hollywood quality shows, others are charmingly low-budget. But they all have one thing that unites them, and that's the love of their source material.
These days, you can find just about any classic book as basis for a web series, from works by Shakespeare to F. Scott Fitzgerald. And my favorite part is that just about anyone can, and has, started one: from big YouTube names to a bunch of college students in Canada. So, if you truly love a good story, cuddle up in a loveseat, put on your reading glasses and click play on these seven literary web series you should be watching:
How could we not start with the original? The first, and what many consider the best, of the BookTube webseries. Characters span across multiple platforms, including Twitter, Tumblr and And if you can't stop with just one, check out Emma Approved, based on Emma by Jane Austen, and Welcome To Sanditon, based on the unfinished Austen novel, Sanditon . All are produced by transmedia web series powerhouse Pemberley Digital, which modeled their name on the company in LBD.
If you liked Peter Pan by J.M. Barrie…
Starring the impossibly red-haired Paula Rhodes and adorably scruffy Kyle Walters (the latter you might recognize as Edward Denham from Welcome To Sanditon), this web series reimagines Peter Pan and Wendy Darling as two friends — and just maybe lovers — in Neverland, Ohio. And Tinkerbell? She's still very a traditional fairy, but serves as a point-of-view camera for Peter Pan's storylines.
If you've read Frankenstein by Mary Shelley…
Another offering from Pemberley Digital, this series recasts Dr. Frankenstein as Victoria: a female med student nearing graduation. I won't ruin it for you, but know that there is plenty of faithfulness to the original plot. (Yes, even the reanimation of a dead character!) Perfect for murder-mystery lovers, and with the glossy finish you'd expect from Pemberley Digital.
If you enjoy Shakespeare…
This one's a retelling of Much Ado About Nothing , my own personal favorite Shakespeare play, but if that's not your preference, try any number of Shakespeare web series, such as Kate The Cursed ( The Taming Of The Shrew ), Lovely Little Losers ( Love's Labor's Lost ), Jules and Monty ( Romeo and Juliet ) or A Midsemester Night's Dream ( A Midsummer Night's Dream ). Nothing Much To Do was produced by a bunch of students in New Zealand, and so Beatrice and Benedick have charming Kiwi accents for you to OTP-fangirl over.
If you like Jane Eyre by Charlotte Brontë…
AOJE, as it's known to its fans, was pretty much the first fan-spinoff after literary-inspired web series became a big deal with The Lizzie Bennet Diaries. Jane is reimagined as a 21-year-old nanny caring for a young girl in the home of E.D. Rochester, CEO of Thornfield Aluminum Exports. if you're truly a fan of the original Brontë novel and that doesn't immediately catch your interest, I can't help you, my friend.
If you like Little Women by Louisa May Alcott…
I'm super-pleased to say that this homegrown web series was picked up by the same company that produced The Lizzie Bennet Diaries, and gained a huge following before airing its last episode in June. This time around, it was Marmee who was absent, having been redeployed as an officer with the Canadaian Forces, and the vlogs are staged as family updates.
And if you like everything and can't make up your mind…
Classic Alice is the story of a college student, who, after receiving a bad grade on a paper, decides she's going to try and experience the life lessons of the novels she's reading. The first season focused on Dostoyevsky's Crime and Punishment , while subsequent episodes have covered Macbeth , Pygmalion , Rip Van Winkle , The Wind In The Willows , Walden and more.
Images: screenshot, The LIzzie Bennet Diaries; Giphy (2)