6 Incredible Ways To Decorate With Paper Napkins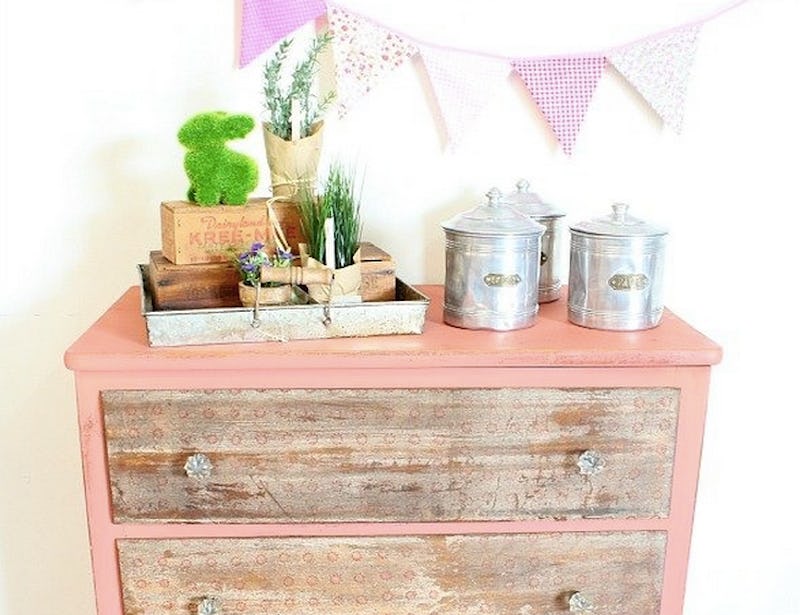 You know it's good to recycle, but you're not quite sure what to do with the seemingly endless stacks of paper napkins you have on hand following your last barbecue — Hometalk hears you, girl. Put those leftovers to use making one of these paper napkin DIY projects that are surprisingly sophisticated, given the material you are working with. Believe it or not, you can use napkins to give tired pieces of furniture a very crafty (and very cheap) makeover, and no one will ever suspect your medium of choice. Decoupage an old dresser, dress up your boring office space, and cover up unsightly clutter... using napkins. It may sound crazy, but these projects are proof that you don't need to get fancy to get inspired.
After your BBQs and cookouts end, and you are cleaning up the dirty plates and leftover plastic ware, salvage as many clean paper napkins as you can find, for some awesome home decor.
Paper napkins are a fun, inexpensive way to dress up baskets, candles, even dressers, and the only difficult part is finding a pattern that suites your style. Check out these eight incredible paper napkin decor upgrades from Hometalk bloggers to get some napkin-spiration!
1. Decoupage and distress a dresser
Combine the look of aged wood and vintage flowers to create a napkin decoupage dresser update that could win furniture flip awards.
Project via Alli @Refunk My Junk
2. Cover a Dollar Store basket
Dress up a plain ol' basket with pretty paper napkins and some Mod Podge. You can get a few at IKEA or even your local Dollar Store, and turn them into a matching set of striking storage baskets.
Project via Gail @Purple Hues and Me
3. Layer over a large table
Cover an entire tabletop in paper napkins for an eclectic look like this one that will shock visitors. Instead of repainting a tired piece, give it a wake-up call with cool designs because, let's face it — it's hard to get more bohemian beautiful than this.
Project via June @Nostalgiecat
4. Upcycle cans and paper towel rolls
Turn a large tin can and a paper towel role into a vintage-style watering can, perfect for filling with flowers and displaying on your kitchen table. Of course, a cardboard roll glued to a can won't cut it — that's where the gorgeous napkin cover comes in!
Project via Gail @Purple Hues and Me
5. Dress up boring file drawers
Contrary to what we see in popular movies and shows, office supplies don't have to look lame. Dress yours up easily by coating drawer fronts in bold patterned paper napkins. For an extra matching pop of pretty, spray paint the hardware, too!
Project via Alexis @Persia Lou
6. Re-frame a plain mirror
Finding a cheap mirror isn't difficult, but finding a cheap one that also looks good? That's near impossible. Most inexpensive mirrors come with those tacky plastic frames, which leaves you with two options: spray paint, or full napkin coverage. Based on this blue, bold, and beautiful example, we vote napkin!
Project via Alyssa @Clever Nest
For more awesome design ideas and decor hacks, check out the Home Decor page on Hometalk!