A Deep-Dive Into the Kardashian Xmas Card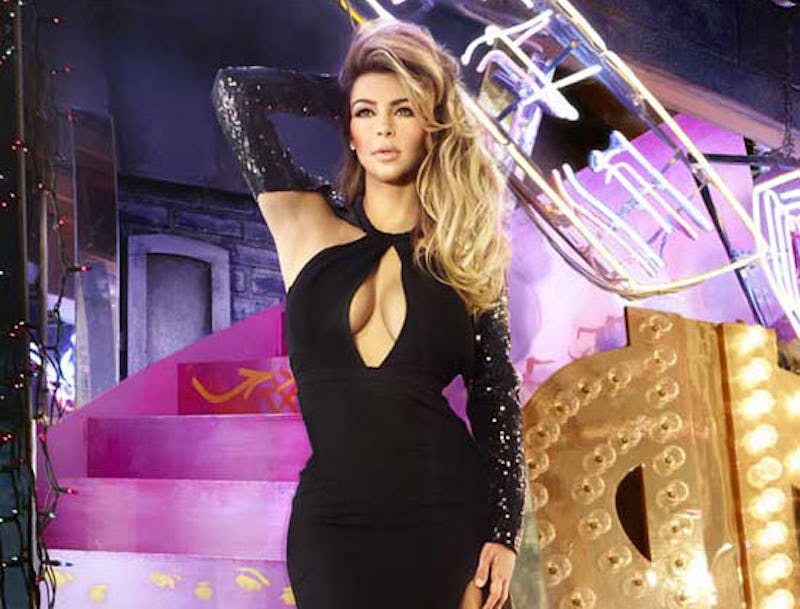 The Kardashians are fairly konfusing all year round, but the Kardashian Christmas card this year has rendered them even more incomprehensible than ever. In fact, their Christmas card is so dense with meaning, so pregnant with saturated imagery, that if it were possible for eyes to get nauseous, mine would be throwing up right now. And this from someone who has been incredulous every single year an unusual Krismas card comes out. But, beyond the eye nausea and the seriously wide angle of this unusual Krismas kreation, we are left with questions. Many of them.
Is this photo an homage to the Kardashian's truly astonishing lack of taste? Where did they even manage to find these truly insane props? Or, more tempting even, is it a considered and multi-layered view into what it is to be a Kardashian? Did they simply redecorate the set usually reserved for E! News? I'm lost here.
I mean, this Christmas card is like a coked-up, dystopian re-imagining of Da Vinci's "Last Supper" mural. It's rife with symbolic imagery, and surely the lack of a single focus is intended to make us consider the heavy concepts woven together to make this piece as ludicrous as it is. Who would've thought that hidden beneath the Brazilian-straightened hair and the expensive fake tans were the philosophers and artists of our generation? Who knew the Kardashians were still capable of blowing our damn minds? Let's explore this Kardashian Christmas card, and see what lifelong truths and what stunning revelations await us in the background of this momentous picture.
For one, we can take the discarded and maimed mannequins littering the scene to be the Kardashians that did not make the cut for both Keeping Up With The Kardashians and being the disciples of a cultural apocalypse. Then, the physical distance between each Kardashian evokes a planetary aesthetic, each Kardashian is distinct and yet united, obliquely orbiting symbols of wealth. The littered mannequins, or less important Kardashians, are the long-dead stars and floating meteors that remain stuck forever in the ether of the outer atmosphere, neither in nor out, simply present in this cluttered and shiny Kardashian universe. It also makes a lot of sense to then imprison Bruce Jenner in the aesthetic equivalent of a space capsule. If the Kardashian ladies are left to wander the universe leaving stardust in their wake, then Bruce is the Major Tom of the family, and he's floating in a most peculiar way.
We see herein the most overarching principle that governs this family. It is that of ascension, as demonstrated by the icon of North West rising toward the heavens (perhaps her heavenly father, Kanye West?) and the optical illusion of arrows created by the fluorescent lights that adorn the ceiling and reflect on the floor. This creates a subtle but nuanced nod to both pop culture and biblical allusion. Kanye West's actual presence is missing, but he's indicated next to Kim on a set of stairs that climbs past where the shot ends and finishes next to a glowing money sign. Kanye might not be there, but he is above them all, watching and judging. If the Kardashians exist on this physical plane, decorated with glitzy rubbish and fluorescent lighting, then Kanye West is on the next floor up, because he is a god.
It also brings to mind the story of Moses ascending the mountain, only to find that when he returned, his people had taken up false idols. The symbols of money, be they the neon money sign, the ATM in the background or the forgone opulence of the scene itself, tell a story of a once elegant scene gone terribly wrong in the most sordid and materially based sense. The Kardashians therefore identify themselves as the false icons, raising a baby toward the exalted ceiling where real cultural revolutionaries, like West himself, reside. These people are grand because we have raised them up to be, they are the cheapened representations of old Hollywood royalty, and they wink at that very notion of the decoration of their inner sanctum.
This theme is expanded on by the imagery of fallen idols that permeate the image. Bruce Jenner is locked inside a trophy case, surrounded by crumbling likenesses, wearing Olympic medals but no clothing, and often lacking essential body parts. These are representations of greatness gone past, as is Kris Jenner's headdress, evoking images of a craven Cleopatra, a fallen Egyptian goddess.
It is no coincidence that the eldest members of the family, Bruce and Kris, are adorned with representations of lost grandeur, whilst Mason, the youngest pictured Kardashian, is made to bow. He is not lessened, as Kris and Bruce are, but inferior, thus demonstrated by the way his upper body is made to rest on a cushion while the Kardashian daughters, the real torch-bearers of the Kardashian name, stand and sit erect, like goddesses or noble statues.
A dissertation could be written on the myriad ways in which to interpret this classically-influenced holiday card, but I'll keep it brief. The Kardashians are both tacky and brilliant, and if they are willing to allocate themselves to being the fallen gods, the false idols of our modern world, well, then who am I to say otherwise.
Image: David LaChapelle