The #FollowMeTo Couple's Honeymoon Was Gorgeous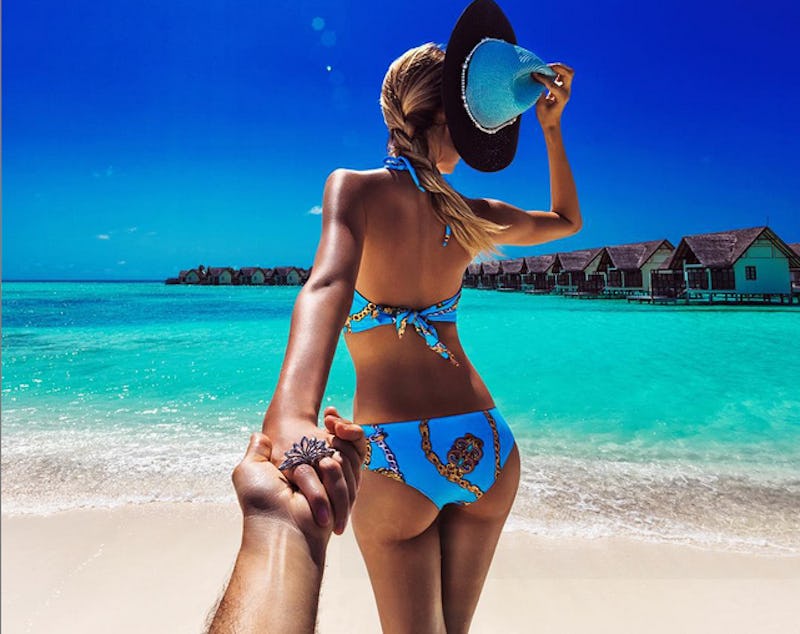 We've all recreated the #FollowMeTo photos at one point or another; sometimes, they even turn out pretty nifty looking. No matter how proud we are of our own travel photos, though, Murad Osmann's #FollowMeTo honeymoon photos are proof that nothing compares to the real thing. Osmann and his significant other, Natalia, have been in the public eye for years now, allowing us to watch from the sidelines as their relationship went from dating to engaged to married as of this year. All the while, Osmann documented Natalia leading him to countries like India, Brazil, and Georgia in the #FollowMeTo series on Instagram, making us simultaneously gooey inside and incredibly jealous at the same time.
The couple married in June 2015, and their wedding photos were — shocker! — absolutely beautiful. With their history of breathtakingly gorgeous photos, it shouldn't come as any surprise that their honeymoon photos were equally incredible, in the every sense of the word. I literally can't believe that these are real places, but according to my sister, that just means I need to broaden my horizons. Can you tell I haven't gotten to travel much?
The couple's first stop was the Bellagio in Las Vegas, to which they were apparently invited because that's par for the course when you're a world-famous photographer-model couple.
Next, they headed to the Maldives, an island nation in the Indian Ocean. "You literally think that you have Photoshop in your eyes because everything is so beautiful," Osmann wrote in the Instagram caption.
I have to say, I definitely agree with him on this one. Is anyone else suddenly dying to visit the Maldives? ROAD TRIP!*
*My sister has informed me that you can't road trip to an island several oceans away. I am shocked and appalled.
Images: Murad Osmann/Instagram (5)