Selena Gomez's Adidas Neo Fall Collection Is Here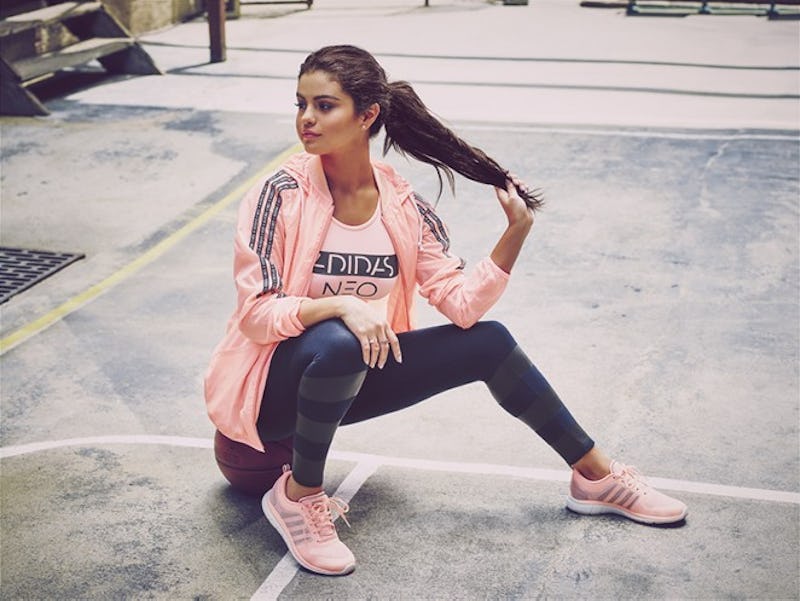 Active-wear brands have been spotted on fashion industry radar during recent seasons and celebs are looking to make a profit out of the trend. Selena Gomez's latest Adidas Neo collection for fall has launched, and it's looking like a good one. The actress teased a few shots from her latest campaign just two weeks ago, claiming this to be "probably one of [her] favorites." And I can see why.
Once you are a Disney Channel star, you basically become your own brand. I disagree with the universal assumption that if you can act, you automatically singing on key and are capable of designing a fashion label, but Gomez is the exception. This young woman is a legitimate jack of all trades.
We first got a taste of Gomez as a fashion designer back in 2009 when the performer launched her K-Mart juniors clothing and jewelry line Dream Out Loud, which was actually very successful. "[Gomez] has such a good sense of what she likes and what she doesn't like," former Generra designer and creative director of Dream Out Loud's Tony Melillo, told Women's Wear Daily . "It was surprising as I've never worked with someone so young, and never really expected her to be that smart. She has a desire to be involved, and nothing is sent out there without her approval. It's nice to see her have this genuine interest."
Not only does Gomez have a clear vision of the styles she would like to see reflected in her namesake labels, she has a strong preference for eco-friendly fashion. In 2010, the Adidas Group developed an Environmental Strategy in which the company prioritizes the development of environmentally safe products, so it makes sense why Gomez decided to collaborate with the sportswear label in 2013.
The Selena Gomez Adidas Neo collection is sure to be a hit, having strategically launched in the midst of back-to-school shopping. The line features a slew of sweaters, jogging suit separates, sports bras and accessories such as a beanie and jersey tote. Incorporating dark navy with light pink colors give the active wear line a sporty yet trendy vibe, appropriate for going hard at the gym or on-the-go comfort.
The collection is available now online at adidas.com and in select Adidas Neo stores. Congratulations on yet another winner, Gomez!
Images: Adidas, selenagomez/Instagram; adidasneolabel/Instagram (3)