What To Wear To Yoga Class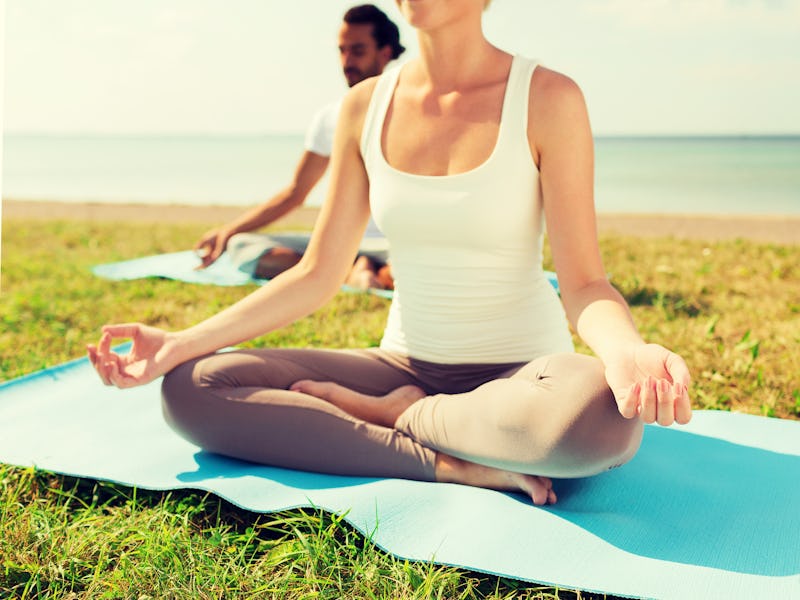 Unlike CrossFit, Zumba, or even SoulCycle, yoga is mentally challenging in a manner that supersedes all physical discomfort, which means figuring out what to wear to yoga class can be extra crucial. Instead of groaning in protest to weights no human should be required to lift for more than two seconds at a time or intense aerobic activity that thoroughly singes your lungs, yoga's deep stretches and stillness compel an overactive mind to live in the moment, embracing the peculiar amalgamation of tranquillity and agony. While experienced yogis may no longer feel a twinge when contorting their limbs from downward dog into cobra, newcomers may need sartorial reinforcement to withstand the sensation of muscles elongating far beyond their natural reach. After all, what better way is there to combat discomfort than with an incredibly motivational neon yoga mat or a tailored tank emblazoned with an encouraging slogan?
When selecting yoga attire, comfort and elasticity are key components to keep in mind. Your yoga clothing should be well-tailored and relatively fitted, but not restrictive enough to prevent a graceful Pidgeon Pose or plank. However, voluminous clothing isn't optimal either unless you wish to reenact a scene from Flash Dance during your workout. Before you say namaste to your first yoga class, take a peek at two ensemble formulas that will lend you extra elegance and a pinch of confidence before stretching into your first pose.
1. A Pop Of Pink
Gnarly Grail I Woke Up Like This Flawless Tank Top, $16, etsy.com; Nike Legend Diamond Print Capris, $65, rei.com; Sanuk Yoga Zen Sandals in Fuchsia, $34, zappos.com; The North Face Impulse Headband in Glo Pink, $15, zappos.com; S'well Dark Hearted Stainless Steel Water Bottle in Small, $25, shop.nordstrom.com; Set of 2 ProSource Yoga Blocks in Pink, $12.99, amazon.com; Rebecca Minkoff Yoga Carryall in Grey Pink Nylon, $245, rebeccaminkoff.com
Those enticed by the notion of Bikram (hot) yoga will wish to keep their clothing light and a water bottle handy. Keep wayward strands off of your face with a color-coordinated headband, and step into a cropped top and capri pairing for an ensemble that is as fashionable as it is functional. Fuchsia foam blocks will assist newcomers in achieving the ideal form for each pose, and a handy workout bag with straps created to accommodate a yoga mat and other essentials will neatly pack away workout accoutrements after nirvana has been reached.
2. Bold In Black
Athleta Mesh Energize Tank, $44.99, athleta.gap.com; Sealedyoga Sizzurp Ladies Low Rise Yoga Shorts, $30, etsy.com; Nike Roshe Run Sneakers in Black, $75, zappos.com; REI Balance Gym Bag, $59.50, rei.com; FITBIT Black Flex Activity Tracker Wristband, $99.95, lordandtaylor.com; tarte Fresh Eyes Maracuja Eye Makeup Remover Wipes, $12, qvc.com; Gaiam Sol Sticky-Grip Yoga Mat, $49.98, gaiam.com
Urbane yogis need not dive headfirst into neon wares for the first yoga class; in fact, a neat noir ensemble will make a striking statement for yoga novices. If you prefer to give your core temperature low, throw on a pair of tensile printed shorts and a multi-strap tank with a built-in sports bra to keep your limbs free of restriction. An slip-resistant yoga mat and cleansing towelettes will ensure perspiration doesn't prevent you from settling into a relaxing rhythm. When you've achieved your state of mental clarity, simply slip into a pair of all-terrain sneakers and toss your yoga mat into an organized, top-handle duffel to make a clean and incredibly chic exit.
Images: Syda Productions/Fotolia; Polyvore