The Best Adult Coloring & Activity Books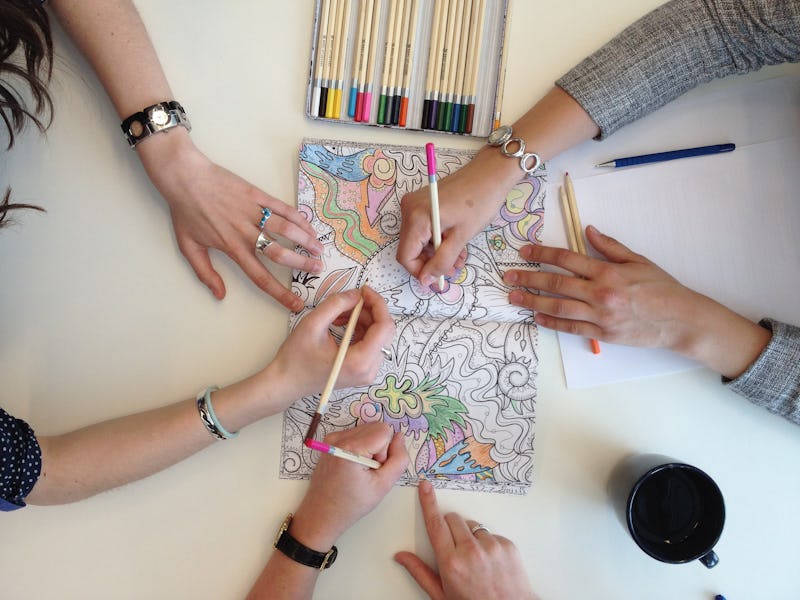 Every summer, a group of my friends and I make the six hour trek from eastern Massachusetts to Acadia National Park in northern Maine, and every summer, I find myself completely bored, anxious, and annoyed while stuck in a crammed car for far too long. We've played every car game and can't stand them anymore, the majority of us get carsick when we read, and none of our vehicles are fancy enough to have a built-in entertainment system. So, most of the ride is a chorus of sighs and grunts mixed in with the occasional "Are we there yet?" That is, of course, until this year when a brilliant traveling companion brought along an adult coloring book.
Yes, you read that right. Adult coloring books and activity books exist, and they are my new favorite form of entertainment.
When you've already read everything interesting your iPhone apps have to offer, and you've exhausted every car game, here are 13 adult coloring and activity books to keep you entertained in even the most tedious situations:
Did you ever think that a coloring book would top the bestseller list? Johanna Basford's wildly popular Secret Garden is filled with page after page of adorable little critters hidden among gorgeous flora and fauna. Some of the pen and ink drawings are even left incomplete, so you can add in your own illustrations. Enchanting and whimsical, Basford's interactive coloring book will keep you distracted for hours.
Coloring isn't enough for you? This unique, Nicolas Cage-centric activity book has puzzles and games in addition to color-in pages. If you just can't get enough of Con Air and Raising Arizona, this quirky book was made with you in mind.
Get lost in a labyrinth of the world's cityscapes, from New York to London, Rio to Melbourne. Every spread is rich in detail, the buildings practically jumping off the pages. Architecture-lovers, this one is for you.
Broken down into seven themed chapters including "Wooded Scenes" and "Geometric Patterns," Color Me Calm is designed to help you relax as you fill up the gorgeously illustrated pages. Keep this book tucked away in a drawer in your office for the next time work gets to be too much for you. Take a coloring break, you deserve it.
Coloring books can be inspirational, too. Theo Nicole Lorenz, the genius behind such adult activity book jems as Unicorns Are Jerks and Dinosaurs with Jobs comes a body-positive coloring you didn't know your life was missing. Short as it may be, the 18 pages of voluptuous scifi heroines kicking alien ass and exploring the deepest, darkest corners of space are a refreshing celebration of women's bodies.
Finding yourself stunted as of late? Let Valentina Harper's captivating line drawings spark your creativity as you color in inspirational messages like "GO FOR IT" and "LIFE IS BEAUTIFUL." These extra-thick coloring pages are so dazzling, you'll want to tear them out and frame them.
The title says it all — this is an activity book, in all of its raunchy glory, is for adults. With color in pages of awkward sexual encounters, this dark and hilarious book will keep you laughing (and completely distracted) page after page.
Chiseled chest, sculpted arms, and bodacious bodies grace the pages of Mel Elliott's sexy coloring book. Whether you like the artsy-hipster types or the Channing Tatum look-alikes, there's a man drawn for you. If super-hot dudes aren't your thing, then check out Elliott's other themed coloring books on Taylor Swift, Benedict Cumberbatch, and Ryan Gosling, among others.
Relive the glorious days of Tamagotchi key chains and ring pops in James Grange's tribute to the greatest decade on earth, the '90s. Hilarious and hopelessly nostalgic, The 1990s Coloring Book will make you feel like a kid again, in more ways then one.
Because sometimes when you're drunk, you just need to have a little more fun. Instead of playing a drinking card game, crack open a beer and color in 99 other illustrated bottles. If you thought walking a straight line when you're drunk is hard, you've never tried coloring inside the lines after pounding a few drinks.
All of my notebooks, from grade school to college, are filled with doodles and drawings, so Zifflin's coloring book has a special place in my heart. The fifty intricate illustrations include images of everything from household objects to adorable animals, all of which have enough details to keep you doodling hour after hour.
Thrill Murray: A Coloring-In Book Inspired by the Great Man of Cinema by Belly Kids
A coloring book devoted to Bill Murray — what more do you need to know? Spreads include scenes from classics like Ghostbusters and Groundhog Day. Brace yourself, because this is quite possibly the most amazing coloring book ever.
Because you've always wanted a Kanye West paper doll, I present to you Bun B's Rapper Coloring and Activity Book. Featuring hip hop megastars from LL Cool J to Tupac to Queen Latifah, this star-studded book is smart, funny, and wholly imaginative.
Images: Lea Latumahina/ Flickr